Stacy Abrams Floats 2020 Presidential Run
The woman famous for losing the Georgia governor's race is eyeing a bigger job.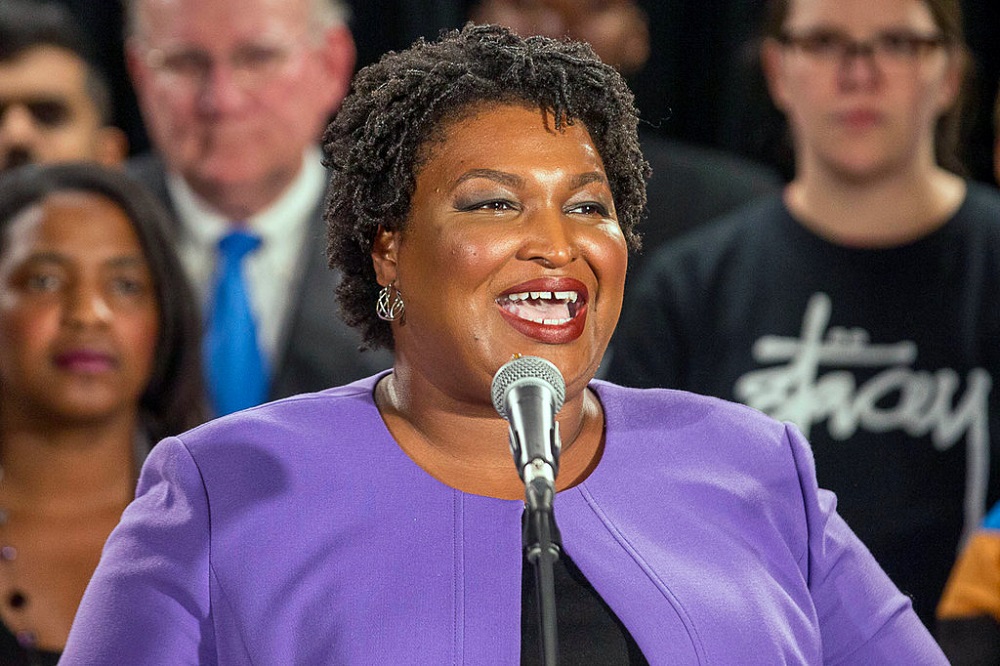 The Democratic field for 2020 is already so large that holding debates featuring all the candidates simultaneously has been ruled out. It could get bigger still.
The Hill ("Stacey Abrams says had considered 2028 run for president, but now open to 2020"):
Stacey Abrams said Monday that 2028 had been the earliest she would consider a run for president under her previous career plan, but said now she regards a run in 2020 as "definitely on the table."

Abrams had sparked talk earlier when she was seen as ruling out a 2020 run during a talk at the South by Southwest (SXSW) festival.

"In the spreadsheet with all the jobs I wanted to do, 2028 would be the earliest I would be ready to stand for president because I would have done the work I thought necessary to be effective in that job," the Georgia Democrat had said.

In her comment, Abrams was referring to a passage in her book detailing a spreadsheet with her career plans.

However, Abrams tweeted later on Monday she has not ruled out a 2020 run.

"20 years ago, I never thought I'd be ready to run for POTUS before 2028. But life comes at you fast," she said in her tweet. "Now 2020 is definitely on the table."

[…]

Abrams, who narrowly lost Georgia's gubernatorial race last year, is a rising star in the Democratic Party.

She has also been seen as a potential challenger to Sen. David Perdue (R-Ga.) in 2020 or to Gov. Brian Kemp (R) in 2022.

The former Georgia House minority leader has remained in the headlines since her narrow loss, giving the Democrats' official State of the Union response last month.
She doubled down on this in a tweet:
In #LeadFromTheOutside, I explore how to be intentional about plans, but flexible enough to adapt. 20 years ago, I never thought I'd be ready to run for POTUS before 2028. But life comes at you fast – as I shared in Q&A w @Yamiche at @sxsw. Now 2020 is definitely on the table…

— Stacey Abrams (@staceyabrams) March 11, 2019
While there is some support for a Presidential bid in the replies, the overwhelming number urge her to take on Perdue instead. And my guess is that's what she'll wind up doing.
By pre-Trump standards, Abrams is simply unqualified for the White House. Her political experience consists of twelve years in Georgia House of Representatives, eight as minority leader. In the modern, pre-Trump era, we've never elected a President someone who had not been either a state governor, US Senator, or Vice President of the United States—with the exception of Dwight Eisenhower, who had been a five-star general overseeing all Allied forces during World War II. Even Barack Obama was barely qualified by traditional standards, moving from the Illinois State Senate to the US Senate and then beginning his successful run for the Presidency almost immediately.
Beyond that, I can't see how Abrams possibly thinks she would break through in this field of seasoned, well-known candidates. She wouldn't even be the lone African-American woman in the fray.
Again, my strong guess is that Abrams realizes all of this and is simply capitalizing on the buzz following her controversial 2018 loss and subsequent selection to deliver the Democratic response to President Trump's State of the Union. Even being in the conversation as a possible Presidential contender elevates her standing and increases her chances of being the nominee for the Senate race against Perdue.