Stealing a College Education
Lee Siegel takes to the NYT to explain "Why I Defaulted on My Student Loans."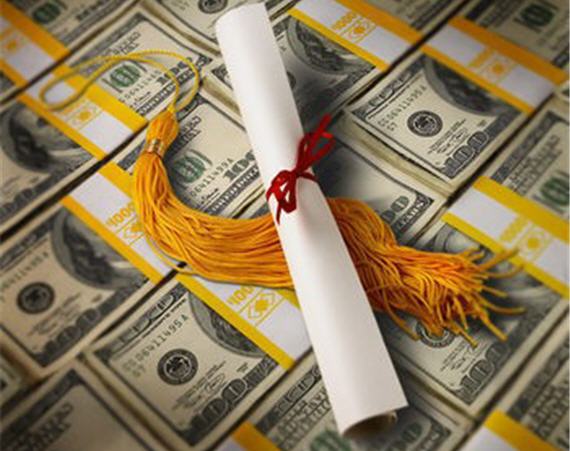 Lee Siegel takes to the NYT to explain "Why I Defaulted on My Student Loans."
By the end of my sophomore year at a small private liberal arts college, my mother and I had taken out a second loan, my father had declared bankruptcy and my parents had divorced. My mother could no longer afford the tuition that the student loans weren't covering. I transferred to a state college in New Jersey, closer to home.

Years later, I found myself confronted with a choice that too many people have had to and will have to face. I could give up what had become my vocation (in my case, being a writer) and take a job that I didn't want in order to repay the huge debt I had accumulated in college and graduate school. Or I could take what I had been led to believe was both the morally and legally reprehensible step of defaulting on my student loans, which was the only way I could survive without wasting my life in a job that had nothing to do with my particular usefulness to society.

I chose life. That is to say, I defaulted on my student loans.
Having managed to get a PhD without my parents paying for it or going through debt, let alone in such volume that it would have dictated my career options, I'm rather confused as to how Siegel managed to get into this bind to begin with. To be sure, the cost of attendance has skyrocketed since I attended school in the mid-1980s and early 1990s. Seigel attended school even before I did, having started 40 years ago and finished 30 years ago. ("Lee Siegel" is a surprisingly common name. Given the biographical details supplied in the piece, the author is neither the 57-year-old Columbia educated writer and cultural critic* nor the 69-year-old Berkeley educated professor and novelist, since neither graduated from a state college in New Jersey.) Nor is it obvious why he needed to go to graduate school to become a writer.
Regardless, he accumulated said debt for years after his father went into bankruptcy and, presumably, after having decided he wanted to be a writer. Didn't he feel badly about stealing the money? Not at all.
As difficult as it has been, I've never looked back. The millions of young people today, who collectively owe over $1 trillion in loans, may want to consider my example.

It struck me as absurd that one could amass crippling debt as a result, not of drug addiction or reckless borrowing and spending, but of going to college. Having opened a new life to me beyond my modest origins, the education system was now going to call in its chits and prevent me from pursuing that new life, simply because I had the misfortune of coming from modest origins.
Well, actually, he managed to combine "reckless borrowing and spending" with "going to college." My origins weren't so modest that I'd describe them that way twice in one sentence, but we certainly didn't have a lot of money. Perhaps foolishly, I therefore made decisions about where to go to college and graduate school—and how I would live while attending—accordingly.
Am I a deadbeat? In the eyes of the law I am. Indifferent to the claim that repaying student loans is the road to character? Yes. Blind to the reality of countless numbers of people struggling to repay their debts, no matter their circumstances, many worse than mine? My heart goes out to them. To my mind, they have learned to live with a social arrangement that is legal, but not moral.
What's immoral about paying back the people who agree to loan you money in good faith? Or paying for an experience that "opened a new life to me beyond my modest origins"? Apparently, the fact that it isn't free to begin with.
Maybe the problem was that I had reached beyond my lower-middle-class origins and taken out loans to attend a small private college to begin with. Maybe I should have stayed at a store called The Wild Pair, where I once had a nice stable job selling shoes after dropping out of the state college because I thought I deserved better, and naïvely tried to turn myself into a professional reader and writer on my own, without a college degree. I'd probably be district manager by now.

Or maybe, after going back to school, I should have gone into finance, or some other lucrative career. Self-disgust and lifelong unhappiness, destroying a precious young life — all this is a small price to pay for meeting your student loan obligations.
Yes, those were the only options. Going to a school where you'd qualify for a full scholarship or continuing to work part time while going to school were off the table. It was either a wildly expensive school or a life in retail. Or, perhaps such imagination is too much to expect for someone considering a career as a writer.
Some people will maintain that a bankrupt father, an impecunious background and impractical dreams are just the luck of the draw. Someone with character would have paid off those loans and let the chips fall where they may. But I have found, after some decades on this earth, that the road to character is often paved with family money and family connections, not to mention 14 percent effective tax rates on seven-figure incomes.
Uh huh. There's no middle ground. It's either be born rich or default on one's loans.
Forty years after I took out my first student loan, and 30 years after getting my last, the Department of Education is still pursuing the unpaid balance. My mother, who co-signed some of the loans, is dead. The banks that made them have all gone under. I doubt that anyone can even find the promissory notes. The accrued interest, combined with the collection agencies' opulent fees, is now several times the principal.

Even the Internal Revenue Service understands the irrationality of pursuing someone with an unmanageable economic burden. It has a program called Offer in Compromise that allows struggling people who have fallen behind in their taxes to settle their tax debt.
Given that all I know about Siegel is the information supplied in the piece and the byline "Lee Siegel is the author of five books who is writing a memoir about money," I can only guess at the state of his finances along the way. Writing books is a hard way to make a living, although some are wildly successful at it. But one would think that, even having decided to take that risky path rather than one that would bring immediate cash flow three decades ago, he'd have at some point come to a point where he could start paying down his debt. Apparently, he'd rather have just kept the money.
How did he get away with that?
The Department of Education makes it hard for you, and ugly. But it is possible to survive the life of default. You might want to follow these steps: Get as many credit cards as you can before your credit is ruined. Find a stable housing situation. Pay your rent on time so that you have a good record in that area when you do have to move. Live with or marry someone with good credit (preferably someone who shares your desperate nihilism).

When the fateful day comes, and your credit looks like a war zone, don't be afraid. The reported consequences of having no credit are scare talk, to some extent. The reliably predatory nature of American life guarantees that there will always be somebody to help you, from credit card companies charging stratospheric interest rates to subprime loans for houses and cars. Our economic system ensures that so long as you are willing to sink deeper and deeper into debt, you will keep being enthusiastically invited to play the economic game.
Seigel thinks everyone should follow suit:
I am sharply aware of the strongest objection to my lapse into default. If everyone acted as I did, chaos would result. The entire structure of American higher education would change.

The collection agencies retained by the Department of Education would be exposed as the greedy vultures that they are. The government would get out of the loan-making and the loan-enforcement business. Congress might even explore a special, universal education tax that would make higher education affordable.

There would be a national shaming of colleges and universities for charging soaring tuition rates that are reaching lunatic levels. The rapacity of American colleges and universities is turning social mobility, the keystone of American freedom, into a commodified farce.

If people groaning under the weight of student loans simply said, "Enough," then all the pieties about debt that have become absorbed into all the pieties about higher education might be brought into alignment with reality. Instead of guaranteeing loans, the government would have to guarantee a college education. There are a lot of people who could learn to live with that, too.
I'm sympathetic to the idea that the United States should subsidize university attendance in the way that most of our OECD counterparts do. But Siegel's vitriol is both misdirected and bizarre.
First, as already noted, he attended school from roughly 1975 to 1985, before the massive spike in the cost of attendance. I attended from 1984 to 1995, with a break for military service, and was able to pay as I went. (The military service helped, in that I got a whopping $345 a month combining Army Reserve drills, the GI Bill, and an ROTC contract stipend as an undergrad and $350 a month from the GI Bill during grad school, thanks to a combat tour.) He's hiding under the cover of the very real crisis that recent grads face even though it has nothing to do with his own circumstance.
Second, while I suppose one can critique Harvard, with its $35 billion endowment, for charging sky-high tuition, the overwhelming number of colleges and universities are state-affiliated. They're charging more for tuition because they're getting decreasing support from the state coffers while seeing costs skyrocket for a variety of reasons, only some of which have to do with delivering education. Regardless, they're hardly "rapacious."
Beyond that, Siegel wasn't "groaning under the weight" of his debt before finally crying Uncle. He simply decided not to pay—even when the money from his presumably successful career as a writer starting rolling in. Because, hey, he wanted to keep the money.
Siegel's piece is the third most popular at the NYT site at the moment, so he'll spark a much needed conversation about the way we finance higher education in this country. But he's actually a very poor example of the crisis.
_________________
*People I trust elsewhere–and Wikipedia editors as well— are of the impression that the Lee Siegel in question is in fact the cultural critic. That syncs with the age information and "five books" but I was thrown off by "I transferred to a state college in New Jersey." If it's the same Lee Siegel, he transferred back to Columbia and stayed for three degrees. He's also been very well paid for a long time, diminishing my already low level of sympathy even further.