Steven Spielberg Pulls A Reverse Lucas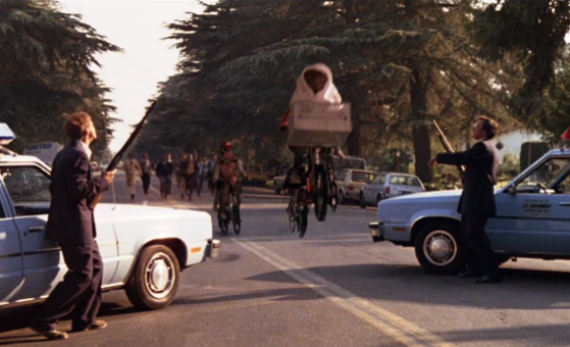 To the great distress of Star Wars fans everywhere, George Lucas has become infamous for the numerous changes he has made to the Original Trilogy over the years. These changes have ranged from the banal, such as adding digital beasts to scenes on Tatooine, to the outrageous, such as changing the bar fight between Han Solo and Greedo so that Greedo, no Solo, shoots first, and adding a bizarre scream to the penultimate scene of Return Of The Jedi.  When Steven Speilberg re-released the E.T. The Extra Terrestrial for its 20th anniversary in 2002, he did something similar by replacing guns being held by the government agents chasing E.T. and the children with walkie-talkies. Fans were upset and Speilberg admitted last fall that he regretted the decision to remove the guns from that particular scene. Now, with the movie scheduled to be released on Blu-Ray in October, Spielberg is bringing back the movie as it was originally seen in theaters:
As far as purists are concerned, the folks at Universal buried the lede in the announcement of their new anniversary edition of E.T. Hidden between all the selling points advertised in the Blu-ray trailer below, you'll catch something special in the footage about 25 seconds in: The guns are back.

(…)

That infamous 2002 rerelease also removed a line in which an angry Elliott called his brother "penis breath," and redubbed another line in which Elliott's mother told him he couldn't go out "dressed like a terrorist." (She tells him he couldn't go out "dressed like a hippie," of which screenwriter Melissa Mathison complained, "That doesn't make sense. The mom is a hippie, for God's sake.") Other scenes included a CGI E.T. rather than the original physical puppet. Spielberg has wielded the magic touch to restore those scenes as well.  Detailing the deleted scenes that will be part of the disc's extras, the press release notes that they include two scenes from the 2002 version, and a publicist for the release confirmed to me in an email: "It's the original 1982 version of the film intact."
Here's the trailer for the Blu-Ray release (the guns appear around :25)
And, here's the trailer for the 2002 release, which shows the agents carrying walkie-talkies around the 1:13 mark):
Good on you, Speilberg. Now how about talking some sense into your friend George?
Photo via Slate