Stocks Plummet Amid Coronavirus and Oil Fears
Trading has resumed after an early plunge triggered automatic suspension.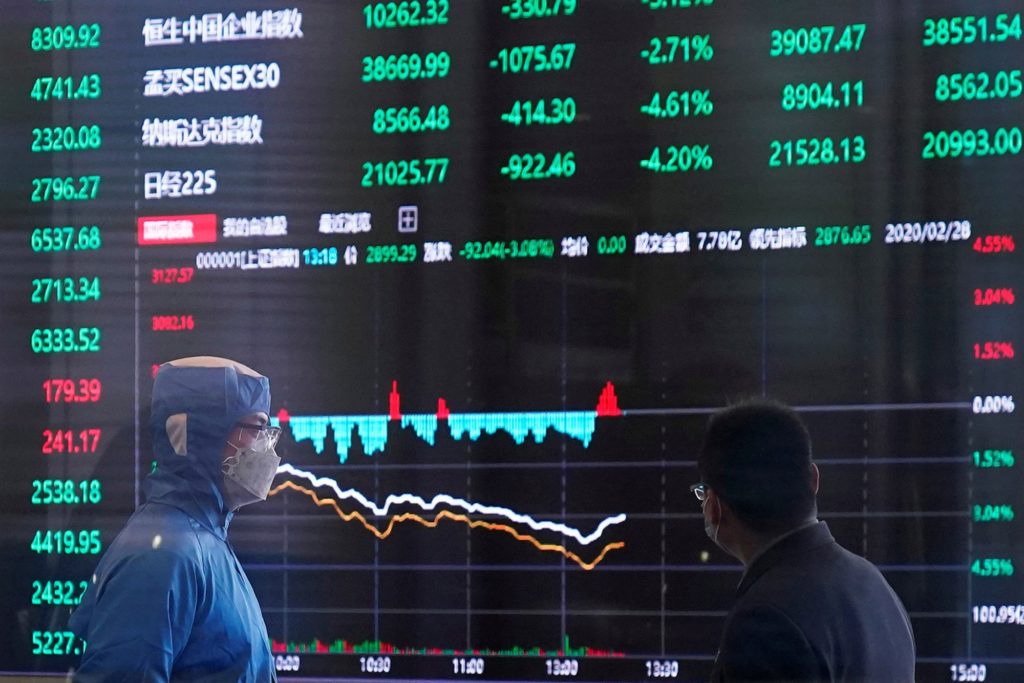 It's been another wild morning on Wall Street. The markets reopened just minutes ago after a steep drop triggered a temporary suspension of trading.
CNN is essentially live-blogging it.
Stocks resumed trading at 9:49 am ET, after the New York Stock Exchange halted activity following a 7% drop in the S&P 500.

*The S&P was down 7.2% upon the reopen.
*The Dow fell 7.9%, or 2030 points.
*The Nasdaq Composite dropped 7.2%
UPDATE: We should have all seen this coming:
Transportation stocks plunge into a bear market

Oil prices may be plummeting, but that's small consolation for crude-dependent airlines, trucking companies and railroads.

The Dow Jones Transportation Average (DJT) plunged 6.6% Monday morning before the market was halted for a circuit breaker. The index was still down more than 5% when stocks resumed trading.

The transports are now officially in a bear market — more than 20% below its recent peak. Lower fuel costs won't offset the massive drop in demand that transportation companies are facing in light of the coronavirus outbreak.

The index, which counts major airlines United (UAL), Delta (DAL), Southwest (LUV) and American (AAL) among its 20 members, has plunged 26% from the 52-week high it hit in January.

This is bad news for the global economy, as these companies are responsible for getting goods and people around the world.

Investors are clearly worried the bear market for transportation stocks could be a harbinger of a long protracted pullback for stocks — and perhaps even a global recession — on the horizon.
Indeed, we appear to be in store for the worst day of trading since 2011.
But not an all-time bad day:
During the Great Depression, on "Black Monday" in 1987 and during the Great Recession, stocks fell by much more.

That's not exactly a comforting thought … but it helps put today's 6% decline in context.

10/19/1987 -20.467%
10/28/1929 -12.34%
10/29/1929 -10.16%
11/16/1935 -10.11%
03/18/1935 -10.06%
10/15/2008 -9.03%
Not comforting in the least. Especially since we already had a rather sizable correction last week.