Student Barred from Graduation for Wrong Shoes
An outrage was averted by an act of kindness.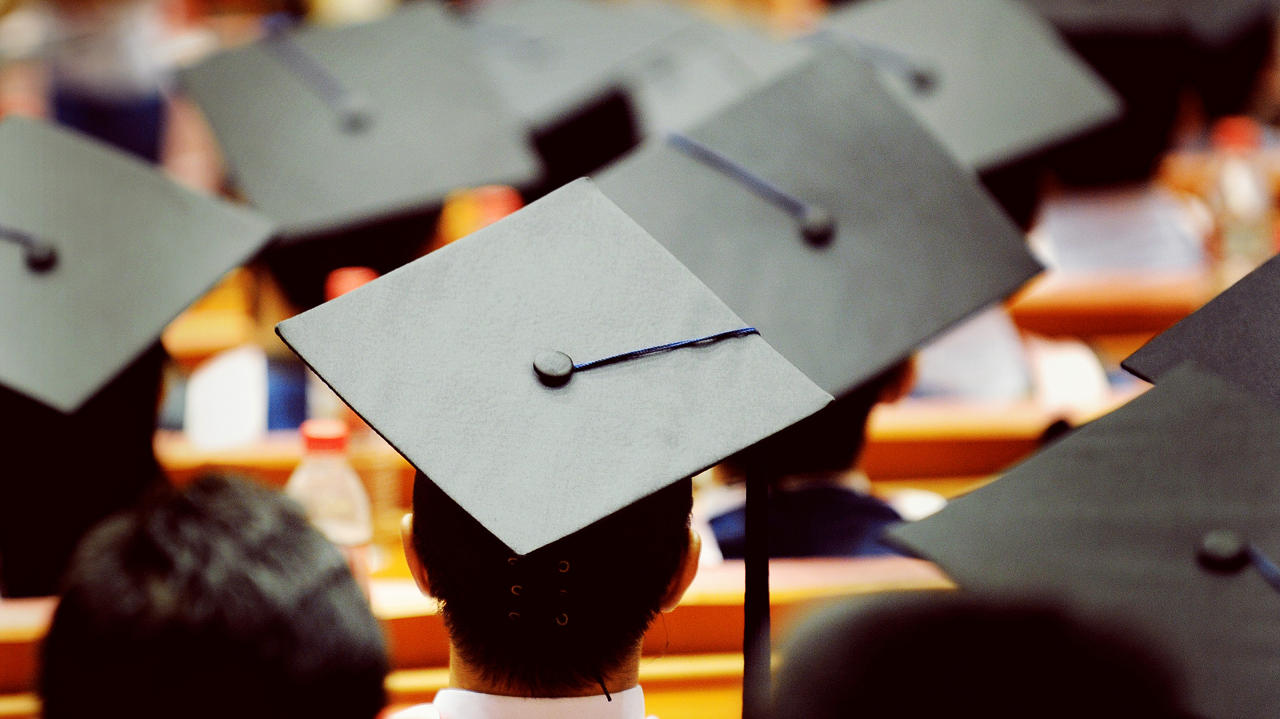 The Washington Post headline tells the story: "A student was barred from graduation for wearing the wrong shoes. So a teacher gave him the shoes off his own feet." It is, on one hand, a tale of human kindness. But, fundamentally, it's one of the cruelty of bureaucratic rigidity.
When Daverius Peters arrived at his high school graduation ceremony on May 19, he was immediately blocked from entering the convention center where it was being held.

Peters, 18, was wearing the mandatory purple cap and gown, but a school representative standing at the front door told him his shoe selection was wrong.

"She said my shoes violated the dress code and I couldn't attend the ceremony unless I changed them," said Peters, a senior at Hahnville High School in Boutte, La.

According to the school's graduation dress code, male students were to wear dark dress shoes, with an emphasis that "no athletic shoes" were to be worn.

Peters showed up that day in black leather sneakers with white soles, and while they weren't traditional dress shoes, "I thought I could wear them because they're black," he said, adding that he abided by the rest of the guidelines, which stipulated that students must wear a white dress shirt and tie, as well as dark dress pants.

When he was stopped from entering the front door, "I was in shock," Peters recalled. "I felt humiliated. I just wanted to walk across the stage and get my diploma."
Thankfully, John Butler, a paraeducator at the school who happened to be attending his own child's graduation, was able to come to the rescue, literally giving him the shoes off his own feet.
But humiliating this kid, potentially forcing him to miss his graduation, because he had on the wrong shoes? What kind of system allows that?
Look, I'm more of a stickler about proper dress and decorum at these things than most. I find it more than a little annoying when people show up for commencement exercises in too-casual clothes or disregard the always-given but always-ignored instruction not to hoot and holler like they're at a ball game.
But this kid wasn't doing anything wrong. He probably didn't even own a pair of dark dress shoes. And, apparently, they didn't have a dress rehearsal (my younger stepdaughter had hers yesterday) so that they could have at least asked him if he did.
Beyond that, as his mother rightly notes, there have to be kids at the school who simply can't afford to buy new shoes for a one-time event.
Although everything worked out in the end and Peters was able to get his diploma, Butler said the story underscored the school's critical need to adjust the dress code.

"Something that small shouldn't rob a kid from experiencing this major moment," said Butler, who is planning to meet with school administrators to review the guidelines for future graduation ceremonies. "It's something that needs to be thoroughly discussed."

[…]

When Peters's parents learned what happened, "we were very upset," Smith said, adding that her son has chronic asthma and spent the majority of the academic year in remote school. "He worked so hard, and for someone to just rip that away from him, that was maddening to me."

Her son genuinely believed that his footwear fit the dress code, she said, but "how about if I couldn't afford to buy him the shoes? This is not just about him; this is about the people that come after him."

Smith intends to address the matter with the school board to ensure it doesn't happen to another student in the future.

"If it wasn't for Mr. Butler's kind and thoughtful act, my child would have been sitting outside, and I wouldn't have known," Smith said. "I pray he will continue to work in the public school system because we need more teachers like him. Our young Black men need good role models and mentors like Mr. Butler."
That they do. But we need more thoughtful leadership, too. This act of kindness saved the day but shouldn't have been necessary. Robbing Peters and his family of what was almost certainly the biggest moment of his young life would have been an outrage.