Sudan, South Sudan Headed Toward War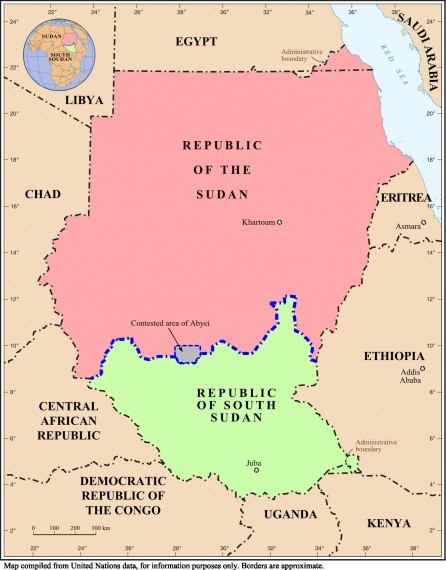 Less than a year after the southern provinces of Sudan gained their independence as the Republic of South Sudan, it looks like the two nations are headed toward war:
MAYOM WEL, South Sudan — On a recent blistering afternoon, this village danced in an open field. Women sashayed, hoisting chairs over their heads. Barefoot children scampered. Old men, with skin as dry and cracked as the bark of a savanna tree, jabbed rifles toward the burning sky.

"We are not cowards, we do not fear!" cried out the local commissioner, Awet Kiir Awet.

"Contribute food, contribute money," he urged the crowd.

South Sudan's years of conflict were meant to be over when it won its independence from Sudan last July after generations of fighting with the people of the north. But the jubilation quickly faded, and now, not even a year later, after weeks of pointed barbs and border skirmishes, this vast and vastly underdeveloped country is once again mobilizing for war — and asking some of the poorest people on earth to pay for it, with whatever they have at hand.

The villagers stepped forward, one after another, volunteering packs of tobacco, sacks of flour, goats, peanuts and $2 in wrinkled bills — not small change here. At the same time, scores of young men from around the area enlisted to be infantrymen, eager to rush to the front.

Sudan and South Sudan have yet to resolve a number of prickly and vital issues, not least of which is how to demarcate a border of more than 1,000 miles and share billions of dollars of oil revenue. Border clashes escalated in late March, killing hundreds, and strategic oil fields have switched hands.

The United States, the African Union and the United Nations have pushed both sides to stop fighting, saying the last thing this region needs is another major conflict. Sudan and South Sudan have agreed in principle in recent days to return to the negotiating table, though officials from the South say Sudan has continued to bomb areas along the border. Most South Sudanese, including top officials, are now convinced that more fighting is not a question of if, but when.

"Khartoum will definitely be attacking us," said South Sudan's vice president, Riek Machar, who is leading the nationwide mobilization effort. "This is our history, this is our inbuilt way of coping with problems."

In Juba, South Sudan's capital, government representatives move from hotel to hotel, compelling managers to donate 1,000 pounds each — about $370 — or essentials like charcoal and beans. In Rumbek, about 100 miles north, more than 850 young men signed up to join the army. In Warrap, a border state neighboring the contested region of Abyei, more than 3,000 young men have enlisted.

Anything from cooking oil to combatants is welcome.

President Salva Kiir likes to portray his country as an underdog, recently saying that South Sudan was "like a child who has two teeth, up and down," whose "teeth will grow" and "bite that man" referring to his former — and possibly future nemesis — Sudan's president, Omar Hassan al-Bashir.

Both sides, it seems, are gearing up for a major conflict. In Khartoum, Sudan's capital, the government mandated that part of civil servants' salaries be diverted toward the military — as has the South. And just like the South, Khartoum is trying to spur a grass-roots war effort, asking Sudanese citizens to donate food, goods and other valuables for the defense of the nation.

South Sudan's border areas, like Mayom Wel, bore the brunt of Sudan's two north-south civil wars, the first of which began in the 1950s, and the second of which ended only when an American-backed peace treaty was signed in 2005. In the generations between, villages were burned, children spirited away as slaves and many youths, known as the Lost Boys, were left to wander hundreds of miles across the lion-infested veld in search of safety.

Garang Wol Kon, an army recruiter, and his comrades tour these same areas today, asking people to go back to war. Originally, the recruiters said, they would have been happy netting 1,110 new soldiers. Instead, they have signed up triple that number.

"The sons and the daughters of the former liberators are the ones enjoying mobilization," Mr. Kon said, under the shade of a tree in Aweil. "It's something in the blood."
So it seems, so it seems.