Superman Quits The News Business, May Take Up Blogging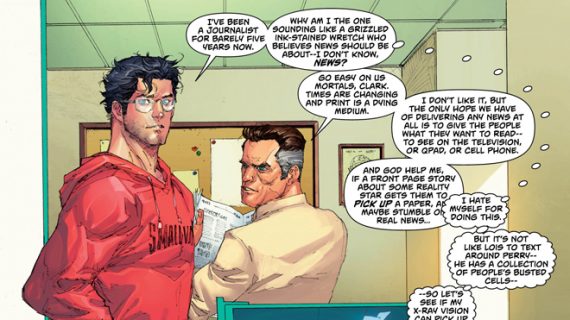 Clark Kent is looking for a new career:
 (CNN) – Add Superman to the list of reporters leaving the newspaper business behind.

In the comic book series' latest issue, which went on sale Wednesday, an outraged Clark Kent quits his job at The Daily Planet after his boss berates him.

"I was taught to believe you could use words to change the course of rivers — that even the darkest secrets would fall under the harsh light of the sun," the superhero's alter ego says in a newsroom outburst. "But facts have been replaced by opinions. Information has been replaced by entertainment. Reporters have become stenographers. I can't be the only one who's sick of what passes for the news today."

(…)

In an interview with USA Today this week, writer Scott Lobdell said Kent is much more likely to start his own blog than he is to search for new work in the news business.

"I don't think he's going to be filling out an application anywhere," Lobdell said. "He is more likely to start the next Huffington Post or the next Drudge Report than he is to go find someone else to get assignments or draw a paycheck from."
Great, just what bloggers need. A superhero competing against us.