Dick Clark Dead At 82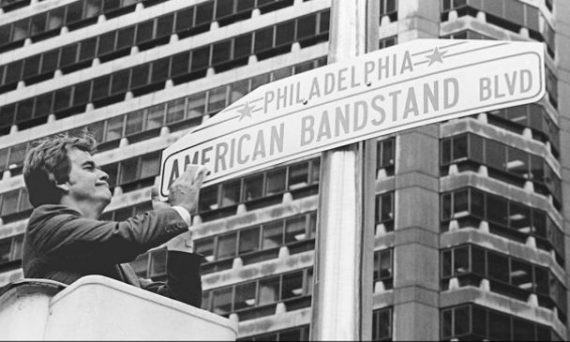 Legendary television producer and music promoter Dick Clark has died at the age of 82:
Dick Clark, the music industry maverick, longtime TV host and powerhouse producer who changed the way we listened to pop music with American Bandstand, and whose trademark Rockin' Eve became a fixture of New Year's celebrations, died today at the age of 82, ABC News has learned.

Clark, who suffered a serious stroke in 2004 but returned to the airwaves, reportedly died from a heart attack.

Born in Mount Vernon, N.Y., on Nov. 30, 1929, Richard Wagstaff Clark began his lifelong career in show business began before he was even out of high school. He started working in the mailroom of WRUN, a radio station in upstate New York run by his father and uncle. It wasn't long before the teenager was on the air, filling in for the weatherman and the announcer.

Clark pursued his passion at Syracuse University, working as a disc jockey at the student-run radio station while studying for his degree in business. After graduating in 1951, Clark went back to his family's radio station, but within a year, a bigger city and bigger shows were calling.

Clark landed a gig as a DJ at WFIL in Philadelphia in 1952, spinning records for a show he called Dick Clark's Caravan of Music. There he broke into the big time, hosting Bandstand, an afternoon dance show for teenagers.

American Bandstand's formula was simple. Clean-cut boys and girls danced to the hottest hits and the newest singles. In between, Clark chatted with the teens, who helped "rate-a-record," turning songs into sensations. Everyone showed up on American Bandstand: from Elvis Presley to Jerry Lee Lewis, Chuck Berry to Chubby Checker.

When Dick Clark moved to Hollywood in 1963, American Bandstand moved with him. He started Dick Clark Productions, and began cranking out one hit show after another; his name became synonymous with everything from the $25,000 Pyramid to TV's Bloopers & Practical Jokes to the American Music Awards. In 1972, Dick Clark became synonymous with one of the biggest nights of the year.

Dick Clark's New Year's Rockin' Eve on ABC became a Dec. 31 tradition, with Clark hosting the festivities for more than three decades, introducing the entertainment acts and, of course, counting down to midnight as the ball dropped in New York's Times Square.
If you grew  up in the 70s or 80s, it was hard to miss the Saturday morning broadcast of American Bandstand, or the long running jokes about how Clark himself never seemed to age. That seemed to come to an abrupt end in 2004 when Clark suffered a stroke from which he never fully recovered, he would eventually return to his New Years Eve show for six more years, but the festivities were really in the hands of other (lesser) hosts.
The Museum of Broadcast Communications has done the math, and figures that Dick Clark Productions has turned out more than 7,500 hours of television programming, including more than 30 series and 250 specials, as well as more than 20 movies for theatre and TV.

All this earned Clark a long list of awards and accolades: Emmys, Grammys, induction in the Rock 'n' Roll Hall of Fame, a star on the Hollywood Walk of Fame. It also made him one of the richest men in Hollywood; he also had stakes in a wide range of businesses, including restaurants, theatres and real estate.

Clark, whose eternally youthful look earned him the nickname "America's Oldest Teenager", is survived by his three children and his third wife, Keri Wigton, married to him since 1977. He credited his appearance to good genes, once saying "if you want to stay young looking, pick your parents very carefully."

Now, America's Oldest Teenager is gone, leaving his indelible mark on generations of fans, and helping change rock 'n' roll and TV forever. His signature sign-off was always "For now, Dick Clark … so long," said with a salute.
It's hard to overstate the impact that Clark had on shaping American music during the years that this show was at its high point. It was American Bandstand that hosted the national television premiers of groups like the The Supremes and The Jackson 5 among so many others. Clark also strongly promoted a number of African-American performers over the years, even at the height of American's civil rights struggles. It's hard to conceive of what the music business would've been like without him.
Photo via The Washington Post