Supreme Court: Christian Group Can't Exclude Gays While Accepting Public Funds
Once again, the Supreme Court affirmed today that there is no Constitutional right to receive public funds.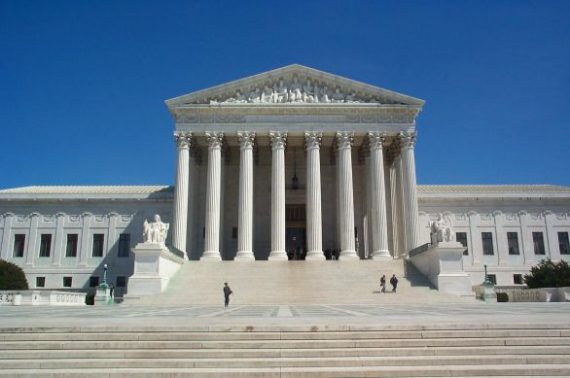 Another decision handed down by the Supreme Court today reiterated the old adage that he who pays the piper calls the tune:
WASHINGTON (AP) — An ideologically split Supreme Court ruled Monday that a law school can legally deny recognition to a Christian student group that won't let gays join, with one justice saying that the First Amendment does not require a public university to validate or support the group's "discriminatory practices."

The court turned away an appeal from the Christian Legal Society, which sued to get funding and recognition from the University of California's Hastings College of the Law. The CLS requires that voting members sign a statement of faith and regards "unrepentant participation in or advocacy of a sexually immoral lifestyle" as being inconsistent with that faith.

But Hastings, which is in San Francisco, said no recognized campus groups may exclude people due to religious belief or sexual orientation.

The court on a 5-4 judgment upheld the lower court rulings saying the Christian group's First Amendment rights of association, free speech and free exercise were not violated by the college's nondiscrimination policy.

"In requiring CLS — in common with all other student organizations — to choose between welcoming all students and forgoing the benefits of official recognition, we hold, Hastings did not transgress constitutional limitations," said Justice Ruth Bader Ginsburg, who wrote the 5-4 majority opinion for the court's liberals and moderate Anthony Kennedy. "CLS, it bears emphasis, seeks not parity with other organizations, but a preferential exemption from Hastings' policy."

Justice Samuel Alito wrote a strong dissent for the court's conservatives, saying the opinion was "a serious setback for freedom of expression in this country."

"Our proudest boast of our free speech jurisprudence is that we protect the freedom to express 'the thought that we hate,"' Alito said, quoting a previous court decision. "Today's decision rests on a very different principle: no freedom for expression that offends prevailing standards of political correctness in our country's institutions of higher learning."
The Cato Institute's Roger Pilon's picks up on Justice Alito's theme in his reaction to the decision:
Justice Ruth Bader Ginsburg, writing for the Court's three other liberals plus Justice Anthony Kennedy, held that the school's "all comers" policy, which requires that student organizations accept anyone as members and even as officers, is "constitutionally reasonable," taking into account all of the surrounding circumstances. That is a new standard for constitutionality when it comes to fundamental rights. And if students, whatever their interests or values, cannot form organizations limited to people who share those interests and values, what's the point of having student organizations at all? In a word, like the mugger who says "Your money or your life," today's opinion enables Hastings to say, "If you want benefits otherwise available to all, you've got to give up your right to freedom of association." No public institution should be able to put people to such a choice.
The problem I have with this is that Pilon, who I generally respect when it comes to Constitutional Law, seems to be confusing the ideas of Freedom of Association/Expression with the "right" to receive official recognition or, in this case, access to student activity funds.
The first is clearly guaranteed by the First Amendment and there's nothing in today's decision that says that the members of the Hastings Christian Legal Society can't form a private group and air their views. The second, though, seems to me to come dangerously close to the idea that their is a right to receive public funds for private purposes, which would seem to be a position that libertarians like the people at Cato would soundly, and correctly reject. As long as the regulations are reasonable and not arbitrary, I see no reason why Hastings Law School should not be permitted to set standards defining which groups can and cannot receive public funding for their activities.