Supreme Court Hears Arguments In Case Pitting First Amendment Rights Against LGBT Rights
The Supreme Court held oral argument in a case that pits First Amendment rights against the rights of LGBT Americans.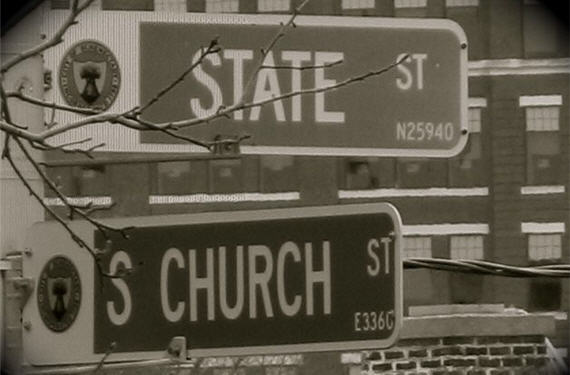 Earlier today, the Supreme Court heard oral argument that pits the issue of the rights of gay and lesbian couples and laws regarding bars on discrimination in public accommodations based on certain criteria and the First Amendment rights of business owners:
Justice Anthony M. Kennedy, who almost certainly holds the crucial vote in the case of a Colorado baker who refused to make a wedding cake for a gay couple, sent sharply contradictory messages when it was argued Tuesday at the Supreme Court.

He asked a lawyer for the Trump administration whether the baker, Jack Phillips, could put a sign in his window saying, "We don't bake cakes for gay weddings." The lawyer, Noel J. Francisco said yes, so long as the cakes were custom made.

Justice Kennedy looked troubled and said the administration's position was an affront to the dignity of gay couples.

Later, though, Justice Kennedy said that a state civil rights commission that had ruled against the baker had "neither been tolerant nor respectful of Mr. Phillips's religious beliefs."

The case, which pits claims of religious freedom against the fight for gay rights, has attracted extraordinary public attention and about 100 friend-of-the-court briefs.

Mr. Phillips says that he should not be forced to use his talents to convey a message of support for same-sex marriage. The couple, Charlie Craig and David Mullins, say that businesses open to the public should not be allowed to discriminate against gay men and lesbians.

Tuesday's argument, which lasted almost 90 minutes instead of the usual hour, appeared to divide the justices along the usual lines.

The more liberal justices probed whether all sorts of artisans — tailors, hair stylists, makeup artists, chefs — could refuse to supply goods and services for same-sex weddings. Conservative justices considered whether artists can be required to convey messages with which they profoundly disagree.

Kristen K. Waggoner, a lawyer for Mr. Phillips, said her client was an artist, one who created a sort of sculpture.

Justice Sonia Sotomayor appeared unpersuaded. "When have we ever given protection to a food?" she asked.

Justice Stephen G. Breyer said the questions served a purpose.

"Where is the line?" he asked. "That is what everyone is trying to get at."

Both Ms. Waggoner and Mr. Francisco said that it would be harder to justify discrimination against interracial couples than gay ones. "Race is particularly unique," Mr. Francisco said.

That distinction did not seem to sit well with some justices. And David D. Cole, a lawyer for the couple, said it would relegate gay and lesbian couples to second-class citizenship.

But Chief Justice John G. Roberts Jr. said the court's 2015 decision establishing a constitutional right to same-sex marriage had anticipated good-faith disagreements over gay unions.

"The court went out of its way to talk about the decent and honorable people who have opposing views," Chief Justice Roberts said, referring to Justice Kennedy's majority opinion. (The chief justice had dissented.)

The remark was a sign of Justice Kennedy's central role in the case, Masterpiece Cakeshop v. Colorado Civil Rights Commission, No. 16-111. He is at once the court's most prominent defender of gay rights and its most committed supporter of free speech.

In his majority opinion in the 2015 decision, Obergefell v. Hodges, he indeed seemed to anticipate clashes like the one from Colorado. Justice Kennedy called for "an open and searching debate" between those who opposed same-sex marriage on religious grounds and those who considered such unions "proper or indeed essential."

At Tuesday's argument, he indicated sympathy for the rights of gay men and lesbians. But he also indicated that he believed the civil rights commission had mistreated Mr. Phillips. He quoted from the remarks of one commissioner who called Mr. Phillips's position despicable, and he seemed troubled by a part of the commission's ruling that required Mr. Phillips to retrain his staff.

Frederick R. Yarger, a lawyer for the commission, said he disavowed the commissioner's comment, but Justice Kennedy did not appear satisfied.

"Tolerance is essential in a free society," Justice Kennedy said. "It seems to me that the state in its position here has neither been tolerant nor respectful of Mr. Phillips's religious beliefs."

The practical implications of Justice Kennedy's concerns were unclear. They left open the possibility, for instance, that the Supreme Court could return the case to the commission for a rehearing before an unbiased panel.
At SCOTUSBlog Amy Howe analyzes the argument in more detail and, as she notes, with four Justices on each side of the Court seemingly sympathetic to one side or the other, attention was focused mainly on one man, Associate Justice Anthony Kennedy:
With Kennedy seemingly holding the key vote, the couple and their supporters at first seemed to have reason to be optimistic. Discussing the impact that a ruling for the baker could have for gays and lesbians, Kennedy told Solicitor General Noel Francisco, who argued on behalf of the United States in support of Masterpiece Cakeshop, that if the baker were to win, he could put up a sign indicating that he would not bake cakes for same-sex couples. That, Kennedy suggested, would be "an affront to the gay community."

But the tide seemed to shift later in the argument, as Kennedy asked Colorado Solicitor General Frederick Yarger, representing the state, about a statement by a member of the Colorado Civil Rights Commission who noted that religious beliefs had in the past been used to justify other forms of discrimination, like slavery and the Holocaust. It is, the commission member contended, "one of the most despicable pieces of rhetoric that people can use their religion to hurt others." If we thought that at least this member of the commission had based his decision on hostility to religion, Kennedy asked Yarger, could the judgment against Masterpiece stand?

Kennedy returned to this idea again a few minutes later, telling Yarger that "tolerance is essential in a free society." But Colorado, Kennedy posited, hasn't been very tolerant of Phillips' religious beliefs in this case. And, following up on Gorsuch's suggestion that the training required of Phillips would amount to compelled speech, Kennedy commented (more than a little derisively) that Phillips would "have to teach that state law supersedes our religious beliefs."
Keeping in mind my previous caveats regarding looking to oral argument to try to guess how a particular case might turn out, it's obvious here that this is one of those cases where the conservative and liberal wings of the Court are entirely predictable in how they are likely to view the case. On the conservative side, Justices such as Chief Justice Roberts, along with Justices Alito, Thomas, and Gorsuch, clearly seem to be on the side of the bakers appealing the decision of the Colorado Civil Rights Commission. On the liberal side, Justices Ginsburg, Breyer, Sotomayor, and Kagan all seemed skeptical of either the argument that baking a cake for a wedding reception constituted speech for purposes of the First Amendment or that the free speech and religious liberty objections raised by the bakers constituted a sufficient bar to the State of Colorado's arguably compelling interest in enforcing generally applicable laws barring discrimination by businesses that advertise themselves as being open to the general public. In Colorado's case, that includes enforcing the laws that bar discrimination based on a number of characteristics including race, religion, ethnicity, gender, and sexual orientation. With these two sides of the Court seeming pre-determined in the manner in which they would rule, the question of which way Justice Kennedy is inclined to go will prove crucial to the outcome of this case.
Kennedy is in a unique position in this case in that it seemingly pits two of the most notable things about his nearly thirty-year tenure on the Court against each other. On the one hand, Kennedy has been a strong defender of freedom of speech and skeptical of efforts by the government to either punish those holding unpopular opinions or compel them to engage in speech that they do not support. On the other hand, Kennedy has been at the forefront of the Court's decisions that have expanded protections and rights for LGBT citizens. This started in Romer v. Evans, a case in which the Court struck down a Colorado referendum that purported to bar local jurisdictions from passing municipal laws barring discrimination against its LGBT citizens. It continued in Lawrence v. Texas, a 2003 case which overturned the Court's previous ruling in Bowers v. Hardwick and found state and local laws barring consensual sodomy to be unconstitutional. When the legal battle for marriage equality reached its peak earlier this decade, Kennedy was once again the key vote in advancing LGBT rights. In United States v. Windsor, Kennedy wrote the majority opinion in the case in which the Court found the Defense of Marriage Act to be unconstitutional. Finally, of course, it was just over two years ago that Kennedy penned the majority opinion in Obergefell v. Hodges, the case that struck down laws against same-sex marriage in the states where they remained standing. In each of these opinions, Justice Kennedy relied heavily on the argument that laws that bar equal rights to LGBT individuals not only violate the equal protection clause but are also objectionable under the 14th Amendment due to the fact that they deny those citizens the dignity and equality that the Constitution and its Amendments were clearly intended to provide to all Americans. Given this history on Kennedy's part, how these two issues — freedom of speech v. LGBT rights — balance in his mind are likely to go a long way toward determining which way the Court ends up deciding this case.
One possible clue in that regard comes from a 2011 case called Christian Legal Society v. Martinez. In that case, the Court upheld a policy by the University of California Hastings College of Law that barred officially sanctioned student organizations from discriminating in membership and other policies based on a prospective member's status or beliefs. Kennedy joined a majority in that case in an opinion written by Justice Ginsburg and filed his own concurring opinion. The student organization had argued that its Christian beliefs were sufficient justification for barring prospective members who engaged in "unrepentant homosexual conduct" or otherwise supported ideas such as same-sex marriage or LGBT rights. In his concurrence, Kennedy specifically argued that the interest in barring discrimination outweighed the First Amendment rights of the student organization. If Kennedy views the arguments made by the bakers the same way he did the student organization in Martinez, he seems more likely to side with the Court's liberal wing and in favor of the State of Colorado. If he finds that the state's efforts to compel the baker to make a cake that goes against their religious beliefs and compelling them to send a message they do not endorse, then he could end up siding with the conservatives and ruling for the bakers.
As I noted when the Court accepted this case for argument, my tendency is to argue that the argument the bakers are making here is not consistent with existing law. While I am a strong supporter of freedom of speech rights, the idea that baking a cake constitutes speech for First Amendment seems to be without much merit. In some cases, such as cases involving wedding photographers, officiants, or others, the argument that there is a First Amendment rather than a purely commerical aspect to the work being solicited seems to have merit. In others, such as a florist asked to provide flowers for a wedding or a baker asked to bake a wedding cake and have it delivered to a specific venue at a certain time, the argument that speech is being compelled seems rather week. Additionally, even if it is the case that there is a freedom of speech right being impacted by the law, there is recent Supreme Court precedent that suggests that this does not mean the law in question has been applied in an unconstitutional manner. Just this year, in Expressions Hair Design v. Schneiderman the Supreme Court held that a law "does not violate the First Amendment because it has an effect on speech that is "only incidental to its primary effect on conduct."" In this case, that would mean that even if there is a valid freedom of speech claim being made by the baker, it does not trump a generally applicable law barring discrimination that clearly has only an incidental mpact on those claims. The ruling against the Plaintiffs in Schneiderman was unanimous, although Justices Breyer, Sotomayor, and Alito wrote or signed onto concurring opinions distinguishing certain issues in the case.
Similarly, the religious liberty argument advanced by the bakers is also seemingly without merit based on existing Supreme Court precedent.  The question is whether the First Amendment claims of the bakers outweigh the governmental interest at issue. In this case, Colorado's interest is one that the Court has generally found to be a compelling one,  namely the interest in protecting minority groups from invidious discrimination in public accommodations. In many ways, then, the case is similar to the issues raised by Employment Division v. Smith, a case that the Court decided in 1990 in which it rejected the argument of a Native American who tested positive for the use of peyote that the fact that using the drug was part of a religious ceremony should exempt him from a state policy that barred unemployment insurance to someone who was terminated due to an illegal act such as drug use. The Court's majority opinion in that case, which was written by Justice Scalia and joined by conservatives such as William Rehnquist and Anthony Kennedy, essentially held that a claim of religious liberty was not sufficient to provide someone with an exemption from a generally applicable law that was not directed at a specific religious faith or at religious practice in general. In other words, a claim of religious liberty does not trump a generally applicable law in which the government has a compelling law and where the law in question is narrowly tailored to address that interest.
This is likely to be one of those cases where it will be some time before we get an opinion from the Court. Regardless of which way Kennedy decides, the question that Justices may end up debating back and forth for months is what kind of precedent the Court wishes to estbliah. If Kennedy sides with the liberals, for example, we could end up with a narrowly tailored opinion that rejects the First Amendment claims in this case but leaves open the possibility that there could be some cases where freedom of speech or religious liberty could trump the interest of an individual state in seeing that its generally applicable laws are enforced equally. If he sides with conservatives, the question will be just how broadly the court wishes to extend the protection of freedom of speech and religious liberty and whether or not it wants to put its long-standing position that laws against discrimination constitute such a compelling government interest that there are few, if any, exceptions to the enforcement of those laws. Additionally, there will no doubt be a number of concurring and dissenting opinions that will take time for the Justices involved to draft. Potentially, we could get a decision sometime in the late winter or early spring of 2018 or, we may not get a ruling until June when the Court typically hands down opinions in its most difficult and most controversial cases. In the meantime, we'll all just have to wait and see.
Here's the transcript of today's argument:
Masterpiece Cakeshop Et Al v. Colorado Civil Rights Commission Et Al Transcript by Doug Mataconis on Scribd