Supreme Court To Hear Appeal Of Baker Who Refused To Bake Cake For Same-Sex Wedding
The Supreme Court has accepted the appeal of a Colorado baker in a case that will determine if claims of religious liberty and free expression outweigh the application of generally applicable laws against discrimination.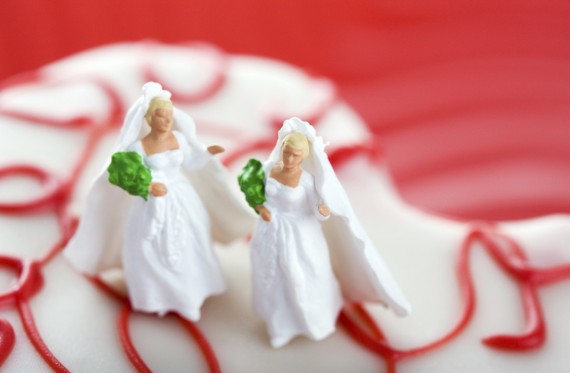 In addition to the decisions it issued yesterday dealing with President Trump's Muslim Travel Ban, it's opinion in a  major case on the First Amendment and religion, and the decision to decline to hear yet another Second Amendment case, the Supreme Court also decided to take up a case dealing with a baker in Colorado who declined to bake a cake for a same-sex wedding reception, claiming that to do so would violate his First Amendment rights, specifically the right to freely exercise his religion:
WASHINGTON — The Supreme Court agreed on Monday to hear an appeal from a Colorado baker with religious objections to same-sex marriage who had lost a discrimination case for refusing to create a cake to celebrate such a union.

The case will be a major test of a clash between laws that ban businesses open to the public from discriminating based on sexual orientation and claims of religious freedom. Around the nation, businesses like bakeries, florists and photography studios have said, so far with little success, that forcing them to serve gay couples violates their constitutional rights.

The Supreme Court's decision, expected next year, will again take the justices into a heated battle in the culture wars. On one side are gay and lesbian couples who say they are entitled to equal treatment from businesses that choose to serve the general public. On the other are religious people and companies who say the government should not force them to choose between the requirements of their faiths and their livelihoods.

In a series of decisions culminating in its 2015 ruling establishing a constitutional right to same-sex marriage, the Supreme Court has consistently ruled in favor of gay rights. But it has also said that businesses run on religious principles may sometimes be exempted from generally applicable laws, as when it ruled in 2014 that some companies could not be required to provide free contraceptive coverage for their female workers.

The new case, Masterpiece Cakeshop v. Colorado Civil Rights Commission, No. 16-111, started in 2012, when the baker, Jack Phillips, an owner of Masterpiece Cakeshop in Lakewood, Colo., refused to create a cake for the wedding reception of David Mullins and Charlie Craig, who were planning to marry in Massachusetts. The couple filed discrimination charges, and they won before a civil rights commission and in the courts.

"This has always been about more than a cake," Mr. Mullins said. "Businesses should not be allowed to violate the law and discriminate against us because of who we are and who we love."

Mr. Phillips, who calls himself a cake artist, argued that two parts of the First Amendment — its protections for free expression and religious freedom — overrode a Colorado anti-discrimination law and allowed him to refuse to create a custom wedding cake.

David Cortman, one of Mr. Phillips's lawyers, said the case concerned fundamental rights. "Every American should be free to choose which art they will create and which art they won't create without fear of being unjustly punished by the government," he said.

In 2015, a Colorado appeals court ruled against Mr. Phillips. "Masterpiece does not convey a message supporting same-sex marriages merely by abiding by the law and serving its customers equally," the court said.

In a Supreme Court brief, Mr. Phillips's lawyers said "he is happy to create other items for gay and lesbian clients." But his faith requires him, they said, "to use his artistic talents to promote only messages that align with his religious beliefs."

"Thus," the brief said, "he declines lucrative business by not creating goods that contain alcohol or cakes celebrating Halloween and other messages his faith prohibits, such as racism, atheism, and any marriage not between one man and one woman."

In response, the couple's lawyer wrote that "it is no answer to say that Mullins and Craig could shop somewhere else for their wedding cake, just as it was no answer in 1966 to say that African-American customers could eat at another restaurant."
On some level, it's surprising that the Court even agreed to hear the appeal in this case. As noted above, it declined to review the appeal of the New Mexico photographer and the issue has not been before the Court in any other context. Additionally, as I noted, the claims of business owners in these cases have generally not been accepted by any court, and especially not by any court of last resort. Because of this, there is no Circuit split or another disagreement on the issues presented here that would compel the Court to step in. The fact that it has strikes me as probably being an example of the impact of the addition of Justice Gorsuch to the case. When the Court turned down the cert request of that New Mexico photographer a few years back there were three Justices who dissented from the denial, specifically Thomas, Alito, and Roberts. Assuming that these were the only three Justices who believed the Court should hear the case, which is likely given that a fourth vote would have meant that the Court accepted the appeal, that means that both Justice Scalia and Justice Kennedy were against accepting the case for appeal. With Scalia gone, Gorsuch may have provided the fourth vote to take the case up, joining Thomas et al and the conservatives seem to be rolling the dice on the case.  In any case, there have been so many of these cases recently, and likely more to come in the future if the Court didn't act, that it was seemingly inevitable that they'd take up an appeal eventually.
The deciding vote will likely be Kennedy, the same guy who has written all the Court's landmark LGBT rights cases and who was in the majority in Employment Division v Smith along with Scalia. Anything's possible, but I don't see him siding with Alito et al on this one. This is true not only because of Kennedy's role in deciding important LGBT rights cases such as Roemer v. Evans, Lawrence v. Texas,  United States v. Windsor, and of course Obergefell v. Hodges, but also because of his position in a 2011 case called Christian Legal Society v. Martinez in which the Court upheld a policy by the University of California Hastings College of Law that barred officially sanctioned student organizations from discriminating based on a prospective member's status or beliefs. In that case, Kennedy joined in a majority opinion written by Justice Ginsburg and backed by the Court's liberal wing and filed his own concurrence. In that case, the student organization argued that its Christian beliefs were sufficient justification for barring prospective members who engaged in "unrepentant homosexual conduct" or otherwise supported ideas such as same-sex marriage or LGBT rights. In his concurrence, Kennedy specifically argued that the interest in barring discriminatioon outweighed the First Amendment rights of the student organization. If he's consistent with his previous rulings with all these cases, it seems far more likely that Justice Kennedy will side with the state of Colorado than the baker.
Cases like this are not new, of course. Ever since same-sex marriage began being recognized at the state level and many states and localities have adopted laws adding sexual orientation to the list of those classes of people protected by anti-discrimination laws, there have been a series of cases dealing with wedding vendors who have refused to provide a service to a same-sex wedding based on their religious beliefs. In Washington State, a florist found herself in litigation when she refused to provide services to a same-sex couple's wedding. In a New Jersey case that arose before that state had even legalized same-sex marriage a church that operated a beach venue generally open to the public for weddings and other events was told that it could not ban same-sex couples from renting the venue under the state's anti-discrimination law. A New York couple was fined for refusing to allow a lesbian couple to use their farm for their wedding, an event which caused them to cease making the farm available for any wedding at all. An Idaho chapel that ran a for-profit business that made it available to the general public found itself in a showdown with the City of Cour d'Alene over enforcement of that city's anti-discrimination law. And, perhaps most famously, the New Mexico Supreme Court ruled several years ago that an Albuquerque photographer had violated an anti-discrimination ordinance when he refused to provide services for a same-sex wedding. The photographer sought to appeal that case, but the Supreme Court declined to hear an appeal of that decision. That appeal was notable because it raised some of the same First Amendment claims that this case does, extending beyond the religious freedom issue to allege that compelling the photographer to perform services was a violation of his freedom of speech and expression rights in addition to forcing him to violate his religious beliefs. Perhaps most significantly, in none of those cases has a court of last resort ruled in favor of the religious liberty or freedom of speech claims made by the business owner.
Whether this is viewed as a religious freedom or a free expression case, the analysis is basically the same. The question is whether the First Amendment claims of the business owner outweigh the governmental interest at issue. In this case, the governmental interest at stake is one that the Court has generally found to be a compelling one,  namely the interest in protecting minority groups from invidious discrimination in public accommodations such as what's at issue in the case. It also seems to me to be the case that the laws at issue are seeking to enforce that compelling interest through the least restrictive means possible. In many ways, then, the case is similar to the issues raised by Employment Division v. Smith, a case that the Court decided in 1990 in which it rejected the argument of a Native American who tested positive for the use of peyote that the fact that using the drug was part of a religious ceremony should exempt him from a state policy that barred unemployment insurance to someone who was terminated due to an illegal act such as drug use. The Court's majority opinion in that case, which was written by Justice Scalia and joined by conservatives such as William Rehnquist and Anthony Kennedy, essentially held that a claim of religious liberty was not sufficient to provide someone with an exemption from a generally applicable law that was not directed at a specific religious faith or at religious practice in general. Additionally, as Ian Millhiser notes, just this year in Expressions Hair Design v. Schneiderman that a law "does not violate the First Amendment because it has an effect on speech that is "only incidental to its primary effect on conduct."" In this case, that would mean that even if there is a valid freedom of speech claim being made by the baker, it does not trump a generally applicable law barring discrimination that clearly has only an incidental mpact on those claims.
Although the facts are different, the situation in Smith seems to be essentially the same situation we have here. The state of Colorado has a generally applicable law that bars discrimination in public accommodations against people that fall into certain categories, one of them being sexual orientation. The baker at issue here has refused to provide a cake to a member of the general public specifically because of their sexual orientation and therefore was found to have violated that law. Whether this is viewed as a matter of religious liberty or freedom of expression, it seems clear that the Court will most likely find that the compelling government interest at issue here outweighs the rights claimed by the business owner. I could end up being wrong, of course, but we'll have to wait for briefing, oral argument, and the final opinion to find out. In the meantime, you can review the pleadings that have already been filed in this case, and those that will be filed in the future at the SCOTUSBlog information page for this case.