Supreme Court Rules That GPS Tracking Is A Search, But That's About All
The Supreme Court issued a somewhat muddled ruling on GPS tracking today.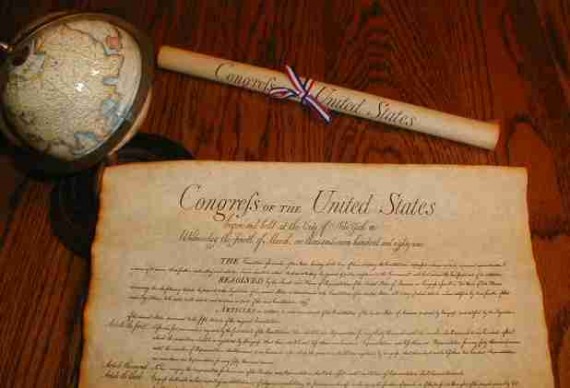 In a unanimous ruling, although a divided opinion, the Supreme Court ruled today that police cannot place a GPS tracking device on a suspects vehicle without first obtaining a warrant:
WASHINGTON — The Supreme Court on Monday unanimously ruled that the police violated the Constitution when they placed a Global Positioning System tracking device on a suspect's car and monitored its movements for 28 days.

But the justices divided 5-to-4 on the rationale for the decision, with the majority saying that the problem was the placement of the device on private property. That ruling avoided many difficult questions, including how to treat information gathered from devices installed by the manufacturer and how to treat information held by third parties like cellphone companies.

Walter Dellinger, a lawyer for the defendant in the case and a former acting United States solicitor general, said the decision "is a signal event in Fourth Amendment history."

"Law enforcement is now on notice," he said, "that almost any use of G.P.S. electronic surveillance of a citizen's movement will be legally questionable unless a warrant is obtained in advance."

Though the ruling was limited to physical intrusions, the opinions in the case collectively suggested that a majority of the justices are prepared to apply broad Fourth Amendment privacy principles unrelated to such intrusions to an array of modern technologies, including video surveillance in public places, automatic toll collection systems on highways, devices that allow motorists to signal for roadside assistance and records kept by online merchants.

The case decided Monday, United States v. Jones, No. 10-1259, concerned Antoine Jones, who was the owner of a Washington nightclub when the police came to suspect him of being part of a cocaine-selling operation. They placed a tracking device on his Jeep Grand Cherokee without a valid warrant, tracked his movements for a month and used the evidence they gathered to convict him of conspiring to sell cocaine. He was sentenced to life in prison.

The United States Court of Appeals for the District of Columbia Circuit overturned his conviction, saying the sheer amount of information that had been collected violated the Fourth Amendment, which bars unreasonable searches.

The Supreme Court affirmed that decision, but on a different ground. "We hold that the government's installation of a G.P.S. device on a target's vehicle, and its use of that device to monitor the vehicle's movements, constitutes a 'search,' " Justice Antonin Scalia wrote for the majority. Chief Justice John G. Roberts Jr. and Justices Anthony M. Kennedy, Clarence Thomas and Sonia Sotomayor joined the majority opinion.

"It is important to be clear about what occurred in this case," Justice Scalia went on. "The government physically occupied private property for the purpose of obtaining information. We have no doubt that such a physical intrusion would have been considered a 'search' within the meaning of the Fourth Amendment when it was adopted."

In a concurrence for four justices, Justice Samuel A. Alito Jr. faulted the majority for trying to apply 18th-century legal concepts to 21st-century technologies. What should matter, he said, is the contemporary reasonable expectation of privacy.

"The use of longer term G.P.S. monitoring in investigations of most offenses," he wrote, "impinges on expectations of privacy." Justices Ruth Bader Ginsburg, Stephen G. Breyer and Elena Kagan joined the concurrence.

"We need not identify with precision the point at which the tracking of this vehicle became a search, for the line was surely crossed before the 4-week mark," Justice Alito wrote. "Other cases may present more difficult questions."
Lyle Denniston tries to make some sense of what the Court actually ruled today, because the existence of multiple concurrences with different legal theories makes the blanket statement that the Court found that the use of GPS tracking without a warrant is unconstitutional isn't really correct:
Given the complexity of the voting pattern, and what the votes actually supported or failed to support, it nonetheless was clear that the Court was unanimous in one respect.  It upheld the result — but no more than the result — of a D.C. Circuit Court ruling that Jones' Fourth Amendment rights had been violated.

Justice Department lawyers, trying to salvage their case in the Supreme Court, had argued that the electronic monitoring of Jones — even if it was a search — did not violate the Fourth Amendment because the search was based upon "reasonable suspicion, and indeed probable cause, to believe that [Jones] was a leader in a large-scale cocaine distribution conspiracy."  Justice Scalia said the Court would not consider that argument, since it was not raised in the lower courts and the D.C. Circuit did not deal with it.  "We consider the argument forfeited," Scalia wrote.  That meant, in practice, that Jones' convicted was overturned, as the D.C. Circuit had ruled.

Because Scalia made mention of that alternative argument, however, it appeared likely that federal prosecutors will attempt to use it in other cases involving the use of the GPS, when the investigators had not obtained a warrant.   Some caution might be in order, though, because Justice Sotomayor's vote was necessary to make even that part of the Scalia opinion a majority-supported result, and her separate opinion might be read to raise some doubt about her enthusiasm for that argument.

Sotomayor interpreted the Court's ruling as a narrow one, saying that it was limited to a conclusion that "the government's physical intrusion on Jones' Jeep" was a search under the Fourth Amendment.  But she also noted that she agreed with the separate Alito opinion that the use of GPS technology over a prolonged period of monitoring will impinge — in at least some cases — on an individual's constitutionally protected "expectation of privacy."

(…)

Justice Alito's concurring opinion, representing the views of himself and three other Justices, challenged the Scalia opinion as "unwise" for relying — in an originalist sense — about what constituted a "trespass" that invaded privacy at the time the Fourth Amendment was added to the Constitution in 1791 as part of the Bill of Rights.  The Founding generation, Alito wrote, could not have imagined GPS technology.  So, he argued, the ruling in this case should turn on the question of whether individuals have a "reasonable expectation of privacy" that could be compromised by the use of such devices.

There were two qualifications in the Alito opinion's embrace of that approach.   Such privacy would be intruded upon, he wrote, if there were "longer term GPS monitoring," and that would be true for "most offenses" that were under investigation.   Those two apparent limitations mean, in practice, that short-term GPS monitoring might not intrude on Fourth Amendment privacy, and police and federal agents' investigation of some crimes with such a device might not, either.
The Court, in other words. did not go nearly as far as the three judge panel of the D.C. Circuit Court of Appeals from which this case had come, which held that the act of placing the GPS device on the Defendant's care without a warrant was, in and of itself, unconstitutional, or the position that Judge Alex Kozinski took in a case that was before the 9th Circuit Court of Appeals several years ago. Most importantly, though, it's worth noting that the Court did not hold today that a warrant is required to place a GPS tracking device on a Defendant's vehicle. Instead what we seem to have gotten is a ruling that doing so constitutes is a "search" under the Fourth Amendment. Whether it's a search that requires a warrant is a question that will have to be left for another case.
What this means, of course, is that it will take further cases to decide this issue completely, but it strikes me that Justice Alito is correct when he argues in his concurrence (joined by Justices Kennedy, Ginsburg, Breyer, and Kagan) that the Court erred significantly when it tried to turn this into an issue of trespass instead of looking to the Fourth Amendment itself:
In the pre-computer age, the greatest protections of privacy were neither constitutional nor statutory, but practical. Traditional surveillance for any extended period of time was difficult and costly and therefore rarely undertaken. The surveillance at issue in this case—constant monitoring of the location of a vehicle for four weeks—would have required a large team of agents, multiplevehicles, and perhaps aerial assistance.10 Only an investigation of unusual importance could have justified such an expenditure of law enforcement resources. Devices like the one used in the present case, however, make long-term monitoring relatively easy and cheap. In  circumstances involving dramatic technological change, the best solutionto privacy concerns may be legislative. See, e.g., Kerr, 102 Mich. L. Rev., at 805-806. A legislative body is well situated to gauge changing public attitudes, to draw detailed lines, and to balance privacy and public safety in a comprehensive way.

To date, however, Congress and most States have not enacted statutes regulating the use of GPS tracking technology for law enforcement purposes. The best that we can do in this case is to apply existing Fourth Amendment doctrine and to ask whether the use of GPS tracking in aparticular case involved a degree of intrusion that a reasonable person would not have anticipated.

Under this approach, relatively short-term monitoringof a person's movements on public streets accords withexpectations of privacy that our society has recognizedas reasonable. See Knotts, 460 U. S., at 281-282. But the use of longer term GPS monitoring in investigations ofmost offenses impinges on expectations of privacy. For such offenses, society's expectation has been that lawenforcement agents and others would not—and indeed, inthe main, simply could not—secretly monitor and catalogue every single movement of an individual's car for a very long period. In this case, for four weeks, law enforcement agents tracked every movement that respondent made in the vehicle he was driving. We need not identify with precision the point at which the tracking of this vehicle became a search, for the line was surelycrossed before the 4-week mark. Other cases may present more difficult questions. But where uncertainty exists with respect to whether a certain period of GPS surveillance is long enough to constitute a Fourth Amendmentsearch, the police may always seek a warrant
Alito raises a good point in bringing up the fact that there ought to be legislative action here, because there are plenty of situations where tracking like this can be accomplished without the police having to do what they did in this case. For example, should it be permissible for law enforcement to be able to access the GPS tracking data emitted by a suspect's cell phone, or the GPS system in their car, or the monitor the signal emitted by their electronic toll device (i.e. EZ-Pass)? Under the majority analysis, none of these would constitute a "search" because none of them involve a trespass. However, could it not be said that we have a reasonable expectation of privacy in this kind of data, or that there ought to be a law forbidding that information from being shared with law enforcement without a Court order or a search warrant? As Alito said, we have reached the point where twenty-four hour monitoring is technologically possible, and it's only become easier as technology advances. On some level, the Courts are not the best avenue to deal with these questions because they can only deal with matters on a case-by-case basis and each particular search is dependent on the facts of the particular case, as we learned today. If we don't get a handle on this issue soon, we may find that it's too late to control the information that we, knowingly and unknowingly, share with the government whether we like it or not.
Here's the opinion: