Supreme Court To Decide If Politicians Can Be Sued For Lying During A Campaign
The Supreme Court is set to hear arguments next week in an important First Amendment case.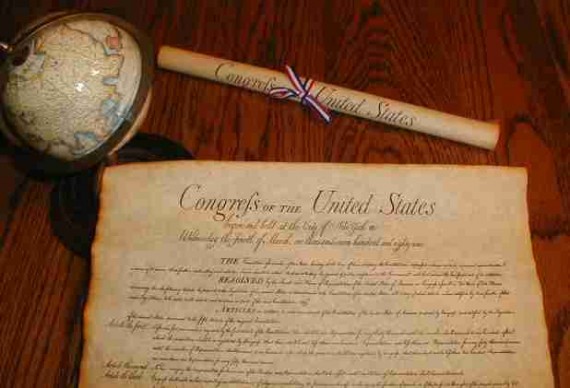 Next week the Supreme Court will hear arguments in a case challenging an Ohio law that makes it a crime to lie during the court of an election:
Groups at both ends of the ideological spectrum are challenging an Ohio law, on the books since the 1970s, that forbids candidates, issue groups or anyone else from knowingly or recklessly making false statements about someone on the ballot — whether the untruths are intended to help elect or defeat the candidate. Fifteen other states similarly criminalize "false" political statements, briefs in the case say, but this is the first constitutional challenge against one of those laws that's made it to the Supreme Court.

The dispute started during one of the hottest House races in the country in 2010 — a rematch in a swing district covering western Cincinnati and the adjacent suburbs between freshman Democrat Steve Driehaus and the Republican he'd ousted two years before, Steve Chabot.

A group organized to elect candidates opposed to abortion, the Susan B. Anthony List, sought to rent space on a billboard declaring "Shame on Steve Driehaus! Driehaus voted FOR taxpayer-funded abortion," but the sign's owner called off the deal after the congressman filed a complaint with the Ohio Elections Commission alleging the message violated the false statements law.

SBA List said it was on solid ground because the congressman had voted to enact the health care overhaul, which anti-abortion groups interpret as permitting tax dollars to be spent on the procedure. Even after President Barack Obama signed an executive order saying that insurance plans sold on the new health exchanges could not spend any of their federal subsidies on the vast majority of abortions, exceptions remained in cases of rape, incest or when the pregnant woman's life was in danger.

Driehaus, who cultivated a socially conservative record, said in his legal brief that the "defamatory meaning" of the billboard was clear: to falsely portray him as "a hypocrite who abandoned his principles and his constituents."

He dropped his complaint after losing that fall to Chabot, who still holds the seat. But SBA List, since joined by the American Civil Liberties Union as well as some tea-party-like organizations, filed a federal lawsuit alleging the Ohio law's threat of prosecution was an unconstitutional infringement on free speech.

(…)

The plaintiffs are hoping to bolster their cause by likening the Ohio statute to a 2005 law that made it a federal crime to lie about receiving military honors or decorations. Two years ago, the justices voted 6-3 to strike down that "Stolen Valor Act" as a violation of the First Amendment.

But as is the case so often, the court has a wide opening to decide the case without addressing the big constitutional question. It could rule only on the preliminary procedural question of whether Susan B. Anthony List may press its arguments in the lower courts because of its fears about getting in trouble in the future, or has lost standing to sue because it's no longer threatened with prosecution over the billboard.

If the justices are looking for guidance from the state of Ohio, they are going to find it — in contradictory stereo. State Attorney General Mike DeWine has taken the extraordinary step of producing arguments on both sides of the case.

One of his briefs says the law should be left alone on the narrow standing grounds. That argument is that the anti-abortion group didn't see its free speech rights curbed because the Driehaus complaint went away, and there is no way to prove it's going to run afoul of the statute by reviving the Obamacare-finances-abortion line of attack this year.

The other brief says the law should be struck down on constitutional grounds. Not only does it allow "the state's legal machinery to be used extensively by private actors to gain political advantage," that argument says, but the law "fails to provide adequate safeguards (including prompt judicial review) against the chilling of political speech."
I wrote about the Driehaus lawsuit in 2010 when it was first filed and then again when a Federal Judge denied a Motion for Summary Judgment seeking to dismiss the claim. As I noted in that second post, there are serious First Amendment questions at play here:
If there's any one thing that the First Amendment was clearly intended to protect it is political speech, specifically speech regarding a candidate for election about an issue of public controversy. The idea that a candidate could turn around and file a civil action against a citizen, or in this case a group of citizens, for statements made in the heat of an election campaign is, to say the very least, extremely disturbing.

For one thing, the very act of filing a suit can have a chilling effect on other speech. If someone who wants to speak out against a candidates position on particular issue sees that doing so can lead to the possibility, or threat, of a lawsuit, they are less likely to speak out, regardless of whether or not they are right. For another, determining truth and falsehood in the context of a political argument isn't always easy because it is so typically laden with exaggeration and hyperbole. Would Judge Black say, for example, that Paul Ryan has a cause of action against the people who say his budget plan ends Medicare, because that is clearly untrue? There are plenty of exaggerations like this strewn throughout political debates, the idea that each one of them would suddenly become subject to a defamation suit is deeply concerning. Saying that a politician raped a child when one knows that to be false is one thing, saying that the plan they favor would have a certain policy impact strikes me as being quite another.
A law that essentially criminalizes political speech and gives government officials the power to determine the truth or falsity of claims made during the course of a political campaign is one that is quite obviously fraught with danger. For one thing, it creates the possibility that such laws will be enforced based on partisan biases and that the "false" claims of one politician will be punished while those made by another are allowed to stand without punishment. As with any similar restriction on political speech, this would inevitably create a chilling effect that would reduce the amount of speech that takes place during a campaign. This, of course, would be completely antithetical to the intentions of the First Amendment, which has been described as being designed to create a marketplace of ideas wherein ever claim would be freely made, and everyone would be free to challenge those claims. The answer to a politician or a political group who makes a false claim during the course of a campaign, then, isn't to punish them in Court but to present the evidence showing those claims are false to the public. In the end, the voters will digest all of this information and decide accordingly. More often than not, they will end up getting it basically right.
As noted, it's possible that the Court will decide this case on procedural issues and thus avoid ruling on the First Amendment claims being raised, but I hope they don't. If there's any part of public life in which we should avoid restricting speech it is during the course of a political campaign, and that's exactly what the Ohio statute does..