Ted Cruz, Mike Lee Say They Won't Block Shutdown/Debt Ceiling Bill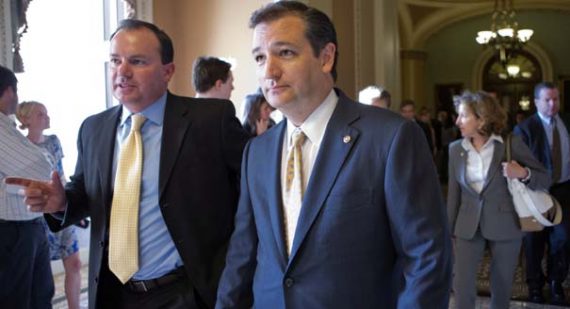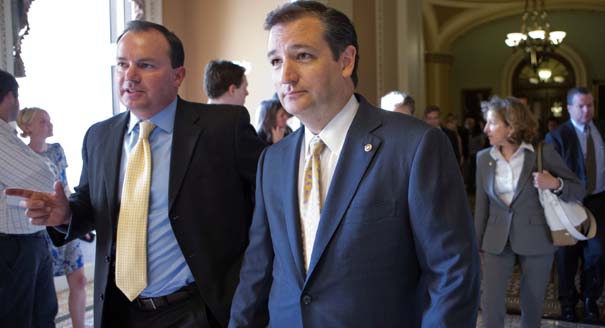 Senators Ted Cruz and Mike Lee, who spent much of the summer and the past month leading an effort to use the budget process in a quixotic attempt to delay or defund the Affordable Care Act, have said they won't block the deal reached by Senators Reid and McConnell when it comes to the Senate Floor:
Sens. Ted Cruz and Mike Lee said Wednesday that they won't try to block the bipartisan deal to reopen the government and raise the debt ceiling.

"The timing of the vote will make no difference to the outcome," Cruz (R-Texas) said. "I have no intention of delaying the vote."

Cruz and Lee (R-Utah) had spearheaded the campaign to attach ObamaCare language to any new budget bills, and had pushed their colleagues to take a hard-line stance.

But the pair emerged from a meeting of Senate Republicans Wednesday afternoon to say they would let the agreement — which contains only one provision on ObamaCare — move forward.

"Some of us want to see it first — we still don't have text," Lee said. "But provided we get the text and have time t review it and everything, I suspect we'll collapse the time."

There has been speculation that the bipartisan deal might originate in the House, thereby eliminating some procedural hurdles when the bill moved to the Senate. But with Cruz and Lee withdrawing their filibuster threats, several GOP senators said the upper chamber will likely act first on the agreement.
So, depending on how quickly things move, we could start seeing votes in the House and Senate starting later this afternoon.