Ted Cruz Wants Joe Lieberman For Defense Secretary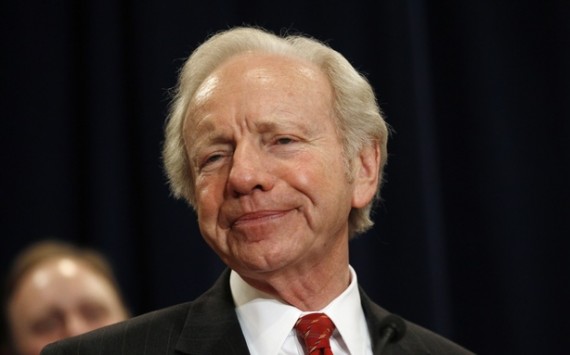 The junior Senator from Texas thinks he knows who Obama should pick for Secretary of Defense:
Sen. Ted Cruz (R-Texas) has a person in mind to replace outgoing Defense Secretary Chuck Hagel: Joe Lieberman.

Cruz floated the former Connecticut independent senator as a "strong" option to succeed Hagel, who announced his resignation earlier Monday. President Barack Obama has not yet named a proposed replacement.

"One strong option would be former Sen. Joe Lieberman, a member of the president's own party with deep experience and unshakable commitment to the security of the United States," Cruz said. "I urge the president to give him full and fair consideration for this critical position."

Lieberman, who retired from Congress in 2012, was known for his hawkish views on foreign policy that he shared with Republican Sens. John McCain of Arizona and Lindsey Graham of South Carolina. The three men were dubbed the Three Amigos.

The former senator, who was the Democratic Party's vice presidential nominee in 2000, was recently announced as an honorary co-chairman at the centrist group No Labels.

Other possibilities for Hagel's replacement include former top Pentagon officials Michèle Flournoy and Ash Carter, as well as Sen. Jack Reed (D-R.I.). But a Reed spokesman said earlier Monday that the senator does not want to be considered for the Defense secretary slot.
The first point worth noting, of course, is that the President is unlikely to give much credibility to Ted Cruz's advice on matters such as this to begin with. Additionally, given the relationship that Lieberman had with the Administration and his fellow Democrats during his final years in office, the idea of the President appointing him or someone like him to the position seems far-fetched indeed, Given the fact that a primary problem that plagued Hagel's time in office appears to have been his relationship with the White House, it would seem to be unwise to say the least to appoint someone who is unlikely to have a good relationship with the White House. Additionally, to be completely frank about it, Lieberman doesn't strike me as someone tempramentally suited to the role of Defense Secretary. Perhaps in the heat of the Gulf War he would have been an appropriate choice, although even then I would have been skeptical, but in today's era when it's important to have a voice of reason at the Pentagon rather than a simply a voice for further intervention appointing someone like Lieberman would strike me as a step backwards.