Texas Ends COVID Restrictions
The Lone Star State is celebrating its independence in a big way.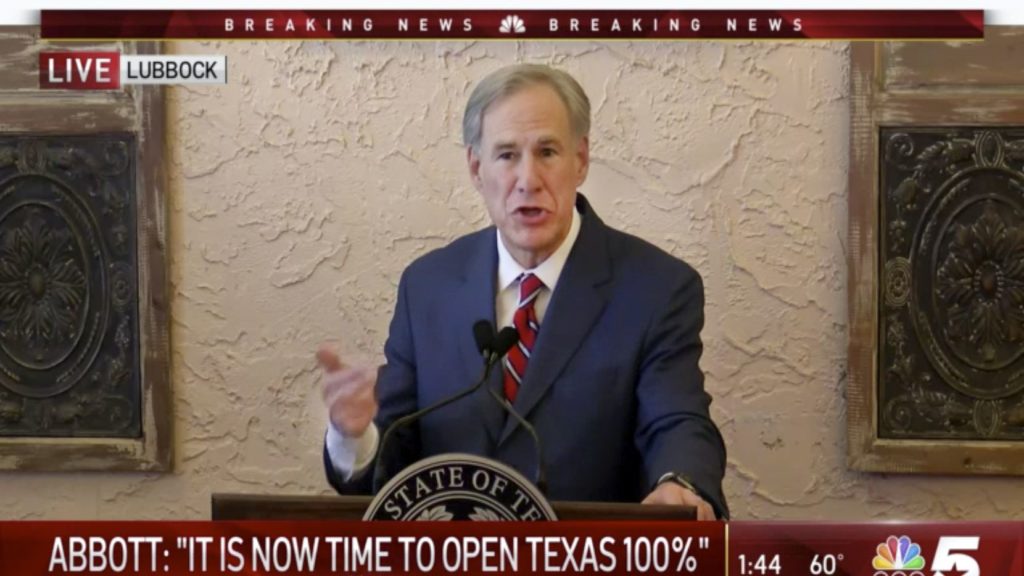 Dallas Morning News ("Gov. Greg Abbott says it's time to open Texas 100%, end statewide mask mandate"):
Texans will no longer be required to wear a face mask in public, and all businesses will be able open at full capacity starting next week, Gov. Greg Abbott announced Tuesday.

The Republican made the sweeping move — on Texas Independence Day — even though public health officials say restrictions are still critical to control the pandemic, which has killed more than 42,500 Texans.

Abbott cited growing vaccination rates for his decision, though fewer than 2 million Texans are fully inoculated against COVID-19 in a state of 29 million. The announcement puts Texas at odds with federal experts, who have said that even as vaccinations rise, people still need to wear masks, avoid crowds and socially distance.

Abbott also pointed to declines in hospitalizations, but experts warn that those are slowing and could reverse.

Texans will be in charge of managing their own individual safety, Abbott said, using practices learned during the pandemic.
Now, offhand, this strikes me as nuts. Why not wait another month or two for far more of the state's residents to get vaccinated? And, as much as I despise wearing a mask, ending the mandate puts high-risk individuals at greater danger, since most of the benefit is protecting others, not the wearer.
There's a caveat in the re-opening order:
County judges will be able to impose their own coronavirus restrictions if COVID-19 hospitalizations rise above 15% in their region for seven straight days. As of Tuesday, just one area in Texas met that criterion: the region including El Paso, according to state data.

The region that includes Dallas and Tarrant Counties was at 8.7% as of Monday.

Dallas County judge Clay Jenkins chastised Abbott on Twitter for lifting "all his state orders designed to protect you and those you care about" from coronavirus on the same day the county's COVID-19 death toll topped 3,000.

"You should focus on what doctors, facts and science say is safe," Jenkins urged residents, "not on what Gov. says is legal!"
County judges seem an odd choice for this power but having a threshold makes sense.
But there's an argument that we've been thinking about this wrong. As logical as lockdowns and other restrictions are—you can't catch a transmissible virus if you never go near other people—their actual effectiveness as public policy is debatable.
Indeed, Reason's Zack Weissmueller argues, lockdowns don't work. He cites the drastically different approaches California and Florida took to their Disney theme parks.
The media savaged Florida Governor Ron DeSantis (R) when he and a handful of Southern GOP governors pushed to re-open most businesses in early summer 2020. DeSantis's strategy from the get-go had been to shield seniors by issuing executive orders to temporarily ban nursing home visitations and prohibit re-admission of COVID-positive patients. (New York's Democratic Governor Andrew Cuomo, in contrast, forced nursing homes to accept COVID-19 patients).

A couple of months later, with case rates falling, National Review editor Rich Lowry asked, "Where Does Ron DeSantis Go to Get His Apology?"

But when cases surged over the summer, Los Angeles Times columnist Michael Hiltzik delivered on the requested apology: "Sorry, you're even worse than I imagined," he wrote.

By the end of the summer, however, cases were falling in Florida, and rising in areas of the country that were in full or partial lockdown.

California, which had the nation's most stringent policies related to COVID-19, began to experience a massive second wave in November. Florida was also seeing a spike in cases and deaths, though it was less severe.

While the California and Florida approaches to COVID-19 were vastly different, their outcomes began to look remarkably similar.

If some in the media had been too quick to condemn DeSantis, others had also been too quick to declare victory for Newsom. In April, the Atlantic had extolled California's "dramatic success in containing the coronavirus pandemic."

What is clear about the impact of Newsom's policies is that they've taken a devastating toll on working-class California residents. The Golden State shed eight percent of its jobs (compared to five percent in Florida). It also experienced the fifth-highest drop in GDP among U.S. states and a much higher drop in tax revenue.

California now has more total cases per capita and is approaching Florida's total deaths per capita despite having a younger population.
The Worldometers COVID data bears this out as well:

Bizarre as it may seem, California, Florida, and Texas have incredibly similar numbers in terms of cases/million and deaths/million. And all three are doing slightly better than the national average in deaths/million despite radically different public policies.
Obviously, the single variable "lockdown policy" isn't enough to do the comparison given wildly different conditions. By far the two worst states in terms of death rate are New York and New Jersey. While there's much to criticize in how their governors handled the outbreak, the sheer population density of the New York City metropolitan area certainly contributed to the outcomes.
Still, looking at the states hardest hit by the virus reveals no obvious pattern:

Yes, there are a lot of red states, including my former home state of Alabama, in the bottom 11. But also a lot of blue states, including all four of the worst-hit. And there are plenty of comparable states among those faring best: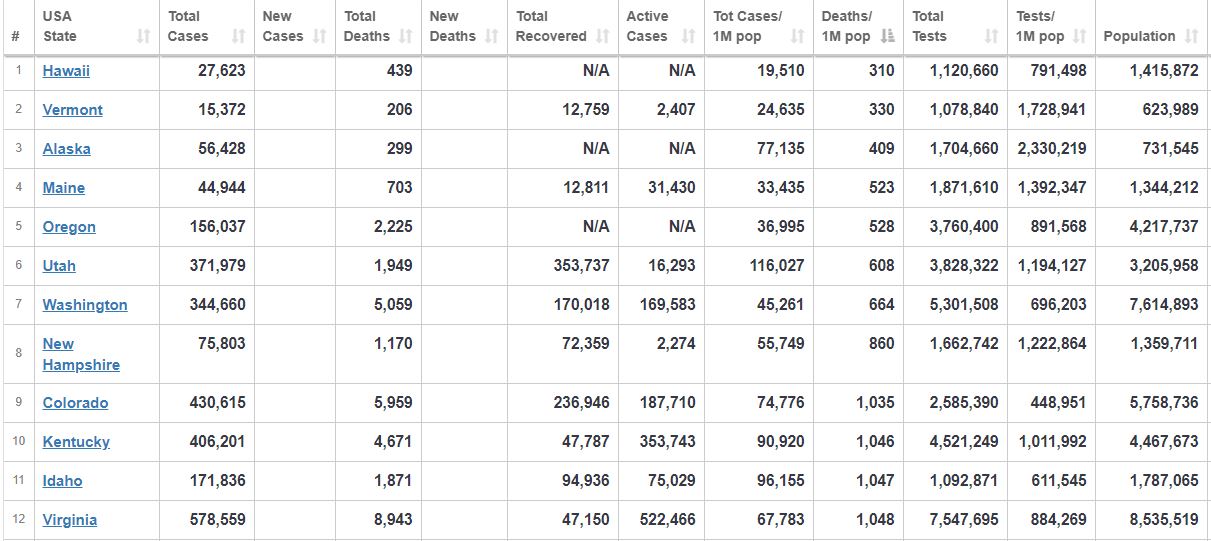 Granting that a lot of these states are low-population and/or low population density, the Dakotas are both among the worst-hit. My current home state of Virginia comes in at 11—essentially tied with Kentucky, which almost certainly had less restrictive policies.
The most obvious explanation isn't so much that social distancing and the like don't work but that people simply won't comply with them in large numbers after awhile. Weissmueller again:
The contrast between California and Florida reflects growing evidence that lockdowns are not an effective strategy for managing a viral respiratory epidemic, despite early studies suggesting otherwise.

A June 2020 paper in Nature claimed that lockdowns would save 3-4 million lives worldwide, but it assumed that as they stretched on, lockdowns would remain just as effective as in the early days of the pandemic. After it was published, places with stringent lockdowns, including California, the United Kingdom, and Italy, experienced second waves.

A possible reason is that lockdowns become less effective over time because the public grows weary of the social isolation and starts gathering in private households on a more frequent basis.

According to contact tracing data in New York, 74 percent of cases were contracted inside people's homes.

Big city mayors who promoted aggressive lockdowns are beginning to change tack even amidst large caseloads. Chicago's Lori Lightfoot and Washington, D.C.'s, Muriel Bowser have pushed for re-opening restaurants for indoor dining, and San Francisco and L.A.'s mayors have allowed outdoor dining to resume.

A January 5 study by a research team at Stanford compared countries that shut down "non-essential" businesses with ones that took less restrictive public health measures, like only banning large events and discouraging international travel. It found "no evidence that … [more stringent] lockdowns" contributed substantially to bringing down the case rate.
I guess we're going to see a big natural experiment in Texas.