The Attack In Boston Is Not Relevant To The Immigration Debate
Opponents of immigration reform are deceptively attempting to use the bombing attack in Boston to derail immigration reform.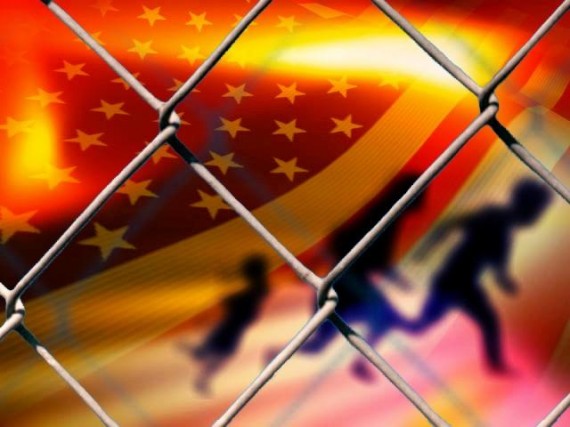 As I noted last weekend, almost immediately after we learned that the perpetrators of the attack at the Boston Marathon were refugees from Chechnya, the forces on the right who have been engaged in an all out attack on efforts to put together a comprehensive immigration reform package began citing it as a reason to put the debate over reform on hold. The fact that these two men had come into the country as children, and with no indication that they or their family had any ties to militant organizations, so it's unclear what the case of the Tsarnaev family actually tells us about our immigration system. As I noted at the time, it was clear that the people making this argument were simply latching on to the terrorist attacks as another means by which to attack the very idea of reforming an obviously broken immigration system.
Today in The Washington Times, former New Mexico Governor, and 2012 Libertarian Party candidate for President, Gary Johnson puts forth a strong argument against using a knee-jerk reaction to a what appears to be a one-off terrorist attack to derail needed reform of our immigration system:
When something bad happens, blame immigration. It is just too easy politically to conjure up images of foreigners coming here — legally or illegally — as the cause of our problems. Make no mistake, our current immigration system is broken. If it wasn't, we would not today be wrestling with the very real and very difficult question of how to deal with the 11 million to 20 million illegal immigrants in the country today. If it wasn't broken, the arbitrary annual ceiling on visas for highly-skilled workers would not have been hit in only five days. If legal immigration levels were allowed to be set by the marketplace, rather than by artificial limits negotiated by politicians and labor unions, maybe we wouldn't need as much of that border "enforcement" everyone seems to love so much.

Listing the problems with the system could go on all day, but we mustn't let the politicians get by with confusing those problems with the heinous acts of a couple of deranged individuals in Boston. Even more important, let us not allow two brothers who committed murder and mayhem derail the hopes and dreams of millions of people who want to come to America for all the right reasons. Call it terrorism, call it a horrific crime, call it what you want, but the Boston Marathonattack does not reflect an immigration problem.

Let's be clear. The Tsarnaev brothers apparently were brought to America by their father 10 years ago on tourist visas, and once here, sought and were granted asylum — a process that is probably not foolproof, but which is certainly not easy for the applicants. Granting asylum would have entailed a security screening — a pretty rigorous process in the aftermath of Sept. 11, 2001. However, the brothers were very young, and it is almost inconceivable that anything would have arisen in a security screening of a preteen youngster or even a high schooler that could have predicted their insane acts.

(…)

In the understandably frantic aftermath of Sept. 11, we compounded the tragic human loss from those attacks with self-inflicted wounds to Americans' liberty, freedom and privacy. In the wake of Newtown, Aurora and other horrible crimes, we are on the verge of taking ever-larger chunks out of the Second Amendment. Let us not allow knee-jerk political reactions to the Boston crimes similarly to make victims of students, aspiring legal immigrants and all of us who benefit from their coming here.
Syndicated columnist Dick Polman makes a similar argument:
[S]ince we're talking about national security, it just so happens that the reformers are dealing with that anyway. Virtually all the money – roughly $17 billion over 10 years – would be spent on enhanced border security, most notably new surveillance technology. And bringing 11 million people (most of whom are Hispanic) out of the shadows would actually strengthen our security. Republican Senator Lindsey Graham, who's hardly a wuss on security, says that reform would enable us to "find out who they are. Most of them are here to work, but we may find some terrorists." Indeed, as the undocumented workers move toward citizenship, they'd be subjected to four separate background checks.

It's politically understandable that the conservative foes of path-to-citizenship reform would latch onto the terrorism issue, especially if the timing seemed fortuitous. They don't have much else, and they've been on defense ever since the sane Republican wing woke up to the fact that the party is toast unless it can find a way to connect with the burgeoning Hispanic electorate. A GOP report recently urged that the party find a way "to embrace and champion comprehensive immigration reform," and the business community wants it, too. So if fear of foreign terrorists was the only card left in the deck, the foes of reform were bound to play it.
Johnson and Polman are both correct. There are some serious issues raised by the attack in Boston and the fact that two young men who had spent a decade of their most formative  years growing up in an American culture decided to turn on it in the manner that they did. There are questions that will need to be answered about the warnings that American law enforcement and intelligence authorities received from Russian officials regarding Tamerlan Tsarnaev, the investigation that followed and what it uncovered, and why Tamerlan was not placed on some kind of watch list. There are questions that will need to be answered regarding Tamerlan's six-month trip to Russia and, apparently, Dagestan and whether there should have been some kind of follow up by the FBI after that trip, not to mention the questions about whether or not Russian authorities were monitoring Tsarnaev while he was in the country  and whether they ever informed anyone in the US about his movements. Finally, from initial reports it also appears that there may have been the same kind of failures of communication between various government agencies that preceded the September 11th attacks regarding the information that was received about Tamerlan, and that's another issue that ought to be addressed in the aftermath of this attack.
Nowhere in the list of post-Boston issues, though, is there anything that even comes close to implicating the issues raised by the immigration reform ideas being discussed on Capitol Hill right now. As Governor Johnson mentions in his column,  the standards for asylum status under the law have become more stringent since the September 11th attacks and now include security screenings and other investigations, so it's unclear what could have been done in the early 2000's regarding the Tsarnaev family, and it's even less clear what changes in immigration law would even come close to preventing what happened in Boston. Those who attempt to use the attack in Boston as an argument against immigration reform are doing nothing more than engaging in diversionary tactics.