The Election May Not End On Election Night
Thanks to races in as many six states that may be decided by absentee and write-in ballots, we may not know the outcome of the 2010 Elections for several weeks after Election Day.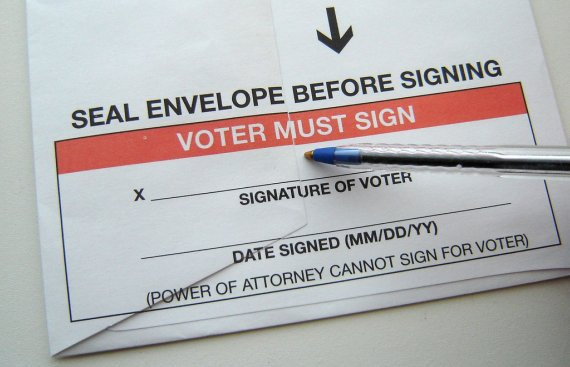 David Catanese at Politico takes note of something I've written about before, that the question of who controls the Senate may not be resolved for some time after November 2nd:
It may not be over in 10 days after all.

While control of the House is all but certain to be resolved on the evening of Nov. 2, the Senate, with its collection of dead heat races, is shaping up to be another matter entirely.

Thanks to a handful of likely photo-finish contests and a resurgent Republican Party on the cusp of flipping the 10 seats necessary to win a Senate majority, an almost unthinkable scenario is beginning to take form — one in which control of the Senate remains unknown for days, or perhaps even weeks, after Election Day.

The prospect of electoral overtime isn't as far-fetched as it might seem. Few in either party dispute that the GOP will be gaining seats and most independent analysts place the number somewhere in the high single digits. With competitive races in places like Alaska and Washington — two states with a history of delivering delayed results — and razor-close races in more than a half a dozen other states, it is increasingly plausible that control of the U.S. Senate could hang in the balance past Election Day as America awaits recounts, tallies of write-in votes or legal challenges over alleged election irregularities.

The party committees, individual campaigns and even state election officials are quietly preparing for the worst and even beginning to warn that it may take some time to sort out the winners and losers.

"There's something else that keeps me up at night beyond tight poll numbers," wrote National Republican Senatorial Committee Executive Director Rob Jesmer in a memo to supporters Thursday. "Recounts. That means the fight could last beyond Nov. 2, and we have to be prepared."

Citing 2008's seven-month recount and legal battle between Minnesota Sen. Al Franken and Norm Coleman, the NRSC is asking supporters to pony up a total of $100,000 this week for lawyers.

"We saw it happen in 2008 in Minnesota, and we cannot let the Democrats try to steal any of these seats," Jesmer argued in his pitch.
Catansese focuses on two states in his article.
In Washington, we have Dino Rossi running close behind Senator Patty Murray and absentee ballot rules that allow voters to have their ballots counted as long as they are postmarked on or before November 2nd. The latest polls show Murray and Rossi essentially statistically tied, with Murray holding a slight lead within the margin of error. So, it isn't hard to believe that the final outcome of this race could end up depending upon absentee ballots, and that the counting of those ballots could end up being the same kind of partisan battle we saw in Minnesota, which took eight months to resolve.
The other state, of course, is Alaska, where Lisa Murkowski seems to be running a surprisingly strong write-in campaign against Joe Miller and Scott McAdams. The latest polls show Murkowski and Miller essentially tied, assuming of course that they accurately reflect voter intention with regard to a write-in candidate. Assuming these polls are accurate, though, it's obvious that the Alaska Senate election will not be decided on Election Night. It will take several days at least for poll workers to count the write-in ballots, and depending how close the result is when they're done it's fairly likely we'll see challenges from the Miller and/or Murkowski camps challenging the interpretation of voter intent on a write-in ballot — does an obvious mis-spelling like "Murkowsky" count, for example, and what about something like "Senator Lisa" ? If the margin between Miller and Murkowski is sufficiently close, how those issues are decided will be important, and litigation would seem to be inevitable.
Beyond Alaska and Washington, though, there are other states where the results may not be clear when November 2nd becomes November 3rd. In Nevada, for example. polls currently show Harry Reid and Sharron Angle in a tight race and the presence of a third party candidate and the option to vote for "None of These" could mean that absentee ballots will decide the race. The same thing could happen in Illinois, Colorado, and West Virginia.
Of these six races, Alaska seems to be the one where post-election litigation and vote counting disputes would be most likely but, given the polling, it's also possible that we won't actually know who controls the Senate until weeks or months after Election Day.