The Electric Mismatch
Cheap, big, fast: pick two.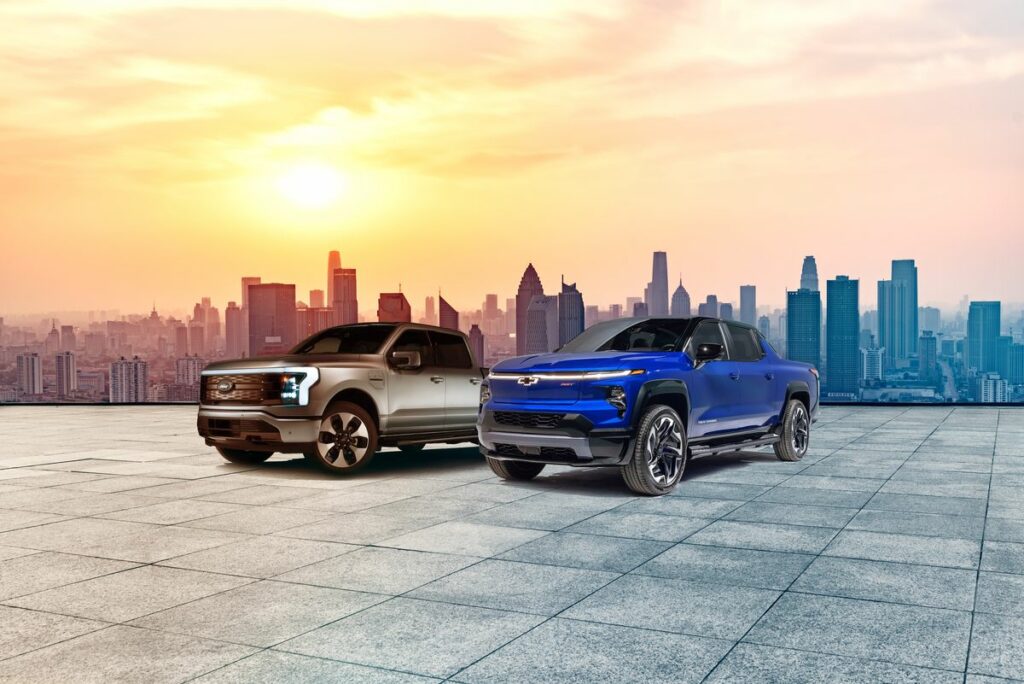 Business Insider successfully lured me with the clickbait headline "Electric cars are too expensive because Americans insist on having more car than they need."
Americans tend to think a bigger car is a better car.
The most popular vehicle segments in the US are SUVs and pickup trucks. The Ford F-Series has been the country's top-selling vehicle for more than 40 years — followed last year by the Chevrolet Silverado, Ram pickup lineup, and Toyota RAV4.
Not to be pedantic but, while it's true that Americans like SUVs and pickup trucks—indeed, most companies have gradually been phasing out sedans for years—the fact that the Ford F-Series has been the most popular vehicle for decades doesn't demonstrate that. There were, until relatively recently, only three options for those wanting—even needing—a full-size truck: Ford, Chevy/GMC, and Dodge/Ram. For whatever reason, Ford and Chevy long dominated that competition and Ford outsold Chevy (probably because some preferred the GMC twin).
Anywho,
So given that a large vehicle is what a good portion of the US population is looking for, it's no surprise that rule applies to electric vehicles, too.

It's one reason EV adoption has only been creeping up in the US, barely hitting almost 6% in 2022.

A lot of prospective EV buyers just haven't yet found the types of EVs they're looking for. They don't necessarily need more luxury electric sedans — they want the trucks and SUVs they're used to.
Well . . . yeah. If, for whatever reason—need, want, whatever—I have decided that a want to drive a vehicle that seats 7 comfortably or that can tow a mobile home, the fact that I'm interested in the idea of an electric vehicle doesn't magically convert me into a customer for a tiny little car.
"Up until recently, we really didn't have much optionality in that from an EV perspective," Steve Patton, EY America's mobility sector leader, told Insider.
I mean . . . I don't own a car company. Yet I've known for . . . I don't know . . . 20 years or more that Americans prefer trucks and SUVs to small cars. Indeed, the only time we "prefer" small cars is when gas prices go way up and make fuel economy a top concern. But that's obviously a forced compromise since, the second gas prices drop, the revealed preference goes back to bigger and faster vehicles.
"It's no surprise and no coincidence that most of the new models being introduced or planned to be introduced over the coming months are around that segment because that's what we as US consumers want to purchase."
The real surprise is that this wasn't the case from the beginning. The oldest reference to electric vehicles I can find in the OTB archives is an August 2010 post on the Chevy Volt by Doug Mataconis predicting that it was likely a boondoggle. The first positive post on the subject appears to be my May 2013 post on the Tesla Model S, which held out hope that it would be the spark that got Americans excited about going electric but noting that it would remain a niche concept unless the price went down considerably. Nearly a decade later, that's only just starting to happen.
Finally, we get to the actual problem:
That model availability compounds EV cost. The average new EV sold for $61,448 in December, Kelley Blue Book estimates.

And yet, a recent Deloitte study found that 70% of US car buyers won't spend more than $50,000 to go electric.

Bigger vehicles are often just more expensive, largely because they require bigger batteries — the most expensive part of these new EVs. Popular EVs today include the high-end electric $100,000 GMC Hummer pickup, $75,000 Rivian R1T, and nearly $62,000 Cadillac Lyriq.
Emphasis mine. So, really, the problem isn't so much the unreasonable demands of American consumers but that meeting said demands cheaply simply isn't within the current reach of electric technology development. It's true that we could sell more cheap electrics if more Americans were willing to drive small cars. But, heck, if more Americans were willing to drive small cars, the need to shift to electric from gasoline-powered vehicles wouldn't be so urgent. It's just that the internal combustion engine and its supporting infrastructure have about a 140-year head start.
Those wanting a cheaper EV may want to look at less expensive models like the $27,800 Chevrolet Bolt and the similarly-priced Nissan Leaf. That might require some sacrificing, though.
There's no "might" to it. And, of course, if you're willing to drive a tiny car, there are several on the market for under $20,000—so it's a sacrifice in more ways than one to drive a Bolt or Leaf.
n the long run, EVs are generally creeping down in price, and more affordable SUVs are starting to come into play. The Volkswagen ID.4 and Kia Niro SUVs go for just under $40,000 each. The Hyundai Ioniq 5 and Toyota bZ4X SUVs are at about $41,000 and $42,000, respectively.
But those are tiny SUVs and $40,000 is still fairly expensive. There are several nice gasoline-powered 3-row SUVs in the same price range.
Plus, the new EV tax credits might be able to help out even more — in fact, those don't even apply to higher-end EVs above certain MSRP caps.
We're subsidizing vehicles Americans don't want.
Important battery minerals, especially lithium, drove the cost of batteries up 7% last year. Increased demand for more and more battery materials has delayed the future of plummeting EV prices, but these drops are still in the works.

And over time, with scale comes lower prices.

"For this segment to be more than just a niche, it has to get more affordable, but it also has to operate across multiple vehicle types," said Stephen Beck, managing partner of consultancy cg42. "That's happening, and that leads to a competitive environment that's a lot more dynamic."
Watching this unfold in real time, it feels mighty slow. But 2010 was only 13 years ago. It took a lot longer than that for the gasoline-powered automobile to go from a niche product to one that was affordable to average consumers. And that technology didn't have a cheaper, more convenient substitute already in place.
I don't know that it makes sense to subsidize battery development. It looks like the industry is going to figure that out on its own. I'm especially pleased with things like Honda and GM collaborating on a hydrogen fuel cell system. My intuition is that what government should subsidize is charging infrastructure.
While we've been aware of battery and charging issues for years, the new problem we se as these vehicles proliferate is long-term sustainability. It turns out they're really, really expensive to insure and repair.