The Extremeness of Immigration Politics in Alabama
Many of the clergy in Alabama are not happy with the state's new immigration law.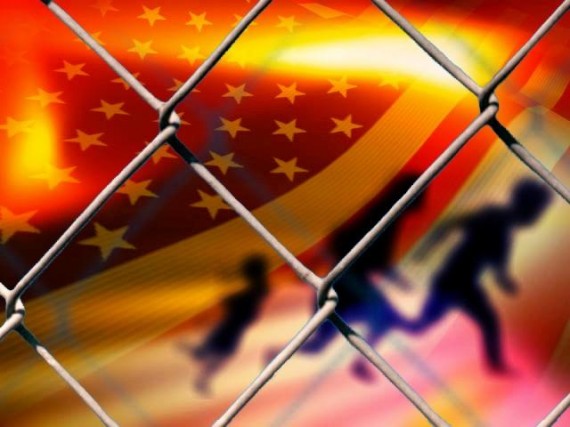 One of the provisions of Alabama's immigration law is that it targets not only undocumented immigrants, but also focuses on persons who do things like transporting or aiding said individuals.
For example, Section 13.a.3 states that:
It shall be unlawful for a person to do any of the following:
(1) Conceal, harbor, or shield or attempt to conceal, harbor, or shield or conspire to conceal, harbor, or shield an alien from detection in any place in this state, including any building or any means of transportation, if the person knows or recklessly disregards the fact that the alien has come to, has entered, or remains in the United States in violation of federal law.

[…]

(3) Transport, or attempt to transport, or conspire to transport in this state an alien in furtherance of the unlawful presence of the alien in the United States, knowingly, or in reckless disregard of the fact, that the alien has come to, entered, or remained in the United States in violation of federal law. Conspiracy to be so transported shall be a violation of this subdivision.
Depending on the circumstances of violation, the violators faces anywhere from a Class A misdemeanor to a Class C felony as well as seizure of property, such as vehicles used in paragraph 3 above.
Of course, the key elements above include what "knowingly" means or, even more specifically what "recklessly disregard[ing] the fact[s]" means.  If one hires a day laborer and said day laborer looks Hispanic and speaks Spanish sufficient facts to assume that said person might be in the country illegally?  For that matter, what constitutes "harbor[ing]" and so forth.
This problem becomes more acute if one is a member of the clergy, which is why a number of church leaders in Alabama have filed suit against the new law.  Via the Montgomery Advertiser:   Church leaders: Immigration law will block help to poor:
More than 20 religious leaders and offi­cials with church-operated charities say in court documents that a new state immigra­tion law would block them from providing food, shelter and transportation to the poor.

[…]

Hernan Afandador-Kafuri, priest of La­Gracia Episcopal Church of Birmingham said in an affidavit that about 95 percent of the people served by his church's social services to Hispanics "lack immigration sta­tus." He said his church provides transporta­tion for doctor's visits, English lessons and other services to Hispanic members.

"We do not check any documents or iden­tification and do not plan to. We would never deny anyone services based on their lack of immigration status and do not plan to do so. We are Christians and we serve everyone," Afandador-Kafuri said.
Of course, the new law raises the question:  since the probabilities are high that some percentage of poor Hispanics are undocumented, are churches who seek to provide them with Christian charity in violation of the law because of the aforementioned "reckless disregard" of these probabilities?
The truly extreme position of some in the state (and at the highest levels thereof) is expressed in the following:
In a response to the claims of the reli­gious leaders, the named defendants in the lawsuit — Gov. Robert Bentley, Attorney General Luther Strange and Madison County District Attorney Robert Broussard — said the new law does not discriminate "against some or all religious beliefs."

The court filing from the governor, Strange and Broussard says the constitution­al right to assemble to worship does not ap­ply to people who are in the United States il­legally.

"A person asserting the right to assemble with an illegal alien stands in the same shoes as one asserting a right to assemble with someone confined to a nearby prison," said the filing from the governor and the other defendants.
This is a rather stunning statement for two reasons (at least):
1)  It totally ignores the principles of innocent until proven guilty and due process.
2) It equates people who have migrated here for the purpose of finding work with convicted felons.
There is also the bottom line that this entire discussion underscores the degree to which many are utterly indifferent to the actual human beings involved.  All that matters is that these are "illegals."  If I may be so bold as to note that, like corporations, immigrants are made of people.  Perhaps we could take account of that fact when we make policy?*
In a related note, a colleague of mine (and economist) noted the following Facebook yesterday:
An Alabama tomato farmer said to me tonight, "I changed my position on immigration in a hurry when Alabama's new immigration law raised the labor cost of my tomatoes from $3 per box picked to $15 per hour of picking…"
And in the thread that commenced:
He said he felt stupid for getting sucked into a bad idea and didn't think the laws would really make their way to him and his farm.
How anyone thinks that these laws (Alabama's, Arizona's, Georgia's, etc.) are making things better is beyond me.  They seem to me to represent an insidious brew that consists of "do something" syndrome, xenophobia (and in some cases outright racism), and economic ignorance all supercharged by the the fact that national politics make it impossible for Congress to actually address the issue sensibly.
—
*And in case you are wondering, that sentence is intended to be a bit sardonic.