The GOP Debates and the Lack of Introspection
The last two GOP debates have featured cheers from the crowd and responses from candidates that ought to be considered problematic.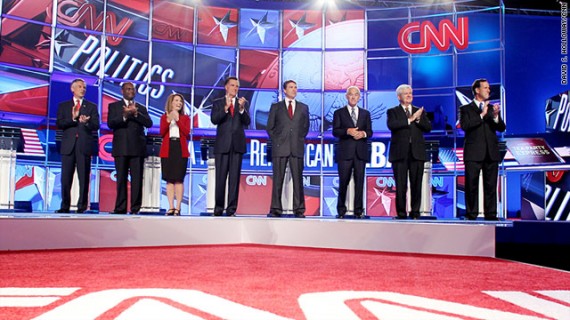 Note:  just as I was about to post this, I noticed that Doug Mataconis has a related post that went up while I was composing the following.  However, my take, apart from pointing to the Paul clip, is more involved (and I disagree with Doug in terms of evaluating Paul's response) so went ahead and double-posted the video.
Writing in response to several audience outbursts at GOP debates (with the proximate cause being Ron Paul's response about what to do, in Paul's ideal world of personal responsibility, regarding an uninsured individual–video below), Andrew Sullivan writes:
even if such libertarian purity does make sense, that cannot excuse the emotional response to the issue in the crowd last night. Maybe a tragedy like the death of a feckless twentysomething is inevitable if we are to restrain healthcare costs. But it is still a tragedy. It is not something a decent person cheers. Similarly the execution of hundreds, while perhaps defensible politically and even morally (although I differ), is nonetheless a brutal, awful business. You don't delight in it. And the same is true of torture. Even if you want to defend its use in limited circumstances, it remains an absolute evil, no humane person would want to do it, and no civilized person would brag of it or dismiss any moral issue with it at all.
Indeed.  And, like Sullivan, I find the lack of introspection on these issues as displayed by some to be disturbing.  This was my reaction to Rick Perry's all too calm response to the death penalty question from last week's debate and I feel the same way about Pauls' response to Blitzer's question about the uninsured.  Purity about justice and liberty (respectively) make for great slogans and debates over drinks, but reality is a tad bit more messy than that. And while what one can extrapolate from audience outbursts is limited, the cheers from the debate crowd in both instances are likewise disquieting.
Perry's death penalty response was especially problematic insofar as it was far too confident given the solemnness of the topic.  As I commented over at E.D. Kain's blog last week:
I would have been more impressed had he shown at least some level of self-reflection over the serious responsibility to to be associated with overseeing that many executions. Instead, he presented an air of infallibility over his ability to be the Hand of Justice. This is not impressive, is it disquieting.

I mean, gee whiz, I occasionally pause to wonder if I treated a student fairly on a grade or in a response given in class (or whether punishment meted out to my kids was fair) so I should hope that overseeing the final justice that is the death penalty would give one pause for thought on occasion, rather than just being used as a political excuse to look steely eyed and resolute.
Here's the video in question.
In regards to health care, here's the video that inspired Sullivan's post:
The irony of Paul's position is that he believes that individuals should take responsibility for themselves and yet he opposes the individual mandate for health insurance which is a policy that would require that each private citizens is covered (i.e., making sure everyone took responsibility for themselves), thus alleviating the current situation wherein society at large could be held responsible for the costs of an uninsured citizen.   As Sullivan notes:
America, moreover, has a law on the books that makes it a crime not to treat and try to save a human being who walks into an emergency room. So we have already made that collective decision and if the GOP wants to revisit it, they can.

Here's how: offer an honest proposal from the GOP to repeal the emergency room care law. Why not? If you are going to repeal universal health insurance, then make your libertarian principles coherent. And make the case that people unable or unwilling to buy health insurance deserve the consequences. That makes sense. And the question of why Perry or Ryan or Bachmann support this free-rider loophole in contradiction to their principles is one worth asking again and again.
The above facts (and their logical consequences) are why I have argued in the past that I do not buy the argument that not buying health insurance constitutes an act without broader social consequences (which is the essence of the argument that it constitutes "no activity" and therefore cannot be regulated by Congress).  To reiterate:  if by choosing not to buy insurances I put society at risk for paying for my illness or injury because of prevailing law about emergency room care, then my so-called lack of action is not a null act that affects only me, it is instead an active choice with consequence beyond myself.
I would further note:  the idea that one can have freedom and yet still be required by government to follow certain steps so as to engage in exercising that freedom is hardly a novel concept.  One cannot drive, fly an airplane, perform surgery, practice law, or any numbers of other things without government requiring certain things of you.  While yes, in theory, these are all liberty-constraining activities, but even a free society needs rules and constraints to be a society.
I recognize that campaigning for office is rarely an introspective activity and, further, that voters do not reward complex, nuanced positions but instead prefer resoluteness.  Still, there are topics worthy of pause for thought and acknowledgment that human fallibility is in play.  Further, policies (and ideologies) have consequence and officer-seekers need to acknowledge this fact if they are to be trusted with governance.
A passing sidenote that I end with comes from something I saw on my OBT colleague Alex Knapps' FB wall this morning:
So far in the Republican debates, the crowds have cheered for torture, executions by the Governor who's definitely executed two innocent people and probably more, and letting people without health insurance die. Mind you, these are the same people who want to return the country to Christian values. I think they might want to look up what Christian values are.
While I do not want to be snarky and pretend like the described events tar an entire party or a faith group within said party, the basic point is still worth making.  Further, such behavior should results in condemnation from within the party (and especially from the faith communities within the party).