The Less Americans Know About Ukraine, The More They Support Intervening There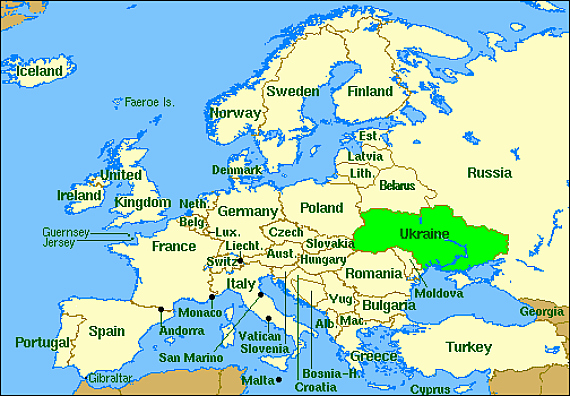 Some interesting conclusions from the guys at The Monkey Blog:
On March 28-31, 2014, we asked a national sample of 2,066 Americans (fielded via Survey Sampling International Inc. (SSI), what action they wanted the U.S. to take in Ukraine, but with a twist: In addition to measuring standard demographic characteristics and general foreign policy attitudes, we also asked our survey respondents to locate Ukraine on a map as part of a larger, ongoing project to study foreign policy knowledge. We wanted to see where Americans think Ukraine is and to learn if this knowledge (or lack thereof) is related to their foreign policy views. We found that only one out of six Americans can find Ukraine on a map, and that this lack of knowledge is related to preferences: The farther their guesses were from Ukraine's actual location, the more they wanted the U.S.  to intervene with military force.

(…)

About one in six (16 percent) Americans correctly located Ukraine, clicking somewhere within its borders. Most thought that Ukraine was located somewhere in Europe or Asia, but the median respondent was about 1,800 miles off — roughly the distance from Chicago to Los Angeles — locating Ukraine somewhere in an area bordered by Portugal on the west, Sudan on the south, Kazakhstan on the east, and Finland on the north.

(…)

[T]he further our respondents thought that Ukraine was from its actual location, the more they wanted the U.S. to intervene militarily. Even controlling for a series of demographic characteristics and participants' general foreign policy attitudes, we found that the less accurate our participants were, the more they wanted the U.S. to use force, the greater the threat they saw Russia as posing to U.S. interests, and the more they thought that using force would advance U.S. national security interests; all of these effects are statistically significant at a 95 percent  confidence level. Our results are clear, but also somewhat disconcerting: The less people know about where Ukraine is located on a map, the more they want the U.S. to intervene militarily.
On some level, I suppose, this isn't entirely surprising. People often have very strongly held opinions about matters they know very little about, and this is probably just another example of that phenomenon. At the same time, though, it's also another example of how little many Americans actually know about the world outside our borders. Simple facts such as the location of a nation really ought not to be that hard to teach people.