The Menendez Indictment (Updated)
Also: calls for his resignation.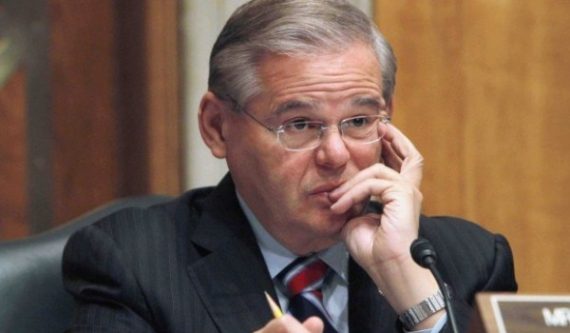 Via NBC News: Bob Menendez's indictment highlights: Gold bars and wads of cash.
Here are the lowlights.
Nearly half a million dollars in cash was found stuffed inside envelopes and stashed inside the pockets of clothing hanging in the closets of the Menendez's home in Englewood Cliffs, including a big roll of bills in a jacket from the Congressional Hispanic Caucus with Menendez's name on it.

Fingerprints belonging to the driver of co-defendant Fred Daibes were found on at least one of the envelopes, as well as his DNA and his return address, prosecutors said. "Thank you," Nadine Menendez texted Daibes around Jan. 24, 2022, according to the indictment. "Christmas in January."

[…]

Two other co-defendants in the case — Jose Uribe and Wael Hana — bought the Mercedes-Benz for Menendez's wife in return for the senator interfering in a state criminal prosecution of a Uribe associate charged with insurance fraud and an investigation of a family member who worked for him, according to the indictment.

"You are a miracle worker who makes dreams come true," Nadine Menendez texted Uribe, according to the indictment. "I will always remember that."

Menendez also helped Hana secure military funding for Egypt in exchange for the promise of a no-show job for his wife, prosecutors said.

[…]

Two days after Menendez had a private meeting with an Egyptian official, Hana bought 22 one-ounce gold bars.

Each one has a unique serial number. And two of them were later found in the Menendez home by federal investigators, prosecutors said.

They also discovered that on Jan. 29, 2022, Menendez did a Google search for "kilo of gold price."
Granted, I am not a lawyer and, moreover, a defendant is innocent until proven guilty, but this looks pretty bad to me.
Therefore, not surprisingly, via Politico, 'This is horrifying': Top New Jersey Democrats call on Bob Menendez to resign after his second indictment.
Assembly Speaker Craig Coughlin, Democrat of Middlesex County, said the allegations against Menendez go "against everything we should believe as public servants." He called on Menendez to step down immediately.

"We are given the public's trust, and once that trust is broken, we cannot continue," he said.

Menendez stepped down from his powerful role as chair of the Senate Foreign Relations Committee earlier Friday.
As the piece notes, the fallout for New Jersey Democrats next November could be quote real if they are tarred with Menendez's alleged behavior.
"This is horrifying. And anyone who doesn't think it's disqualifying, that's a problem," one influential Democratic operative told POLITICO after federal prosecutors from the Southern District of New York unsealed the indictment.

Rep. Andy Kim (D-N.J.) was the first public official to call for Menedez's resignation, saying he lost confidence in the senator and that "no one is above the law." Murphy and others soon followed.
I recognize that Menendez will almost certainly not step down, as he fears such a move would be seen as an admission of guilt. Further, it is clearly more advantageous to go into this legal battle as a US Senator, rather than a former US Senator. Still, the party has every reason to want him out, and as soon as possible.
Menendez is up for re-election next year.
So far, only one Democratic candidate is challenging Menendez in the primary: Real estate lender Kyle Jasey, the son of a New Jersey state lawmaker. But there's a deep bench of high-profile New Jersey Democrats who are running or positioning themselves to run for governor in 2025, including U.S. Rep. Mikie Sherrill (D-11th Dist.), U.S. Rep. Josh Gottheimer(D-5th Dist.), Jersey City Mayor Steve Fulop and Newark Mayor Ras Baraka. State Democratic bosses, notorious for backroom deals, could look to one of them to replace Menendez on the ballot.
One would expect that unless there is some massive reversal of these allegations Menendez will be challenged by quality candidates and would not be able to be re-nominated. But, as I constantly note, that decision is almost certainly in the hands of primary voters, not of the Democratic Party apparatus. I am not sure if there is any provision of New Jersey law that would allow the party to strip his affiliation/block him from the ballot.
To be honest, the nature of these allegations is such, that I have to think that the pressure on Menendez will be such that it will be very difficult to actually run for the nomination. We shall see.
In terms of the broader American political landscape, these allegations (which are very easy for observers to understand) will just allow Trump, his political allies, and even his voters to rationalize away his indictments because see! they all do it.
Update: Politico reports, N.J. Dem leaders are meeting about yanking Menendez from the party line, which appears to semi-answer a question from above. The piece is brief and does not explain what the exact legal mechanism might be.