The Ongoing Insanity of US Border Policy (Fencing off Citizens Edition)
Another entry in the ongoing follies of US border and immigration policy.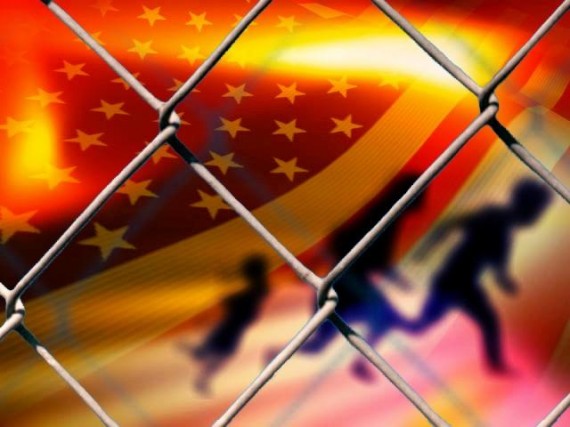 Via The Independent of London (in a story from last May):  The town on the wrong side of America's drugs war (although I would note that the policy described in the story is primary aimed at stopping illegal immigrant, not drug traffickers).  The piece has several vignettes about the fact that the border fence (hailed by many as a solution to the illegal immigration problem) has, in fact, cut off US citizens from their own country (a problem I have noted before).
First, the story of 83-year-old Pamela Taylor:
About 350 metres from her porch, an imposing metal fence looms into view. It is supposed to divide the US from Mexico, but by a cruel twist of fate, the 83-year-old grandmother's family home has ended up on the "wrong" side.

[…]

The best-laid political schemes do not always work out as planned, though. When government engineers arrived in Ms Taylor's neighbourhood, their plan hit a snag: the Mexican border follows the meandering Rio Grande in this area. And the river's muddy banks are too soft and too prone to flooding to support a fence.

As a result, this corner of south-eastern Texas had its barrier constructed on a levee that follows a straight line from half a mile to two miles north of the river, leaving Ms Taylor's bungalow – along with the homes and land of dozens of her angry neighbours – marooned on the Mexican side. "My son-in-law likes to say that we live in a gated community," she says, explaining that to even visit the shops she must pass through a gate watched over by border-patrol officers. "We're in a sort of no man's land. I try to laugh, but it's hard: that fence hasn't just spoiled our view, it's spoiled our lives."
Then there are other examples:
The well-mown greens of a local golf course are on land that now sits on the "wrong" side, while fields and orchards farmed by generations of landowners have been sliced in two by the metal barrier.
"I'll say right off the bat that I'm a conservative – I believe in hard work and I believe our border needs to be secure," says Debbie Loop, whose 15-acre citrus farm is on both sides of the fence. "But when they signed this fence into law, nobody stopped to think Texas isn't Arizona or California. Our border does not run dirt to dirt. Any idiot could have told them that. My grandchildren now live on the wrong side. Who is going to protect them? Who protects me when I'm in my orchards after dusk? I just want to work hard and earn a living. But they've changed this place forever."
And, mind you, all of this for a policy that is unlikely to actually affect in any substantial way illegal flows (be they of people or illicit substances).   As the aforementioned Ms. Taylor noted:
"First of all, it doesn't work," she says. "Anyone with a rope and a bucket can just climb on over. Second, they've used it as an excuse to reduce border patrols. Thirdly, it's left people like me unprotected. While the officers are guarding the fence, any drug smugglers can just walk up to my front door."
Indeed.
Or, as former Brownsville Mayor, Eddit Trevino said:  "It made no sense to build this fence, other than making people in other parts of the country feel better and feel a false sense of safety. It's like the old joke: build a 12ft fence and you'll be having a huge demand for 15ft ladders."
Also, indeed.
It is truly unconscionable to essentially cut off American citizens from their country for the sake of faux security (especially in lieu of trying to actually create rational immigration policy).  Quite frankly, cutting off citizens under any circumstances like this should be unacceptable.
According to an LAT piece from February, there are gaps in the fence:  Some angry Texans are stuck south of the barrier
In and around Brownsville, the fence slices through two-lane roads, backyards, agricultural fields, citrus groves and pastures for more than 21 miles, trapping tens of thousands of acres, according to some property owners' estimates. (The Homeland Security Department did not keep track of the total.) Narrow gaps allow back-and-forth access for cars and tractors, pedestrians and Border Patrol agents, but they are as much as a mile apart.
So, the fence cuts across land, isolates American from their neighbors and still leaves holes.  While I understand that funneling illegal activity could aid in stopping it, this hardly sound like a good trade off.