Herman Cain's Bizarre Immigration Plan: Electrify The Border Fence
Like his tax plan, Herman Cain's immigration plan is not serious.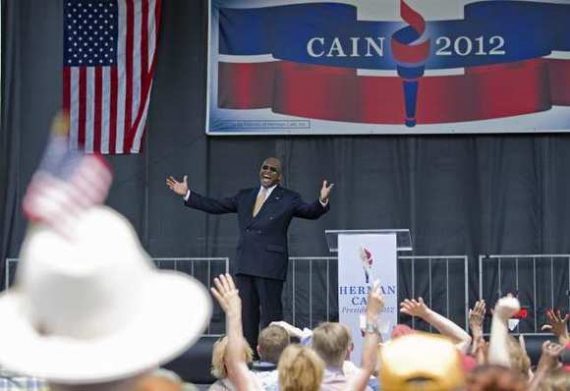 Herman Cain has decided that the solution to the illegal immigration problem is to not only build a border fence across the entire U.S.-Mexican border, but to electrify it:
Republican presidential candidate Herman Cain said Saturday that part of his immigration policy would be to build an electrified fence on the country's border with Mexico that could kill people trying to enter the country illegally.

The remarks, which came at two campaign rallies in Tennessee as part of a barnstorming bus tour across the state, drew loud cheers from crowds of several hundred people at each rally. At the second stop, in Harriman, Tenn., Mr. Cain added that he also would consider using military troops "with real guns and real bullets" on the border to stop illegal immigration.

The remarks were among the most pointed yet by Mr. Cain about illegal immigration, and they come as he is enjoying a surge in national political polls on the back of his victory in a recent Florida straw poll. They also follow on remarks made by Representative Michele Bachmann on Saturday during a speech on illegal immigration in Iowa, in which she also advocated a border fence.

It is not the first time that Mr. Cain has floated the idea of an electrified fence. He has told the story many times of a caller to his former radio show who chastised him for talking about building a border fence, saying that such an idea was impractical. Mr. Cain often says he told the caller that he had recently returned from China, and if the Chinese could build the Great Wall then America could build a border fence.

(…)

In his remarks on Saturday, Mr. Cain appeared to go a step further. Speaking to a rally sponsored by the Roane County Tea Party, Mr. Cain said that part of his plan would be to "secure the border for real" with a fence.

"It's going to be 20 feet high. It's going to have barbed wire on the top. It's going to be electrified. And there's going to be a sign on the other side saying, 'It will kill you — Warning.'" At an earlier rally, on the campus of Tennessee Tech University in Cookeville, Tenn., he added that the sign would be written "in English and in Spanish."

"This nation has always been a nation with wide open doors," Mr. Cain said at the second rally. "We want to make it easy for people to come through the front door. And we're going to shut off the back door so you don't have to sneak into America."
On some level, I don't think this is any more of a serious policy proposal than Cain's tax plan is. For one thing, it's not even clear that the border fence itself is every going to be constructed in the way that the anti-immigration zealots in the GOP would like it to be. It's faced delays due to contracting problems, construction issues, and resistance from land owners who don't want the government to steal their property for the dubious purpose of building a fence that, like the Great Wall Of China, probably won't do what it's intended to do anyway. And electrifying it? Seriously? Surely Cain doesn't actually believe that's a realistic proposal, does he? After all, as Rick Moran notes, he's essentially saying that the punishment for attempting to enter the United States illegally should be death.  Even under current law, illegal entry into the United States is, at worst, a minor crime and, in most cases, treated as a civil offense resulting in deportation rather than a criminal offense. Cain would effectively make it a capital crime.
Joe Gandelman makes a broader point, though. If Cain really is serious about an idea like this, then it's essentially the end of any chance he had at the Republican nomination:
The Republican Party could never nominate anyone who seriously proposes this — unless it truly has a death wish. On the other hand, its possible Rush Limbaugh et. al will applaud this idea. (I need to note that this post is being written from Brooklyn, New York, a city that has more stoops than a talk show host convention).

Karl Rove, the Bush family, and other serious Republican political professionals would be in mourning if he got the nomination without repudiating his own assertion since nominating a candidate who seems to suggest — whether he is or not – that people who try to come over to the United States illegally could face de facto American governnment sanctioned electrocution if they try would further decimate the Republican's hopes to getting the Hispanic vote.

Republican inroads to getting the Hispanic vote are far more realistic than many smug Democrats realize given the number of attractive Republican GOPers whose personal appeal could help them get Hispanic voters to seriously listen to their words. Plus, a recent poll shows Barack Obama's support among Latinos is dropping.

YES Cain is charismatic, likeable, firm in his principles and not made of Jello (not to mention names but one Republican flip flopper and a certain Democratic President who has been struggling with smoking come to mind), and blessed with the sunniest political personal since Ronald Reagan.

But he is not mainstream with this idea.
Perhaps not, but it's the kind of moronic, simplistic thinking on a complex issue like immigration that appeals to the Republican base these days. If it comes up at the debate on Tuesday, I'd expect that Cain will be wildly applauded, even in a state like Nevada with a growing Hispanic population. And the supposed moderate in the race, Mitt Romney, is using immigration as a wedge issue to attack the supposedly more conservative Rick Perry. Anyone who thinks that extremism on immigration is going to hurt a candidate in a Republican primary is fooling themselves. Unfortunately, the idiocy that Cain displays with these remarks is emblematic of the very voters he is trying to appeal to.
Update: Cain said on Meet The Press this morning that he was joking when he suggested electrifying the border fence. Draw from that whatever conclusions you choose.