The Politics of DACA
If Trump is able to insist upon a package deal or no deal at all, he may muck up his chance of policy success, but it may be the Democrats who lose politically.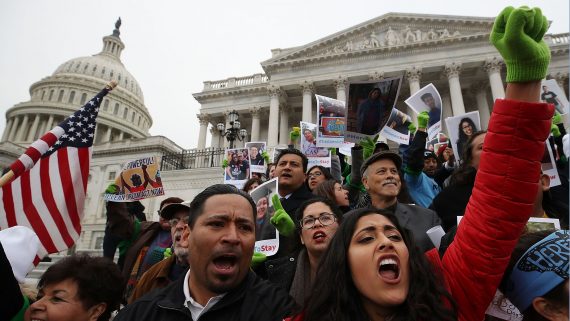 This is immigration policy week, at least in the Senate, and what the results will be are anyone's guess.  Both parties seem at a bit of a loss in determining how to proceed, which perhaps is why majority leader Mitch McConnell has authorized a free-for-all debate on the issue.  At stake most immediately is, of course, the fate of the hundreds of thousands of DACA recipients who face a March 5 hard-ish deadline, at which point their protections come to an end.   At first blush it would seem reasonable to assume that an agreement on this issue should be easily within reach. Large majorities, including sizable numbers of Republicans, support a pathway to citizenship for the current DACA recipients as well as possibly for others.  Moreover, public opinion on this point is not tepid; a healthy majority believes that congressional action on immigration is important and pressing.
Unfortunately what might seem like ripe ground for a bipartisan agreement on the subject of a time-sensitive and morally compelling issue has been complicated enormously by President Trump.  Trump has mucked up the politics of negotiation in two ways. First, he has sent mixed signals about his own stance on prospective DACA legislation to multiple audiences, including his own party's congressional leadership.  Senator McConnell in recent weeks has been remarkably open (by McConnell standards of openness) about his frustration with the President's ambivalence regarding DACA and the solutions that Trump may finds acceptable.
"I'm looking for something that President Trump supports, and he has not yet indicated what measure he is willing to sign," McConnell said. "As soon as we figure out what he is for, then I would be convinced that we were not just spinning our wheels."
Secondly, more recently Trump has signaled that he prefers treating DACA in connection with immigration reform more broadly (including legal immigration).  In his SOTUA, Trump linked his support for DACA recipients to congressional support for funding his wall, ending "catch and release," embracing a "merit-based" immigration policy, and ending "chain migration."  Whether he insists categorically upon a single comprehensive reform package bill that includes all of these elements or just some of them remains to be seen.   If DACA were viewed wholly in isolation, a Senate solution could likely be carved out in an afternoon, and even the more conservative House of Representatives might be brought along with a little jostling.  But such is likely not in the cards.
Trump's demands are pretty ambitious, but I suspect he is pretty savvy here, ahead of the curve politically, just as he was on the issue throughout the 2016 campaign.  Even if he doesn't get everything he wants, he might get more of it than was once thought possible. And for reasons I explain below, even if he doesn't get what he wants in policy he still may be playing a smart political game.
Democrats are not operating from a position of strength.  True, they gave up their leverage when they went along with the two-year budget agreement, but their weakness on immigration goes deeper than that.  It's quite possible, even probable, that Democrats are operating under a faulty narrative about the voting public's view of immigration, and they are bargaining on more support than will prove probable.  Democrats view the most important shift in the politics of immigration to be Trump's unpopular inflammatory anti-immigration rhetoric along with his rescinding of DACA, but such an assumption is questionable.  Trump's ugly xenophobic rhetoric stirred up passion on the subject but it did not move the needle on immigration for Republicans.  In contrast, however, Democrats have been drifting leftward since 2012, and positively lurching leftward in the past two years.
Consider the following Gallup polls.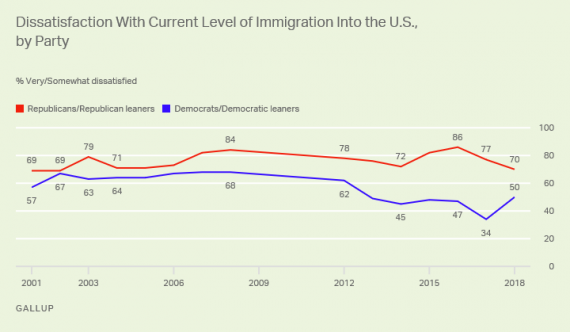 This poll data, dating back to 2001, is revealing. Until about 2012, majorities of both Republicans and Democrats were dissatisfied with the level of immigration into the U.S. The two parties were far of a single mind, but there was more agreement than disagreement that immigration was problematic.  After 2012, Republican dissatisfaction with immigration levels remained steady while Democratic dissatisfaction plummeted.  Democratic rhetoric today would suggest that a wave of conservative anti-immigration attitudes in recent years has polarized politics, but the real movement occurred among Democrats themselves.  This is even more obvious in the following poll.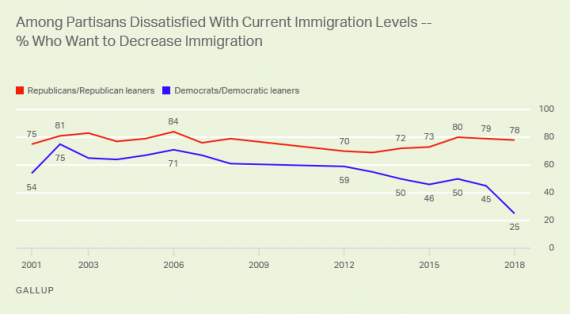 This poll indicates that not only did dissatisfaction with the levels of immigration among Democrats begin to plummet in 2012, but the nature of that dissatisfaction also shifted dramatically.  From 2001 until 2012, majorities of those who expressed dissatisfaction with the levels with immigration regardless of party believed that immigration levels were too high.  After 2012, party polarization began apace, but it was not on account of Republicans lurching to the right; what shifted, and dramatically so, was Democratic opinion.  The percentage of dissatisfied Democrats who were troubled by too much immigration fell from 75% in 2002 to 59% in 2012 to 25% in 2018.  That is a dramatic turnaround. In contrast, Republican public opinion about immigration has remained extraordinarily steady.
A couple of factors contributed to the leftward shift in Democratic public opinion.  The slide in public opinion dovetails perfectly with the growing frustration at the time of the GOP's intransigence in its unwillingness to work with President Obama to forge a comprehensive immigration reform package.  President Obama's immigration address of 2014 expressed real frustration at House Republicans for simply ignoring the Senate's bipartisan agreement on the issue.  But more importantly, 2012 was the year President Obama issued the executive order establishing DACA.   Soon thereafter for many Democrats the morally compelling but relatively narrow cause of DACA recipients became psychologically inextricable with the more sweeping cause of undocumented residents more generally.  To protect DACA recipients, it seemed, Democrats appropriated a different view of immigration more generally.
Republicans did not make this shift, and today they make a sharper distinction than Democrats between DACA recipients, who were brought to the U.S. out of no fault of their own, and adult citizens who willingly and knowingly come to the United States illegally.  It is a distinction, it would seem, that most Americans seem to make and that Trump is exploiting.
Trump's campaign immigration rhetoric tapped powerfully into the vague perception that Democrats had buried their heads in the sand regarding the burdens imposed on ordinary Americans (the "Forgotten Americans") by illegal immigration.  Almost as importantly, Trump goaded Democrats to take the bait and double-down on their relatively new pro-immigration predilections.
Again, how immigration reform will unfold is up in the air, but President Trump has arguably put himself in a pretty good position. Trump seems to recognize instinctively that neither Republicans nor Democrats hold a monopoly on public opinion regarding immigration. True, majorities support a deal on DACA, which is a more pressing issue for Democrats than Republicans, but majorities actually support all of Trump's SOTUA immigration proposals. Taking DACA in isolation, Democrats win.  But taking immigration as whole, the sudden shift in Democratic opinion may have put them out of touch with a broader public, tilting the advantage toward President Trump. If Trump is able to insist upon a package deal or no deal at all, he may muck up his chance of policy success, but it may be the Democrats who lose politically.