The Republican Dilemma
Candidate trumps party in a presidential system.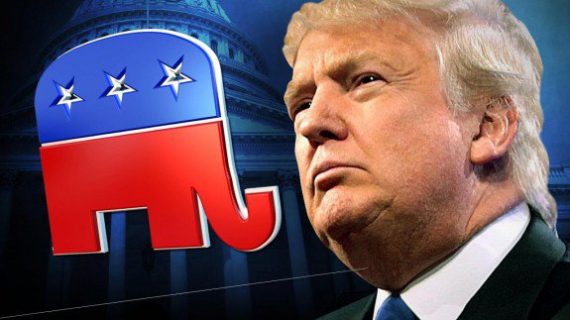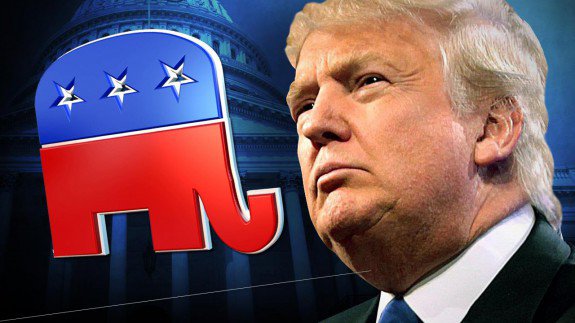 What's in a party label?  Does the party make the candidate, or the candidate the party?  In some democratic systems, parties have a great deal of control over who gets to use their label.  Such parties tend, therefore, to require some level (sometime substantial levels) of adherence to party platforms to use the label.  This is controlled primarily by how candidates are nominated to run for office.  The US party system falls into this latter category.  Parties (i.e., the organizational party, or part leadership) have very little control over who calls themselves Democrat or Republican.*  Indeed, if a person wishes to run as a Democrat or Republican in the general election all they have to do is win that party's primary election.  The barriers to entry in the primary contest are minimal and certainly do not include any kind of test of party principles.
So, what makes a party in the United States?  Is it the principles or the candidates?**  In answering this question one has to remember that since primary electorates select candidates they, therefore, have a substantial level of popular support by the time the general election campaign starts.  Additionally, since we have a rigid two party system,*** choices in the general election are binary, which makes choices fairly stark for voters.
The simple answer is that candidate trumps party (pun partially intended).
The complex answer is that there are thousands of candidates and office-holders who adhere to a given party across the country at various levels of office and the sum total of all of those candidates and office-holders help create the overall party ethos for a given moment in time.  However, not all candidates are created equal.   Candidates for governor are more important than candidates for county commission.  And, of course, presidential candidates (and presidents) are the most important of all.
If one is a Republican supporting Donald Trump one is at a bit of crossroads.  Many such persons are supporting Trump specifically, if not exclusively, because he is the Republican nominee.  Indeed, a multitude of ideological and philosophical sins are being ignored or rationalized away because, well, he the Republican nominee, and in a basically binary choice between the Democrat and the Republican, self-identified Republican voters almost always choose the Republican on the ballot.
Now, yes, a large number of voters are embracing Trump's white nationalist rhetoric and, likewise, find his intemperate know-nothingism appealing.  But there is a chunk of voters who are doing their darnedest to ignore the xenophobia and say things like "SCOTUS" and "he's not Hillary" as justifications for supporting Trump.  They are banking that the "R" by his name makes him a Republican
But, here's the dilemma:  with Trump now pretty much at war with substantial elements of the Republican Party, including the highest elected Republican official, Speaker of the House Paul Ryan, the question is raised:  what faction of the Republican Party is one going to adhere to? To stick with Trump is to admit that all his ideological and philosophical problems aren't problems at all, and one has decided that Trump is the Republican Party.  This is not, by the way, unusual.  It is a feature of presidential systems that the presidency (and, therefore, candidates for the presidency) sets the tone for the party. This is as opposed to parliamentary systems where the executive is elected by the legislature (i.e., a Prime Minister) and the tone is set more by the party.
Basically I am struck by the logic trap that many Republicans are now in:  they support Trump because he is the GOP nominee, but now he is largely rejecting the current mainline party, so if they continue to support him they have to acknowledge that they really aren't supporting the party as much as they really just supporting Trump.  Trump is the Republican Party at the same time he is fighting large chunks of it.  He is putting himself outside and above the party in way that could have long-standing effects on the GOP.
At a minimum this underscores something I have been noting for some time: anyone who thinks Trump is going to be guided, controlled, or corralled as President by advisers, party insiders, etc. is fooling themselves.  This includes those who are buying into the idea that Trump would appoint Justices to the Court that would be of conservatives' liking.
To vote for Trump is to vote for trumpismo as the foundation of the Republican Party for the next four years.  It is not a generic vote for a generic Republican.
And yes, many will note in the comments that Trump is just a manifestation of various forces that have existed in the GOP prior to his ascension.  I understand that point, and I don't disagree with it in many ways.  The Tea Party's nihilistic approach to governance is but one example.  However, the issue of how the party got to where it is and the potential election of Trump are, while related, two different discussions.  I would still maintain that there is are important and substantial differences between Paul Ryan and Donald Trump.
If one wants evidence that presidential candidate matters for party behavior, note the following from WaPo: Republican politicians fall back in line behind Trump after defecting:
Many Republican elected officials are personally outraged and ashamed by something their party's nominee says or does. So they distance themselves. But as soon as they face a whiff of blowback from some in the party, they cave and fall back in line.
Certainly by no means have all of the un-endorsers re-endorsed.  However, the fact that some feel the need to do so underscores the importance and power of being the presidential nominee.  As much as many in the party want to disown him, they really can't without quitting the party.  As long as they are unwilling to go that far they are going to have to come to terms with the fact that Trump is the current leader of the GOP.
All of this is to say three things:
 This situation clearly underscores a key fact of party politics in a presidential system:  the President/candidate for President dominates the party, not the other way around.  (If you are interested in some political science on this, I recommend Samuels and Shugart, Presidents, Parties, and Prime Ministers: How the Separation of Powers Affects Party Organization and Behavior).
For elected members of the party/candidates for office, the only way to truly break with Trump is to break with the party.  Quitting, however, is hard, especially in a two party context.  Where does one go?  Even fracturing of the GOP is a problem because in single seat districts with plurality winners for most offices, splitting the GOP into trumpismo and NeverTrump means handing wins to the Democrats.  That calculation alone means it is unlikely to happen.
Voters need to be honest with themselves as to what they are voting for:  one may wish to assert that Trump really isn't a Republican, but actually yes, yes he is in the most significant way one can be:  he is the national standard-bearer.  And there are long term implications for the party depending how well, or how poorly, he does in the election.
—
*For example:  Reince Preibus is the RNC Chair.  Do you think he wanted Trump as the nominee?  And yet how is he now forced to behave if he wants to keep his job?
**This is further complicated by the fact that large parties actually are motivated by a wide array of principles.
***Yes, there are third parties.  And yes, there are fantastical scenarios wherein they could win the presidency, but the reality is that the system creates viable pathways for two parties and voters and candidates behave accordingly.