Toxic Hand Sanitizer!
Apparently, we're not supposed to drink the stuff.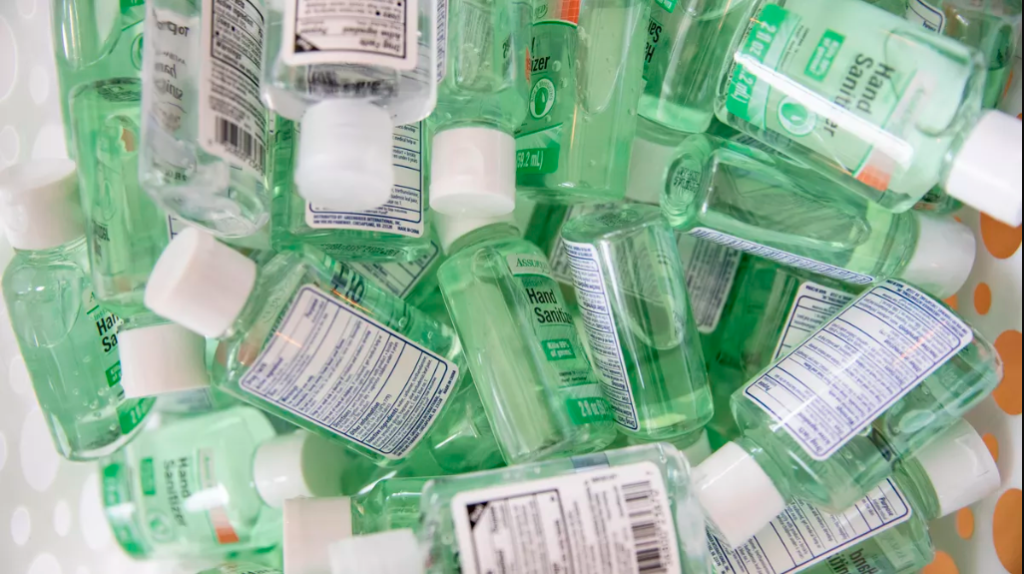 A massive increase in the demand for alcohol-based hand sanitizers sparked by the COVID-19 epidemic has flooded the market with upstart brands. Authorities have identified scores of them that are unsafe. But press reports are over-hyping the results
WaPo headlines their report "FDA says at least 77 hand sanitizer products may be toxic," which is true, and adds the ominous subhed, "Regulators say many of the products contain dangerous levels of methanol, which can lead to blindness, hospitalization and even death."
The truth is scary enough:
Federal regulators have recalled dozens of hand sanitizers — many widely available through Walmart and other national retailers — because they contain dangerous and potentially deadly levels of wood alcohol.

Hand sanitizer demand has skyrocketed during the pandemic as Americans were urged to wash their hands often to guard against the coronavirus. That has sparked a rush of new brands onto the market. But since June, the Food and Drug Administration has identified at least 77 products — including two this week — that consumers should avoid. Many of the products' labels say they contain ethanol (also known as ethyl alcohol) but FDA tests show that they contain methanol, or wood alcohol.

Methanol can be toxic when absorbed through the skin, the agency said in an advisory, and can cause blindness. It can be lethal if ingested.
So, a product that's intended to be slathered onto the skin multiple times a day leeching into the skin and causing blindness is really, really bad. We should definitely recall those products and, to the extent possible, go after those putting people at the risk but lying about what's in the bottle.
But a product that's intended to be slathered onto the skin being lethal if ingested is less problematic. My children have been using hand sanitizer at school since they were toddlers. They have never, to the best of my knowledge, tried to drink it.
Because the products are mislabeled, consumers would not be able to tell which hand sanitizers actually contain methanol. The FDA keeps a running tally of the recalled products on its website.

The recalled products are manufactured by various companies, all in Mexico, and have been carried by such retailers as BJ's Wholesale Club, Costco and Walmart. The FDA included several types of Blumen brand hand sanitizer on the recall list and said an import alert was attached to them earlier this month to prevent them from entering the country.

At the onset of the U.S. outbreak, Americans loaded up on hand sanitizers, disinfectants and other household cleaning supplies to combat the virus. In turn, many companies shifted their production efforts to meet the heightened demand, including distilleries that pivoted to making hand sanitizer instead of alcoholic beverages. But the run on hand sanitizer also attracted new manufacturers that failed to ensure rigorous product quality.
So, again, manufacturers have a responsibility to test their products to ensure they're safe. But why were federal regulators allowing new brands onto the market without testing them or at least demanding evidence that the companies had done their due dilligence?
It turns out, we don't do so at all:
The FDA also advises Americans to be wary of products that claim to be "FDA-approved," as none exist, or say they provide protection for "up to 24 hours."
But, yes, people are drinking it and dying from it:
Since May, at least seven people have died and dozens have been hospitalized in Arizona and New Mexico after ingesting hand sanitizer containing methanol, according to state health officials. At least some of the cases were related to alcoholism, officials have said. Though hand sanitizer should not be consumed, some people have been drawn to its high alcohol content.
Rubbing alcohol, which is often dirt cheap, used to inspire the same behavior. It has been, for a century now, denatured so that people don't try to drink it. I'm shocked that hand sanitizer isn't as well, even if just for the tax benefits.
I'm also a bit confused as to why people, even alcoholics, are drinking hand sanitizer instead of cheap booze. I understand that people get desperate and make poor choices. But hand sanitizer is both rather hard to find and comparatively expensive.