Transgender 1st Grader Can Use Girls' Bathroom
A Colorado 6-year-old with a penis has successfully sued for the right to use the girls' restroom.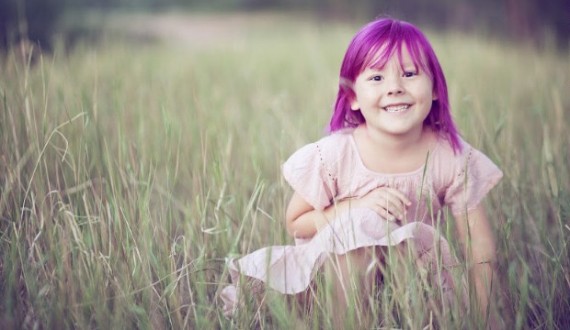 A Colorado 6-year-old with a penis has successfully sued for the right to use the girls' restroom.
CNN ("Transgender first-grader wins the right to use girls' restroom"):
A transgender first-grader who was born a boy but identifies as a girl has won the right to use the girls' restroom at her Colorado school.

The Colorado Rights Division ruled in favor of Coy Mathis in her fight against the Fountain-Fort Carson School District.

Coy's parents had taken her case to the commission after the district said she could no longer use the girls' bathroom at Eagleside Elementary.

In issuing its decision, the state's rights division said keeping the ban in place "creates an environment that is objectively and subjectively hostile, intimidating or offensive."

Coy's mother, Kathryn Mathis, said she's thrilled that Coy can return to school and put this behind her.

The first-grader has been home-schooled during the proceedings

"Schools should not discriminate against their students," Mathis said. "All we ever wanted was for Coy's school to treat her the same as other little girls. We are extremely happy that she now will be treated equally."

[…]

For most of the past year, Coy has dressed as a girl.

Coy's passport and state-issued identification recognize her as female.

[…]

Mathis said she got a call "out of the blue" from the school in December saying that Coy could use the boys' bathroom, gender-neutral faculty bathrooms or the nurse's bathroom, but not the girls' facilities.

The district "took into account not only Coy, but other students in the building, their parents and the future impact a boy with male genitals using a girls' bathroom would have as Coy grew older," a letter the family's attorney received in December said.

"However, I'm certain you can appreciate that, as Coy grows older and his male genitals develop along with the rest of his body, at least some parents and students are likely to become uncomfortable with his continued use of the girls' restroom."
There's no easy or obvious solution here.
While the "inequality" argument strikes me as silly—this is not a situation of equals—it nonetheless seems inhumane to add to this little kid's pain. Being psychologically female in a male body is difficult enough without having the authorities impose your physical identity on you for another dozen years.
On the other hand, the district absolutely has a point here: However much Coy may self-identify as female, Coy has a penis. That makes the bathroom issue complicated for the other students and their parents. While mitigated somewhat by the fact that girls' restrooms have more privacy than boys' restrooms, a whole lot of girls will be uncomfortable by having to share a restroom with someone with a penis, especially down the road.
Restrooms at least come equipped with stalls. Does the court's logic extend to showers?
The issue is further complicated by the fact that Coy is only 6—an age where children are allowed to make virtually no decisions for themselves. A 6-year-old can't buy a pack of cigarettes or travel alone on an airplane but they're apparently able to decide what sex they want to be? I'm rather amazed that the US government has recognized Coy as a female by issuing a passport in that sex. On what basis? Surely, the birth certificate lists him as a boy. Most states will only amend sex on a birth certificate with proof of either error (i.e., the child has a penis and was incorrectly listed as a female) or after reconstructive surgery. The ACLU explains that,
A copy of the court order confirming the name change is required to change the name on one's passport. A detailed statement from one's surgeon or hospital that one has had sex reassignment surgery, or plans to, is needed to get the gender marker changed.  To change the gender marker, the State Department often
simply "stamps over" the previous gender marker on the passport.
Only a handful of states and the District of Columbia prohibit transgender discrimination.
California, Colorado, Hawaii, Illinois, Iowa, Maine, Minnesota, New Jersey, New Mexico, Oregon, Rhode Island, Vermont, Washington and the District of Columbia all have such laws. Their protections vary. Minnesota's law bans discrimination in employment, housing, education and public accommodations; Hawaii's covers only housing.

At least 93 cities and counties have passed their own laws prohibiting gender identity discrimination including Phoenix, Atlanta, Louisville, New Orleans, Cincinnati, Pittsburgh, Indianapolis, Dallas and Buffalo.
Federal law is inconsistent on this issue, although moving in the direction of accommodating transgendered individuals. But there's no definitive rule either in federal law or judicial interpretation even on the relatively obvious restroom accomodation issue. The only ruling I could find referenced was a 2002 ruling by the 8th Circuit in a case called Cruzan vs. Davis that individuals made uncomfortable by the presence of transgendered individuals in the restroom should be accomodated by being offered a separate facility, rather than the more obvious solution of offering the private restroom to the one individual creating the issue.