Trump and the Social Conservatives
Politics makes strange bedfellows, but come on.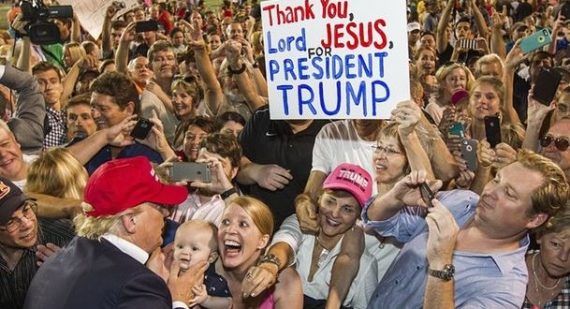 One of the more curious, interesting, and unexpected (to me, anyway) aspects of Donald Trump's current political fortunes is the degree to which he has secured a not insignificant amount of support from evangelical social conservatives. Indeed, one of the reasons that I expected a fade for Trump in the polling as we got to about this point was that I thought it unlikely he could capture and sustain support from religious conservatives. Trump, after all, is the walking embodiment of at least three of the seven deadly sins:  lust, greed, and pride (and one could probably throw in gluttony and wrath if one were so inclined).
Beyond that, however, Trump is a recent convert to the pro-life position, is a known adulterer, is twice divorced, and is a major player in the gambling industry.    For Trump to be getting, therefore, the public support of people like like Jerry Falwell, Jr. (of Liberty University) and Robert Jeffress (of First Baptist Dallas) is remarkable (especially since there are plenty of candidates to choose from).  Of course, this support says a lot about the individuals giving it and their relative dedication to their own moral positions versus their attraction to power.
It is not just a select number of evangelical elites who are swooning for The Donald, it is a lot of potential voters (via Time):
In a recent New York Times/CBS Newssurvey, the Republican frontrunner earned the support of 42% of evangelicals, far outpacing the rest of the GOP field, including his top rival, Texas Sen. Ted Cruz, who garnered 25%. A January NBC News/SurveyMonkey poll also showed Trump with the deepest support among white evangelicals, at 33%.
Now, one can surely discuss (and even mock, I suspect) the inherent hypocrisy of both the elites and the masses who are supporting Trump while claiming to adhere to a social conservative set of values, but that isn't the most significant or interesting aspect of this story.  What I find noteworthy here is first the practical implication that if Trump can gain a substantial number of social conservative voters (voters you would think he would alienate), then he does have a real chance of winning the nomination.  Second, this raises the question of what is it about these voters, and their collective identities/preferences that lead them to support a candidate who seemingly is at odds with their moral preferences?
Setting aside my already publicly stated distaste for Trump, we have moved beyond the point of the whole thing being a novelty act to the point of trying to figure out exactly what his support means about a segment of the US populations.  One element of this puzzle is this issue if religion and certain religious values which were supposedly the main determinant of the political preferences of, to use a term made famous by Falwell senior, the "moral majority."  If there are factors (likely a mix of racial self-identity and economics) that can trump (yes, I said it) the religious self-image of these voters, then it is a potent force indeed.  I do not presume, however, to be able to explain it in this blog post, but rather think it is worth raising.
Now, it is true that this support is not universal.  For example, Russell Moore (president of the Ethics and Religious Liberty Commission of the Southern Baptist Convention) wrote at NRO:
Trump can win only in the sort of celebrity-focused mobocracy that Neil Postman warned us about years ago, in which sound moral judgments are displaced by a narcissistic pursuit of power combined with promises of "winning" for the masses. Social and religious conservatives have always seen this tendency as decadent and deviant. For them to view it any other way now would be for them to lose their soul.
Also, via Politico:  Social conservative leaders seek to halt Trump's momentum
In an open letter sent to Iowa voters on Tuesday, a number of those leaders, including Susan B. Anthony List President Marjorie Dannenfelser, Concerned Women for America President Penny Nance, and former congresswoman Marilyn Musgrave, write, "As pro-life women leaders from Iowa and across the nation, we urge Republican caucus-goers and voters to support anyone but Donald Trump.
See also:  Christian leaders balk at Falwell's Trump endorsement.
By the way, if there are any self-identified social conservatives/evangelicals in the audience who are also Trump supporters, I would be sincerely interested in hearing how you reconcile your position.