Trump Bans 'Critical Race Theory' in Federal Training
As Election Day draws closer, the President is doubling down on stoking racial resentment.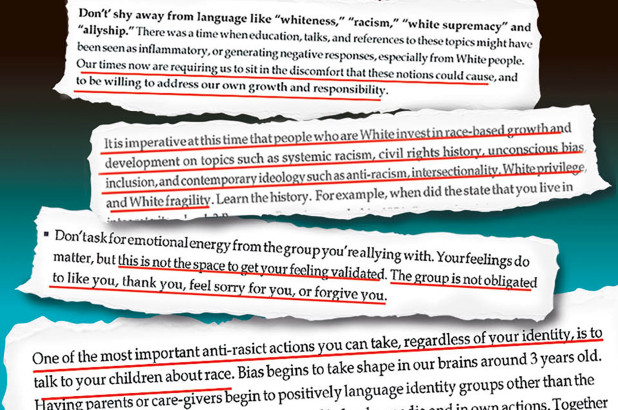 The Trump administration has issued an executive order vaguely banning vague concepts in mandatory anti-racism training given federal employees.
CNN ("Trump bars 'propaganda' training sessions on race in latest overture to his base"):
President Donald Trump on Friday night banned federal agencies from conducting workplace training sessions on race that constitute "divisive, anti-American propaganda," the latest overture to his political base two months before the presidential election.

Citing "press reports," Russell Vought, director of the Office of Management and Budget, decried the "millions of taxpayer dollars" spent on such programs "across the Executive Branch" in a two-page memo.
It's unclear to what extent such trainings exist, or if, as the memo purports, they instruct participants that "virtually all White people contribute to racism." But, like Trump's threat this week to yank federal funding from cities in blue states that he says are permitting unrest in the streets, Friday's memo provides another talking point for his reelection campaign as it seeks to highlight culture war issues.

Such trainings "not only run counter to the fundamental beliefs for which our Nation has stood since its inception, but they also engender division and resentment within the Federal workforce," Vought wrote, adding that "We cannot accept our employees receiving training that seeks to undercut our core values as Americans and drive division within our workforce."

Vought pointed to an order from Trump as the source for directing federal agency heads to stop using federal funds for such training, promising additional details to come. He also urged agencies to seek out legal courses of action "to cancel any such contracts and/or to divert Federal dollars away from these unAmerican propaganda training sessions."
Rather clearly, this is a hasty reaction to some half-cocked news story from a right-wing outlet rather than an actual examination of mandatory training requirements. And, indeed, he confirmed as much on his personal Twitter stream this morning: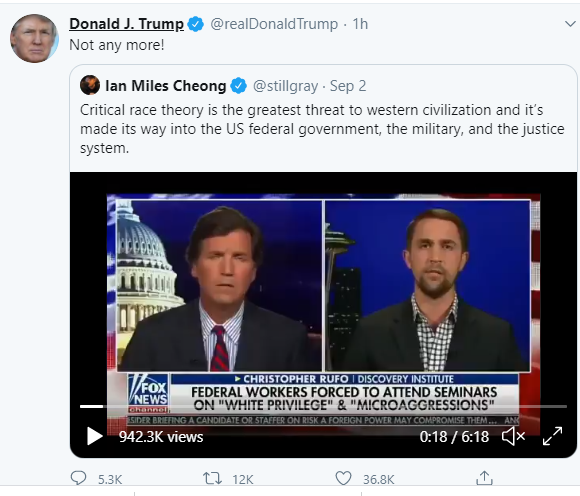 The feed has multiple retweets of those lauding the decision and referring to "critical race theory." I haven't seen the Tucker Carlson episode in question but a recent New York Post column gives what one presumes is the background for all this.
Christopher Rufo, July 16 ("Obscene federal 'diversity training' scam prospers — even under Trump"):
Critical race theory — the far-left academic discourse centered on the concepts of "whiteness," "white fragility" and "white privilege" — is coursing through the federal government's veins. Under a GOP ­administration, no less.

Last month, a private diversity-consulting firm conducted a training titled "Difficult Conversations About Race in Troubling Times" for several federal agencies. The training called on white employees at the Treasury Department, the Federal Reserve, the Federal Deposit Insurance Corporation, the Consumer Financial Protection Bureau, the National Credit Union Administration and the Office of the Comptroller to pledge "allyship [sic] amid the ­George Floyd Tragedy."

According to a trove of whistleblower documents I've reviewed, the training begins with the premise that "virtually all white people contribute to racism" and hold narratives that "don't support the dismantling of racist institutions." Therefore, the trainers argue, white federal employees must "struggle to own their racism" and "invest in race-based growth."

The trainers then ask "white managers" to create "safe spaces," where black employees can explain "what it means to be black" and to be "seen in their pain." White staffers are instructed to keep silent and to "sit in the discomfort" of their racism. If any conflicts arise, the trainers ­insist that whites "don't get to decide when someone is being too emotional, too rash [or] too mean." Whites are told they can't protest if a person of color "responds to their oppression in a way [they] don't like."

Howard Ross, the consultant who created the training, has been a fixture in what might be called the ­diversity-industrial complex. Since 2006, he has billed the feds more than $5 million for trainings.

In 2011, he billed the General Services Administration $3 million for "consulting services." NASA coughed up $500,000 for "power and privilege sexual-orientation workshops."
I'm sympathetic to arguments that much of the "white fragility" and "anti-racism" literature is scientifically dubious hucksterism. I'm even more sympathetic to the notion that training people in this manner is more likely to spark resentment and defensiveness than change attitudes for the positive by making people more aware. That's especially true in the case of federal employees, who are loaded up with so much poor-quality annual training that they are predisposed to resent it to begin with.
But, of course, the order isn't based on any systematic review of the literature, evaluation of the training, or anything else that policy changes ought be based on. Rather, it's a politician reacting to a media segment designed to outrage rather than inform and playing to the worst instincts of his supporters.