Trump Bolstered by Indictment?
A new poll seems to show that. Be skeptical.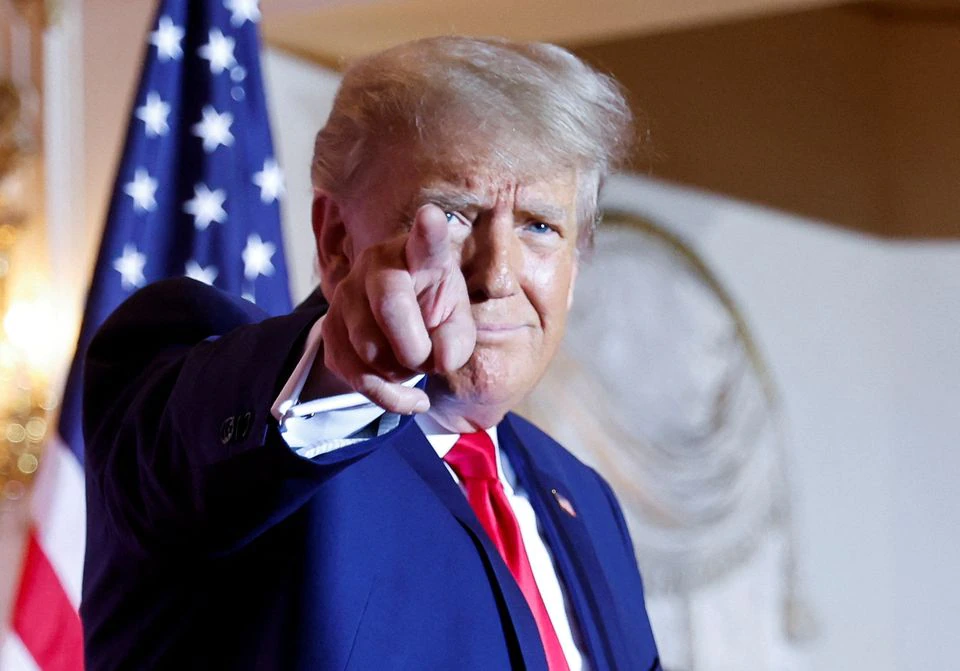 Reporting on its own poll, YahooNews finds "Post-indictment poll: Trump surges to largest-ever lead over DeSantis."
A new Yahoo News/YouGov poll — one of the first conducted after former President Donald Trump was indicted Thursday for his role in paying hush money to a porn star — shows Trump surging to his largest-ever lead over Florida Gov. Ron DeSantis, his likely 2024 GOP primary challenger, as Republican voters rally around the only president in U.S. history to face criminal charges.

In the previous Yahoo News/YouGov survey, which was conducted less than two weeks ago, Trump (47%) led DeSantis (39%) by eight percentage points in a head-to-head matchup among registered voters who are Republicans or Republican-leaning independents. As recently as February, it was DeSantis who was narrowly ahead of Trump, 45% to 41%.

But the new, post-indictment poll suddenly finds Trump lapping DeSantis by 26 percentage points — 57% to 31% — in a one-on-one contest. The former president even attracts majority support (52%, up from 44% previously) when pitted against a wider, 10-candidate field of declared and potential GOP challengers, while DeSantis plummets to 21% (down from 28%).

No one else cracks double digits.

By the same token, a full 54% of Republicans and Republican leaners would now prefer Trump to be the GOP's 2024 presidential nominee rather than "someone else" (33%) — up from 51% Trump, 39% someone else last time.
The graphic of the trendline: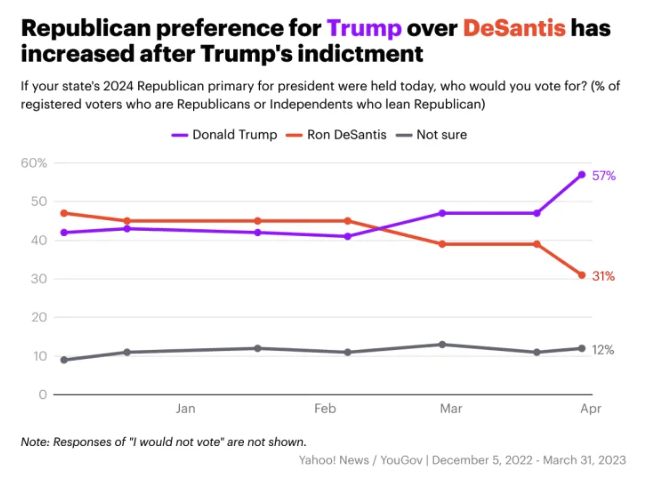 A Business Insider report ("Trump surges to a 26-point lead over Ron DeSantis in the 2024 GOP presidential primary post-indictment: poll") on the same poll spins it this way:
Former President Donald Trump was already the front-runner among Republicans in the 2024 race for the White House, edging out a likely but yet-to-be-announced contender in Gov. Ron DeSantis of Florida.

But with his indictment by a Manhattan grand jury, Trump has surged ahead in a head-to-head matchup against DeSantis in a new Yahoo News/YouGov poll, beating the Sunshine State politician by 26 percentage points among registered Republican voters and Independents who lean Republican.

In the poll, 57% of those asked said they would vote for Trump, while 31% indicated that they would back DeSantis, which was one of the first surveys to be conducted after Thursday's indictment.

[…]

Even before the indictment was public, Trump was using his likely indictment as a fundraising tool as he has gone full-steam ahead in seeking to capture the Republican presidential nomination for the third time.

Trump's current standing in the Yahoo News/YouGov survey is reflective of what many have said about a potential indictment galvanizing support among Republicans, who have overwhelmingly indicated that they feel as though the investigations into the former president are overtly political in nature.
We'll see over time, of course, but I'm highly skeptical that the indictment will ultimately be helpful.
Looking inside the poll itself, we see that the sample was 1,089 "U.S. adults" and that it has a margin of error of +/-3.3%. But, of course, that's only of the larger sample. But a third (33%) of those sampled were not even registered to vote. Overall just 25% (exactly!) of those sampled say they were likely to vote in the Democratic primary and 25% (exactly!) in the Republican primary in 2024. So, now we have a likely voter samples of roughly 544, split evenly among the two parties. The margins for error are now very high.
We see that 46% of Democratic-leaners prefer President Biden, 37% "Someone else," and 17% aren't sure. That compares to 54% of Republican-leaners who prefer Trump, 33% "Someone else," and 13% not sure. But these numbers—quite oddly, considering that they polled on the likelihood of voting in the party primary—is of registered voters who could be convinced to express a party preference.
Meh.