Trump: "I'm like a smart person"; Doesn't Need Daily Intel Briefings
Good thing the world is a static, simple place...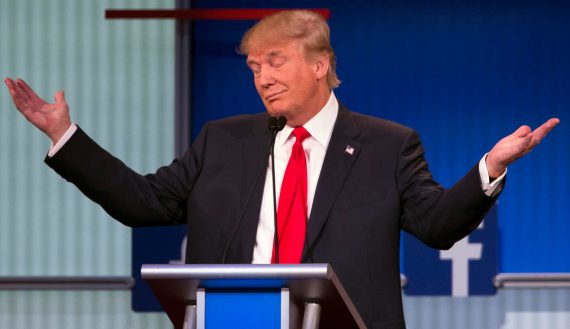 On today's Fox News Sunday (Exclusive: Donald Trump on Cabinet picks, transition process), the President-elect explains that he really doesn't need to get the intel  briefing daily, since he is "smart" and it is really just " the same thing and the same words every single day":
WALLACE:  I just want to ask you about your skepticism about the intelligence community.  You are getting the presidential daily brief —

TRUMP:  Yes.

WALLACE:  – only once a week.

TRUMP:  Well, I get it when I need it.

WALLACE:  But is there some skepticism?

TRUMP:  First of all, these are very good people that are giving me the briefings.  If something should change from this point, immediately call me.  I'm available on one minute's notice.

I don't have to be told — you know, I'm like a smart person.  I don't have to be told the same thing and the same words every single day for the next eight years.  It could be eight years — but eight years.  I don't need that.

But I do say if something should change, let us know.  Now, in the meantime, my generals are great, are being briefed.  Mike Pence is being briefed, who is, by the way, one of my very good decisions.  He's terrific.  And they're being briefed.  And I'm being briefed also.

But if they're going to come in and tell me the exact same thing that they told me, you know, that doesn't change necessarily.  There might be times where it might change.  I mean, there will be some very fluid situations.  I'll be there not every day but more than that.

But I don't need to be told, Chris, the same thing every day, every morning, same words.  Sir, nothing has changed.  Let's go over it again.  I don't need that.
I had three fundamental thoughts at the exact same time:
Number one: to this is that it is highly disturbing for the President-elect to be dismissive of information needed to make complex and timely decisions.
Number two:  that his self-perception that he is "a smart person" equals some kind of sufficiency in this arena is egomanical and personalistic in nature.  It also assume facts not in evidence in regards to the topic area under discussion–Donald J. Trump needs daily intel briefings more than any incoming president in history.
Number three:  my mind went back to two stories from the campaign.
The first was a profile of the ghostwriter of the Art of the Deal, Tony Schwartz, in The New Yorker who noted the following:
the discussion was soon hobbled by what Schwartz regards as one of Trump's most essential characteristics: "He has no attention span."

[…]

For the book, though, Trump needed to provide him with sustained, thoughtful recollections. He asked Trump to describe his childhood in detail. After sitting for only a few minutes in his suit and tie, Trump became impatient and irritable. He looked fidgety, Schwartz recalls, "like a kindergartner who can't sit still in a classroom." Even when Schwartz pressed him, Trump seemed to remember almost nothing of his youth, and made it clear that he was bored. Far more quickly than Schwartz had expected, Trump ended the meeting.
This is remarkably similar to how Trump is describing himself above.  He just doesn't want to sit through teacher telling him "the same thing and the same words every single day."  Because, of course, the world is a static and slow-paced place and nothing much changes from the day to day.
The other story that came to mind was this from CNN:  Kasich: Trump Jr. called aide to float VP offer
Kasich told CNN's Jake Tapper that he didn't receive a call himself. But he said one of his aides confirmed to him a New York Times report last month saying Donald Trump Jr. tried to entice Kasich with a position as the most powerful vice president in history — putting him in charge of all domestic and foreign policy — was accurate.

"That's what one of them has told me, yes," Kasich told Tapper in an interview aired Sunday on "State of the Union."
The above from Trump (that Pence is getting daily briefings, while he is only getting weekly ones) gives some credence to the notion that he is delegating foreign policy to the Vice President, at least to some degree.
This is just another piece of ongoing evidence that a) he is the most ill-prepared and poorly qualified person ever elected to this office, but b) there is not going be any maturation as the result of being elected.