Trump Pleads 'Not Guilty' to 34 Charges
It has begun.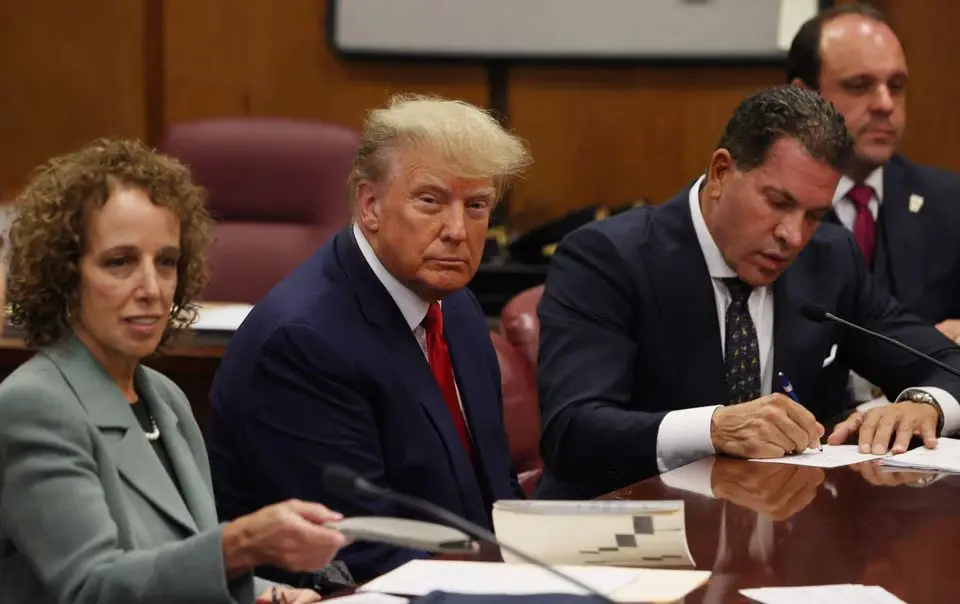 Reuters ("Trump pleads not guilty to 34 criminal charges in New York"):
Donald Trump, the former U.S. president and front-runner for the 2024 Republican nomination, pleaded not guilty on Tuesday to 34 felony counts of falsifying business records after an investigation into hush money paid to a porn star.

Wearing a dark blue suit and red tie, Trump, 76, exhibited little emotion on his face when he waved to a crowd assembled outside the courthouse after he was driven in a motorcade from his New York residence at Trump Tower.

Trump sat with his hands folded as he entered his plea flanked by his lawyers.

"Not guilty," Trump said when asked how he pleaded.

He is the first sitting or former U.S. president to face criminal charges.

Taken together, the charges carry a maximum sentence of 136 years in prison under New York law but an actual prison sentence if he is convicted at a trial would almost certainly be far less than that.

While falsifying business records in New York on its own is a misdemeanor punishable by no more than one year in prison, it is elevated to a felony punishable by up to four years in prison when done to advance or conceal another crime.

Trump, who has called the charges politically motivated, held his fist in the air in a gesture to reporters as he departed Trump Tower.
YahooNews chief investigative correspondent Michael Iskikoff had an "exclusive" ("Exclusive: Trump to be charged Tuesday with 34 felony counts, but spared handcuffs and mug shot") last evening about the negotiations ahead of the event:
Donald Trump will be placed under arrest on Tuesday and informed that he has been charged with 34 felony counts for falsification of business records, according to a source who has been briefed on the procedures for the arraignment of the former president.

A New York City police arrest report summarizing the charges against Trump will then be prepared and entered into the court system before he is led into a courtroom to be formally arraigned on the charges, none of which are misdemeanors.

But, the source said, Trump will not be put in handcuffs, placed in a jail cell or subjected to a mug shot — typical procedures even for white-collar defendants until a judge has weighed in on pretrial conditions. Manhattan District Attorney Alvin Bragg's office, which has been consulting with the Secret Service and New York City court officials, concluded there was no reason to subject the former president to handcuffs or a mug shot.

The stated reason for handcuffing defendants is that they might be a flight risk or a threat to the district attorney or court personnel, neither of which was judged to be relevant to the handling of a former president protected at all times by a phalanx of Secret Service agents.
As much as one might have preferred to see Trump frogmarched in handcuffs, it's frankly absurd and prejudicial theater in a normal white collar prosecution and would make no sense whatsoever under the circumstances. Trump is literally surrounded by Federal law enforcement officers 24/7/365. He's not going anywhere.