Trump Targets Social Networks
The President has been Twitter on their own platform. Now, he's following through.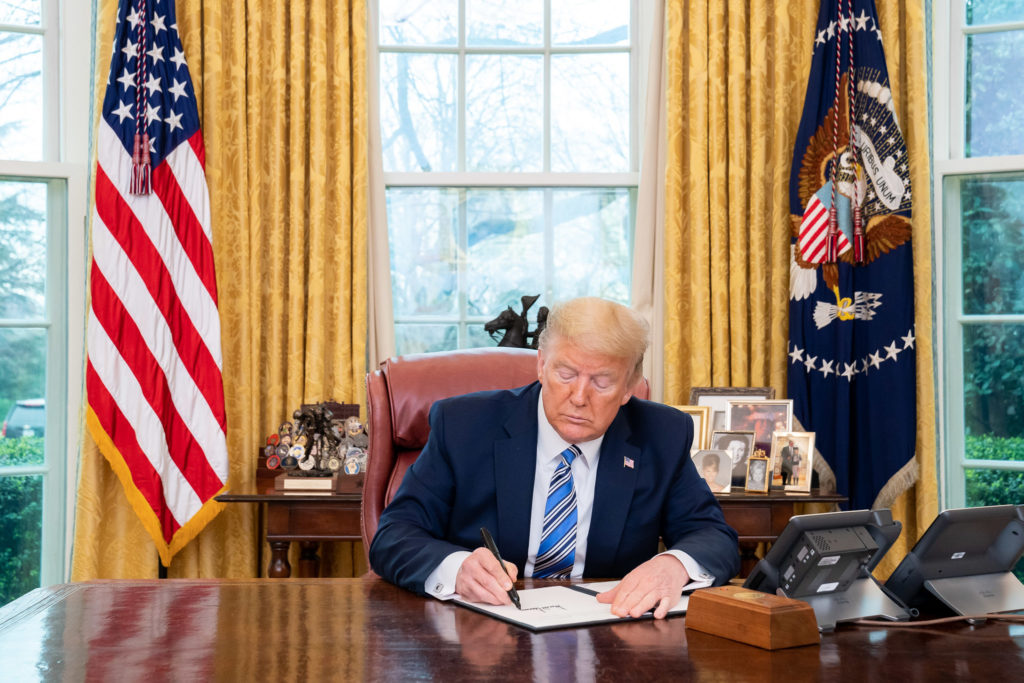 President Trump has made outrageous attacks against journalists during his time in office. Now, he's threatening to use the power of the state to go after his critics.
Tony Romm and Josh Dawsey for WaPo ("Trump expected to sign executive order that could threaten punishment against Facebook, Google and Twitter over allegations of political bias"):
President Trump is preparing to sign an executive order Thursday that could roll back the immunity that tech giants have for the content on their sites, according to two people familiar with the matter.

Trump's directive chiefly seeks to embolden federal regulators to rethink a portion of law known as Section 230, according to the two people, who spoke on the condition of anonymity to describe a document that could still evolve and has not been officially signed by the president. That law spares tech companies from being held liable for the comments, videos and other content posted by users on their platforms.

The law is controversial. It allows tech companies the freedom to police their platforms for abuse without fear of lawsuits. But critics say those exceptions have also allowed some of Silicon Valley's most profitable companies to skirt responsibility for the harmful content that flourishes on their online platforms, including hate speech, terrorist propaganda and election-related falsehoods.

The order would prompt federal officials to open a proceeding to reconsider the scope of the law, the people familiar with the document said. A change could mean potentially dramatic free-speech implications and wide-ranging consequences for a broad swath of companies reliant on doing business on the Internet.

The order would also seek to channel complaints about political bias to the Federal Trade Commission, which would be encouraged to probe whether tech companies' content-moderation policies are in keeping with their pledges of neutrality. It would also require federal agencies to review their spending on social media advertising, according to the people familiar with the White House's thinking.

"In a country that has long cherished the freedom of expression, we cannot allow a limited number of online platforms to hand-pick the speech that Americans may access and convey online," according to an undated draft version of the executive order obtained by The Washington Post late Wednesday.
With a normal President in office, this would be controversial but defensible from a public policy standpoint. There are real questions about the way Twitter, Facebook, and Google use their overwhelming market positions to dominate the political conversation. And, as the article notes, the matters would ostensibly be adjudicated by the FCC and the FTC, which are independent regulatory agencies not headed by individuals Trump can fire at will.
But, of course, Trump is not an ordinary President. He's already made the Justice Department much less than the independent, neutral institution it has long been. And the order comes in the context of repeated rants by Trump against these companies.
NPR's Shannon Bond ("Trump Threatens To Shut Down Social Media After Twitter Adds Warning To His Tweets"):
Tensions between President Trump and Twitter escalated Wednesday as he threatened to "strongly regulate" or shut down social media platforms, which he accused of silencing conservative viewpoints.

Trump's threats come one day after Twitter, for the first time, added a fact-check warning to a pair of his tweets. In them, Trump claimed without evidence that mail-in ballots are fraudulent.

"Republicans feel that Social Media Platforms totally silence conservatives voices," Trump tweeted Wednesday morning. "We will strongly regulate, or close them down, before we can ever allow this to happen. We saw what they attempted to do, and failed, in 2016. We can't let a more sophisticated version of that…. happen again."
Now, obviously, the First Amendment would seem to protect Twitter and others in deciding how to apply their terms of service and how to label content on their platforms.
It's unclear what Trump could do to crack down on social media platforms, but the power of Silicon Valley tech giants has been the subject of investigations by federal and state agencies, as well as congressional hearings.

University of Miami Law Professor Mary Anne Franks said the president has little legal recourse against Twitter's decision to fact-check his posts because the company has the right to set and enforce its own rules.

"Can a public official try to regulate or to shut down a private entity on the basis of not liking what they did?" she said. "No, that would be exactly what the First Amendment protects us against. That's the great irony of this."
But the First Amendment isn't self-enforcing. Fighting heavy-handed regulation would require long and costly court battles. The prospect of that would naturally create a chilling effect, making media companies incredibly leery of crossing Trump. Presumably, that's exactly the end game here.
Beyond Trump himself, social media companies are simply in a no-win situation here. Even normal politicians are often controversial, spinning things in a way that outrage opponents.
Twitter has, in the past, given world leaders a lot of leeway, even when they post false information, because, it says, their tweets are newsworthy. In June 2019, the company created a warning label to flag and suppress political tweets that break its rules on acceptable speech. And earlier this month, the company announced it would label "potentially harmful" tweets about the coronavirus.

The president posted the same unsubstantiated claims about voting by mail on Facebook, but that social network, unlike Twitter, has not placed a warning label on the posts.

This is not the first time the companies have taken different approaches to a thorny issue. In October, Twitter CEO Jack Dorsey announced that his social media platform will stop running political ads, citing online ads' "significant risks to politics." Facebook, in contrast, has said it will not block political speech, even if it is misleading.
And, of course, this is a two-way street. While any platform the President of the United States decided to use would get the word out, the behemoths are in a unique position given their huge user bases.
"Twitter is finally realizing that they are in a very powerful position because Trump needs them in order to circulate his messages," said Joan Donovan, an expert on disinformation and research director at the Harvard Kennedy School's Shorenstein Center.

"It's interesting to see Twitter realize this, in this moment, knowing that we've got a few months before the election," she said. "This is certainly not going to be the last time that they're called to use this notification."

Trump, who uses Twitter as his primary form of communicating with the public, has long accused Facebook and Twitter of censoring conservative views.

Some of the president's supporters lashed out on Wednesday at a Twitter executive who has been a public face of the company's policies on misinformation. They pointed to tweets from several years ago, in which the executive criticized Trump and compared members of the administration to Nazis.

Twitter said in a statement: "No one person at Twitter is responsible for our policies or enforcement actions, and it's unfortunate to see individual employees targeted for company decisions."

In congressional testimony in 2018, Dorsey said, "Twitter does not use political ideology to make any decisions. … We believe strongly in being impartial, and we strive to enforce our rules impartially."

Conservatives have pressed for investigations of alleged anti-conservative bias in Silicon Valley. On Wednesday, a federal appeals court dismissed a lawsuit claiming Twitter, Facebook, Google and Apple had conspired to suppress conservative views. The court said the companies are not governments, and therefore cannot violate free-speech rights protected by the First Amendment.
Which is so obvious that it shouldn't have required an expensive lawsuit to settle. Still, it's arguable that these companies are so big that they should be regulated as public utilities like broadcast networks rather than like newspapers or tech companies. But it's a slippery slope, indeed, when a man like Trump is running the Executive branch.