Trump To Move Embassy to Jerusalem, Needlessly Inflaming Region
This will get people killed. Quite likely, including American citizens.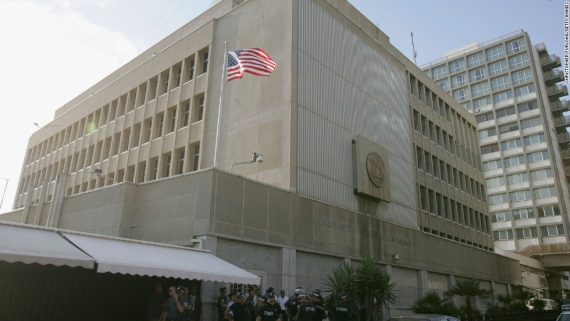 President Donald Trump is, according to multiple reports, planning to announce the move of the U.S. Embassy in Israel from Tel Aviv to Jerusalem tomorrow.
The White House will on Monday announce that the US embassy in Israel is to move from Tel Aviv to Jerusalem, according to an unconfirmed report by an Israeli news outlet.

Channel 2 cited an anonymous source as saying a member of the Trump administration would announce the highly controversial move on the President's first full working day in office.

The news channel said it had received no confirmation of the claim and there has been no public statement on the move since Friday's inauguration of the new US President.

Relocating the US embassy to Jerusalem would represent a major break with US policy.

Donald Trump has said repeatedly that he intends to relocate the US embassy to Jerusalem, despite warnings the move would violate international law and destroy the peace process.
It appears that all the reports are being circulated through the Israeli press and unconfirmed. So perhaps this is just a trial balloon. But he's certainly talked it up a lot of late. Here's a Friday report from NYT:
It started, as it has in American presidential races for decades, as a campaign line, one that weary Israelis and Palestinians hear but rarely take seriously: Donald J. Trump promised to move his nation's embassy to Jerusalem from Tel Aviv.

But by Thursday, the eve of Mr. Trump's inauguration, those decades of promises seemed very real — with reverberations far beyond stone and cement.

Mr. Trump himself made perhaps his strongest statement on the issue on Thursday, telling a conservative Israeli news outlet, "You know I'm not a person who breaks promises."

Palestinians protested around the West Bank on Thursday, and many Israeli Jews wondered if this was a gift that could be politely pushed away. Moving the embassy is not even close to the top of the list of concerns for even right-leaning Israelis who oppose the establishment of a Palestinian state.

Many worry it would only set off new fighting with the Palestinians as well as the rest of the Arab world, a big price tag for a symbolic change that would hardly move the ball on the broader conflict.

"I don't know what's in it for Trump," said Akiva Eldar, a longtime Israeli columnist and co-author of a book on the issue of moving the embassy. Mr. Eldar's thesis was that this was largely a concern for American politicians, not Israelis or Palestinians — and even within the United States, it was not generally advocated by those with experience on the ground.

"If you talk to serious people, if you ask the secret service, they say don't do it," Mr. Eldar noted. "They don't think it's worth it. Everything is so fragile right now."

Amid the West Bank protests on Thursday, Saeb Erekat, the chief Palestinian negotiator, said that moving the embassy would be a "red line" that, if crossed, could kill a two-state solution, reduce American influence in the peace process, and possibly set off a new round of violence.

"Why would a president-elect decide to begin his presidency by playing with the blood of Palestinians and Israelis?" Mr. Erekat asked in an interview. "Why? For whose sake?"
That this should happen has been a Republican talking point as long as I can remember. Yet, none of the five Republican presidents in my lifetime has paid more than lip service to the policy. That's because, while it would be a sop to the Evangelical base, it's a wildly stupid idea.
But, unlike the other Republican presidents, Trump is both incredibly stupid and stubbornly resistant to listening to expert advice.  His Israeli ambassador is a dangerous zealot and his pick for Secretary of State, almost certain to be confirmed, seems to be something of a foreign affairs ignoramus, at least judging from his confirmation hearings. His National Security Advisor, Mike Flynn, almost universally regarded as enormously bright and is more than qualified by resume for the post, is also a zealot. It wouldn't shock me at all were he cheerleading this disastrous policy.
Trump's administration is barely 48 hours old and he's yet to actually put in a day at the office. Yet, already, he's doing stupid things faster than I can muster the energy to write about them.
Make no mistake:  Moving the embassy to Jerusalem will get people killed. Quite likely, including American citizens. And it will yield zero national security or other benefit to the United States of America.