Trump Signs Waiver Of Law Requiring Move Of U.S. Embassy To Jerusalem
Despite campaign promises, President Trump won't be moving the U.S. Embassy to Jerusalem anytime soon.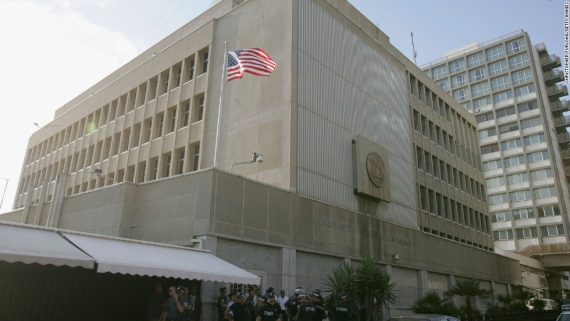 As expected, President Trump has signed the waiver required by the Jerusalem Embassy Act to delay the move of the American embassy in Israel from Tel Aviv to Jerusalem:
WASHINGTON — President Trump signed an order keeping the American Embassy in Tel Aviv rather than moving it to Jerusalem as he promised during last year's campaign, aides said Thursday, disappointing many Israel supporters in hopes of preserving his chances of negotiating a peace settlement.

Aides said the decision was just a delay and that he still plans to eventually move the embassy to Jerusalem when conditions are right, although past presidents have said the same without ever acting. The White House said in a statement that Mr. Trump's move should not be considered "a retreat from the president's strong support for Israel" and its alliance with the United States.

"President Trump made this decision to maximize the chances of successfully negotiating a deal between Israel and the Palestinians, fulfilling his solemn obligation to defend America's national security interest," the statement said. "But, as he has repeatedly stated his intention to move the embassy, the question is not if that happens, but only when."

Mr. Trump made no mention of his pending decision during a visit to Jerusalem just last week and waited to announce it until almost the last minute he could under law, underscoring the deep political sensitivity of the matter. The order he signed waives for six months a congressional edict requiring the embassy be located in Jerusalem, meaning he will have to consider the matter again by Dec. 1.

Prime Minister Benjamin Netanyahu of Israel, who has nurtured a close relationship with Mr. Trump, offered only modest regret for the decision publicly. "Though Israel is disappointed that the embassy will not move at this time, we appreciate today's expression of President Trump's friendship to Israel and his commitment to moving the embassy in the future," his office said in a statement.

The decision is Mr. Trump's latest shift away from campaign positions upending traditional foreign policy as the president spends more time in office and learns more about the trade-offs involved. He has reversed himself on declaring China a currency manipulator, backed off plans to lift sanctions against Russia, declared that NATO is not "obsolete" after all, opted for now not to rip up President Barack Obama's nuclear agreement with Iran and ordered a punitive strike against Syria that he previously opposed in similar circumstances.

(…)

In the case of the embassy, Mr. Trump may dishearten powerful supporters like Sheldon Adelson, the Las Vegas casino magnate and Republican donor who is close to Mr. Netanyahu and owns a newspaper in Israel. Some hard-line Israel backers have privately expressed concern that Mr. Trump has not lived up to his campaign pledges because he has been seduced into thinking he may reach the "ultimate deal" that has eluded every other president.

Mr. Trump began backing away from his promise to move the embassy shortly after taking office when King Abdullah II of Jordan flew to Washington without a White House invitation to buttonhole the new president at a prayer breakfast and explain what he viewed as the consequences. The king warned that a precipitous move would touch off a possibly violent backlash among Arabs, all but quashing any hopes of bringing the two sides together.

"There is likely to be a collective sigh of relief by Arab leaders, the Europeans, the State Department and the intelligence community," said Khaled Elgindy, a former adviser to Palestinian leaders now at the Brookings Institution. "While there is likely to be some backlash from his conservative base, especially evangelical voters, the fact that Trump is now personally invested in Israeli-Palestinian peacemaking may be something of an insurance policy against his having a change of heart further down the road."

Dan Shapiro, an American ambassador to Israel under Mr. Obama, said moving the embassy now "does not make sense" given Mr. Trump's interest in peace talks. But Mr. Shapiro said he agreed that the embassy ultimately does belong in Jerusalem and that Mr. Trump still could make it happen if handled right.

"If they plan it smartly, coordinate the timing with key parties, and ensure that its placement in West Jerusalem reinforces, rather than undermines, the ability to achieve a two-state solution, they can still mark this accomplishment before the end of the president's term," said Mr. Shapiro, a senior visiting fellow at the Institute for National Security Studies in Tel Aviv.

Mr. Trump has also urged Mr. Netanyahu to hold off on provocative housing construction in the West Bank pending peace talks, despite appointing David M. Friedman, a staunch supporter of such settlements and an embassy move, as his ambassador to Israel. But the president pleased many in Mr. Netanyahu's right-leaning coalition by abandoning automatic support for a Palestinian state unless both sides agree.

Anticipating that Mr. Trump would back off the embassy move, some in Mr. Netanyahu's coalition had hoped that the president at least would say during his trip last week that Jerusalem was Israel's capital, but he did not do that.
As I said above, in the end, this move was not at all unexpected. Trump had, like most previous candidates for President in both parties, promised during the campaign that he would move the embassy to Jerusalem, and the initial signals after his Inauguration seemed to be that an announcement to that regard would be days away. It quickly became clear that this move would not be happening anytime soon. By the time Trump was ready to leave on his recently completed trip abroad, which included a stop in Israel, it was all but certain that Trump would follow in the footsteps of Presidents Clinton, Bush, and Obama and sign the first of what are likely to be many waivers of the requirements of the law that Congress passed in 1995 requiring that the United States move its embassy to Jerusalem. That law set a deadline of December 31, 1999, but includes provisions allowing the President to waive the requirement if they deem it to be in the national interests of the United States that the move should be delayed. The issuance of the waiver has been done, mostly quietly, by every President since then even as they have routinely proclaimed before groups like AIPAC that the United States supports the premise that Jerusalem is both the de facto and de jure capital of the State of Israel.
As I've said before, signing the waiver is exactly the right decision for Trump, and perhaps comes as a sign that he can be persuaded to act against his instincts in the foreign policy arena if the right argument is made. Moving the embassy before there is a final agreement about the status of Jerusalem between the Israelis and the Palestinians would not advance the national interests of the United States, and would potentially put Americans in Israel and elsewhere around the world in danger of becoming targets of groups such as Hamas and Hezbollah. Meanwhile, outside the conservative base of the Republican Party, for whom the location of an American Embassy on the other side of the world seems to be more important than it is for Jewish-American or, indeed, many Israelis. If the embassy were to be moved prematurely, it would be difficult for the United States to retain credibility as any kind of a neutral arbiter between the parties as we have been in the past. Additionally, groups such as Hamas have made it clear that Americans could become target if the United States took this step, and while I am not conceding that we should let terrorist threats dictate policy moves this is a consideration that any American President needs to take into account before undertaking what, in the end, would be a purely symbolic move. As it stands, the U.S. has a Consulate in Jerusalem to handle business as necessary there. That should be sufficient for now. Once the parties have resolved the status of Jerusalem to their mutual satisfaction, we can make a decision on the embassy. There's no rush here.