Trump's Border 'Compromise' Not Going Over Very Well
The initial reaction to President Trump's proposal to reopen the government is not going over well on either side of the aisle.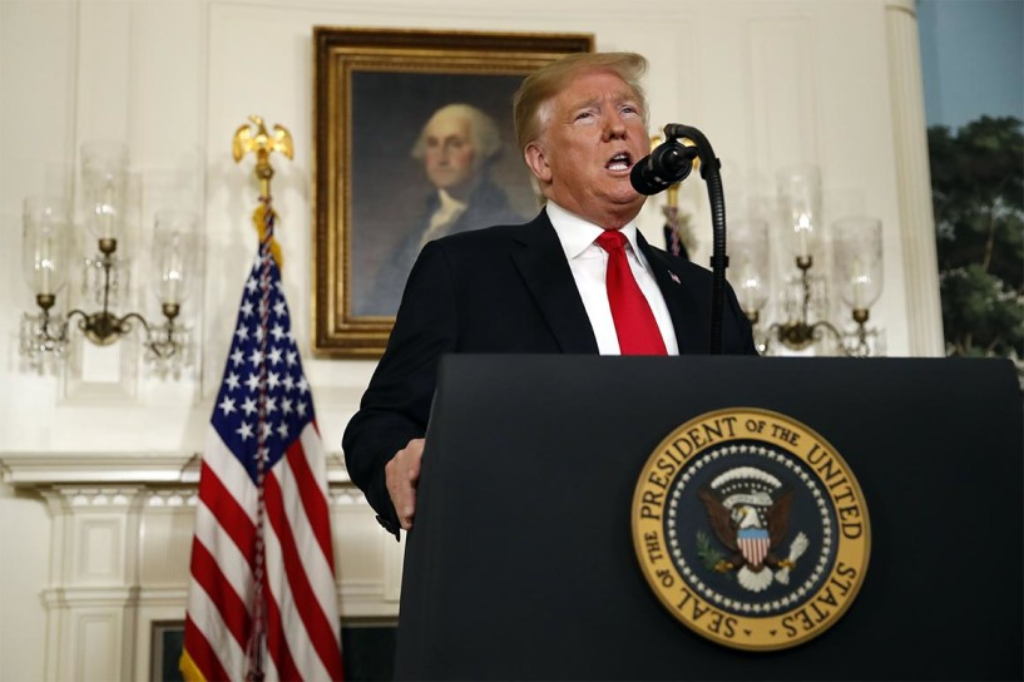 While it's still early, the initial reaction to President Trump's proposed solution to the immigration and border security issues at that heart of the ongoing government shutdown, which entered its 30th day today, is not positive to say the least:
WASHINGTON — Immigrant advocates denounced it as cruel. The conservative right howled that it was amnesty.

What President Trump billed on Saturday as a compromise to end the country's longest government shutdown pleased neither the Democratic congressional leaders whose buy-in he needs to strike a deal nor the core supporters whose backing has always been at the heart of his insistence on a border wall.

Instead, in offering temporary protections for about one million immigrants at risk of deportation in exchange for funding for a wall, Mr. Trump did something rarely seen during his presidency. He tried to reach beyond his base of supporters — which polls have begun to show is losing patience with him as the partial shutdown drags into its fifth week — and speak to a broader swath of Americans.

The Saturday afternoon speech from the West Wing was an attempt by Mr. Trump to, at the very least, shift the narrative of the past several weeks and show that rather than spoiling for a longer shutdown fight or making unreasonable demands, he was looking for a broadly acceptable way out of a morass he once boasted he was proud to wade into.

"I think you could tell by the president's remarks today," Vice President Mike Pence said, "that we're reaching out."

Yet in seeking to inch toward the center, Mr. Trump alienated portions of his hard-right base, the core supporters he most depends on and the group he and his closest aides have most feared losing. That raised the possibility that, in his zeal to get out of an intractable situation, he may have landed himself in the worst of all worlds, without a clear solution or the support of his most ardent followers.

The tensions and anger over the policy have been quietly playing out in the West Wing as well, as Jared Kushner, the president's son-in-law and senior adviser, fended off Stephen Miller, the architect of much of Mr. Trump's immigration agenda. Mr. Kushner has long been a proponent of protections for undocumented immigrants brought to the United States as children, while Mr. Miller has pressed for aggressive measures to crack down on both legal and illegal immigration.

In recent days, as White House officials had been working out the details of the compromise, Mr. Miller intervened to narrow the universe of immigrants who would receive protection, according to people familiar with the internal discussions who described them on the condition of anonymity.

While the original idea had been to include protections for as many as 1.8 million undocumented immigrants eligible for Deferred Action for Childhood Arrivals, the Obama-era program known as DACA that protected those illegally brought to the United States as children, Mr. Trump ultimately proposed shielding only the 700,000 who are enrolled.

(…)

The vast majority of Democrats knocked the approach. While many of them have pressed for measures to protect DACA recipients and immigrants living in the United States under Temporary Protected Status enacted when their countries were destabilized by war or catastrophe, most regard the proposal he put forth on Saturday as woefully inadequate. It offers only three years of protections for the DACA recipients and those who hold T.P.S., which the Trump administration has also moved to end for several countries.

"This is not an amnesty bill," Mr. Pence said. "There is no pathway to citizenship in this proposal."
As I noted last night, the initial reaction from Democratic leadership has been overwhelmingly negative. Both Speaker of the House Nancy Pelosi and Senate Minority Leader Chuck Schumer rejected the proposal, as have other Democrats who have had an opportunity to speak since last night. More importantly for the President, though, is the fact that his proposal is not going over well among the conservative pundits that he often relies on for support and affirmation:
President Donald Trump broke a fundamental rule of modern politics Saturday when he outlined a new plan to get his border wall and re-open the federal government: Never split your own party.

The basic idea is to give 1 million immigrants — 700,000 so-called Dreamers who were brought to the country illegally as children and 300,000 refugees facing expiration of their "temporary protected status" — a three-year shield from deportation in exchange for $5.7 billion in funding for the wall.

While Republican leaders on Capitol Hill praised his leadership, and Senate Majority Leader Mitch McConnell, R-Ky., readily agreed to bring his proposal up for a vote on the floor next week, conservatives were quick to criticize the president for offering "amnesty" to undocumented immigrants.

"Amnesty encourages further illegal immigration, incentivizes the tragedy of human trafficking, and undermines our citizens' confidence in the rule of law," James Carafano of the conservative Heritage Foundation said in a statement released shortly after Trump delivered remarks on the plan from the White House. "Amnesty should not be part of any border security deal, especially given that many who today oppose a wall have publicly supported and even voted for physical barriers in the recent past."

The obvious problem for Trump is that he managed to divide his own ranks without much chance of breaking the wall of Democratic opposition to his border barrier. Congressional Democrats were quick to reject his plan.
Although it's early, the reaction among conservatives seems to be two-fold.
On the one hand there are those such as Coulter and other hardliners who are already lining up behind the idea that any concessions on an issue like the Deferred Action For Childhood Arrivals (DACA) or Temporary Protective Status (TPS) programs, the latter of which is a program that has existed for some thirty years and allowed people from war-ravaged and other imperiled areas to stay in the United States, are essentially a form of "amnesty." While the law has always stated that TPS status is, as the name says, "temporary," previous Administrations dating back to the 1990s have allowed people to stay in the United States under protective status due to the conditions in their country. Last year, though, the Trump Administration announced plans to essentially end TPS status for tens if not hundreds of thousands of people and to send them back to countries that, in many cases, are in worse shape than they were when they left and notwithstanding the fact that these people have made lives for themselves and raised families here in the United States. Notwithstanding all of this, to the immigration hardliners offering anything to these groups, even temporary protection in exchange for partial wall funding constitutes giving in to the Democrats and, as Ann Coulter put it, amnesty.
On the other hand, many conservatives, even those who are not ostensibly pro-Trump, seem to see this proposal as, to borrow the phrase, the President's trump card. In their view, by putting the offer on the table the President has backed the Democrats into a corner in which they will be the ones who will appear to be recalcitrant if they refuse to negotiate further. As I noted yesterday, there is certainly a risk on Democrats part in being perceived in this manner, but it's far too early to know if this is what indeed will happen if Democrats don't use the President's offer as part of an effort to open further negotiations. We'll get a better idea of that as the week goes on.