Trump's Foreign Policy Is A Failure
President Trump's foreign policy has largely been a failure, and there are specific reasons why.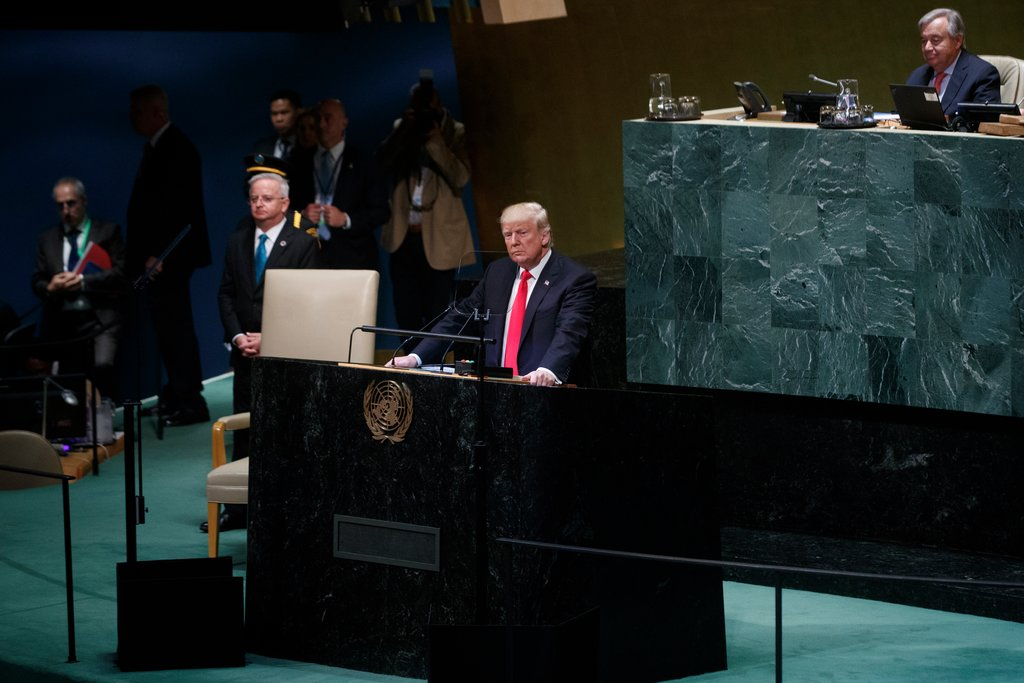 Jennifer Rubin catalogs the reasons why President Trump's foreign policy has by and large been an utter failure:
First, Trump imagines all foreign leaders are narcissistic patsies like he is. He tries to flatter those immune to flattery. He ignores egregious human rights behavior in North Korea and China for fear of poisoning a personal relationship that exists only in his head. Strongmen, as a result, see him as gullible and weak.

That leads to Trump's second major failing: He gives too much away for free without any demand for reciprocity, thereby emboldening opponents. He gives Kim Jong Un passive PR wins. He lets China's ZTE off the hook and slow-walks sanctions against China. He gives Saudi Crown Prince Mohammed Bin Salman a free pass on the murder of Jamal Khashoggi, with no promise of any changed behavior domestically or in Yemen.


Third, Trump and his advisers set unrealistic goals, reinforce them with exaggerated rhetoric and then lack a backup plan. Whether it is Venezuela or Iran, he envisions regime change but lacks a viable road to achieving such a dramatic result. As a result, friends and foes no longer take him seriously.


Fourth, he mistakes gestures for policy. Pulling out of the Joint Comprehensive Plan of Action, a.k.a. the Iran deal, doesn't make us safer. Pulling out of the Paris accord doesn't create an alternative plan for fighting climate change. Agreeing to move our embassy to Jerusalem doesn't bring us an inch closer to a deal, even an intermediary one, between Israel and the Palestinians. The administration and Trump in particular never seem to be prepared to answer the logical question "And then what?"In fact, these are moves for domestic policy consumption and without an overarching strategy to achieve desired results. In addition, they fray relationships with allies who are essential to our long-term interests.

Finally, under two secretaries, the State Department has been hollowed out and left with absent or "acting" officials, in addition to facing massive proposed budget cuts, which Congress has fortunately rejected. A demoralized, disrespected State Department bleeding away officials with decades of experience is no way to beef up American influence and stature.
Essentially, as Rubin goes on to correctly point out, Trump thinks that he can run foreign policy the same way he ran his businesses and the same way he has implemented domestic policy, with a combination of what Rubin calls "lies, bluster and secrecy." Additionally, while he initially started out with a foreign policy team that was made up for the most part by professionals capable of providing both good and cautionary advice when necessary, he has since gotten rid of the vast majority of those people in favor of toadies, yes-men, and people who seem to have been selected more due to their loyalty to Trump and to the Republican Party than their actual competence. This can be seen in his selection of people such as John Bolton, Mike Pompeo, and Patrick Shanahan, whose chief qualification for the position of Secretary of Defense appears to be that he's been a Trump loyalist. Given that this is the way he operated his business for more than 40 years, it's hardly surprising, but given the impact it is likely to have on the long-term national interests of the United States, it is rather disconcerting.
In addition to the five elements that Rubin notes, I would also add that Trump's foreign policy has consisted largely of spitting in the face of long-standing allies while coddling up to dictatorships and adversarial regimes in Russia, China, Saudi Arabia, and North Korea. For the better part of the past two years, President Trump has spent a considerable amount of time driving a wedge between the United States and its traditional allies in Europe and also calling into question the integrity and resolve of the American commitment to the NATO alliance. He has withdrawn from the Paris Climate Accords, the Trans-Pacific Partnership, the nuclear deal with Iran, and the Intermediate-Range Nuclear Forces (INF) Treaty, one of the hallmarks of the end of the Cold War. In doing so, the President has helped Russian President Vladimir Putin achieve a goal that the leaders of the former Soviet Union could only have dreamed of accomplishing.

In addition to the fact that all of these moves and miscues clearly benefit only one man and one motion, they have already sent a message to America's allies that the United States can't necessarily be trusted on to stand by its allies. It's only natural, then, that those same allies would suddenly become less eager to go along with requests from the United States that, in an earlier era. In other words, reactions like this from the Europeans are only natural given the past two years and yet another example of how the United States is already paying the price for the President's foolish abandonment of traditional allies and cozying up to dictators.
To be fair, Rubin and I likely disagree on what specific policies the Administration should be pursuing. Based at least on her writing during the Obama years, Rubin is most certainly more of an interventionist than I would tend to be. That being said, her assessment of Trump's foreign policy is, as I said above, largely correct. The evidence for this can be seen everywhere we look. The Russians and Chinese do not appear at all to be intimidated by anything this President has done and instead appear to be taking advantage of the power vacuums that they are helping to create around the world. North Korea has pulled back from its previously conciliatory tone and, just this weekend, resumed testing of short-range missiles that are a clear and present danger to our allies in South Korea and Japan. The Iranians aren't at all intimidated by his decision to withdraw from the JCPOA or the recent military moves the United States. Our friends in Saudi Arabia are continuing their genocide in Yemen and still have not paid a price for their decision to murder a Saudi-American journalist in their consulate in Istanbul. While the world has avoided a serious foreign policy crisis over the past two years, the history of the past two years has not gone well for the United States and we have Donald Trump and his foreign policy team to thank for that.