Trump's Mount Rushmore Diatribe
The President is desperate and unwell and the press is making no bones about it.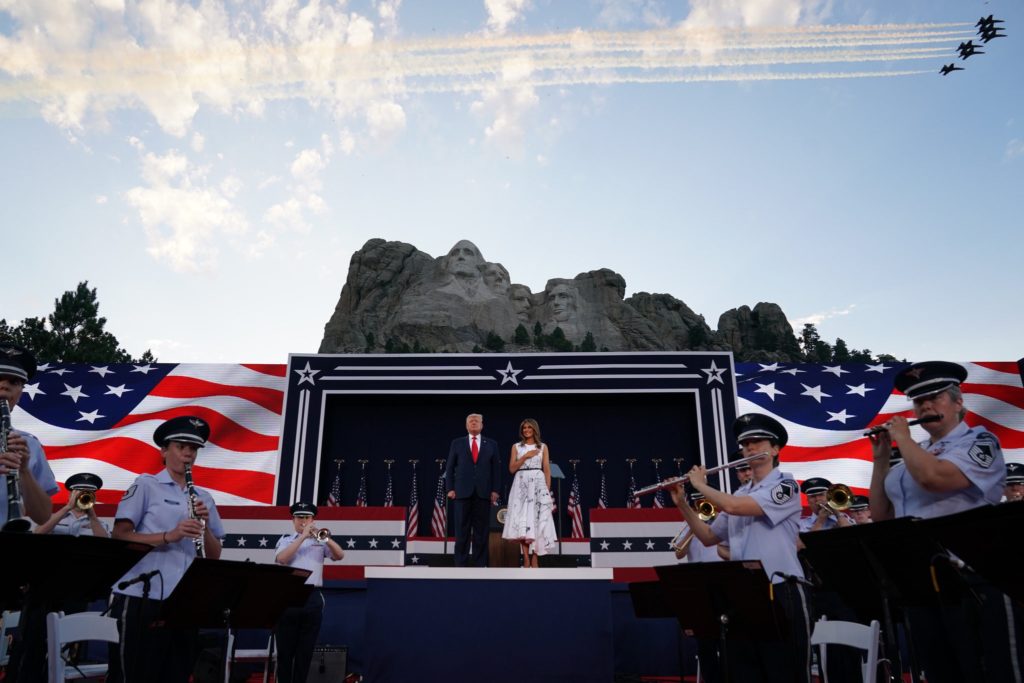 WaPo ("At Mount Rushmore, Trump exploits social divisions, warns of 'left-wing cultural revolution' in dark speech ahead of Independence Day"):
At the foot of Mount Rushmore's granite monument to his presidential forebears, President Trump on Friday delivered a dark speech ahead of Independence Day in which he sought to exploit the nation's racial and social divisions and rally supporters around a law-and-order message that has become a cornerstone of his reelection campaign.

Trump focused most of his address before a crowd of several thousand in South Dakota on what he described as a grave threat to the nation from liberals and angry mobs — a "left-wing cultural revolution" that aims to rewrite U.S. history and erase its heritage amid the racial justice protests that have roiled cities for weeks.

Praising presidents George Washington, Thomas Jefferson, Abraham Lincoln and Theodore Roosevelt, the men carved into the cliffs behind him, Trump declared that their legacies are under assault from protesters who have defaced and torn down statues. As he has done with increasing fervor in recent weeks, the 45th president denounced not just rioters and vandals but also much of the social movement that propelled the mass demonstrations in response to the killings of black men at the hands of police.

"The radical ideology attacking our country advances under the banner of social justice. But in truth, it would demolish both justice and society," Trump said. "It would transform justice into an instrument of division and vengeance and turn our free society into a place of repression, domination and exclusion. They want to silence us, but we will not be silenced."

The president, who recently signed an executive order aimed at punishing those who destroy monuments on federal property, referred to "violent mayhem" in the streets, even though many of the mass demonstrations have been largely peaceful. He warned that "angry mobs" were unleashing "a wave of violent crime" and using "cancel culture" as a weapon to intimidate and dominate political opponents — in what he compared to "totalitarianism."
NYT ("Trump Uses Mount Rushmore Speech to Deliver Divisive Culture War Message") frames it almost identically:
Standing in a packed amphitheater in front of Mount Rushmore for an Independence Day celebration, President Trump delivered a dark and divisive speech on Friday that cast his struggling effort to win a second term as a battle against a "new far-left fascism" seeking to wipe out the nation's values and history.

With the coronavirus pandemic raging and his campaign faltering in the polls, his appearance amounted to a fiery reboot of his re-election effort, using the holiday and an official presidential address to mount a full-on culture war against a straw-man version of the left that he portrayed as inciting mayhem and moving the country toward totalitarianism.
and adds:
Mr. Trump barely mentioned the frightening resurgence of the pandemic, even as the country surpassed 53,000 new cases and health officials across the nation urged Americans to scale back their Fourth of July plans.
Instead, appealing unabashedly to his base with ominous language and imagery, he railed against what he described as a dangerous "cancel culture" intent on toppling monuments and framed himself as a strong leader who would protect the Second Amendment, law enforcement and the country's heritage.
The scene at Mount Rushmore was the latest sign of how Mr. Trump appears, by design or default, increasingly disconnected from the intense concern among Americans about the health crisis gripping the country. More than just a partisan rally, it underscored the extent to which Mr. Trump is appealing to a subset of Americans to carry him to a second term by changing the subject and appealing to fear and division.

"Most presidents in history have understood that when they appear at a national monument, it's usually a moment to act as a unifying chief of state, not a partisan divider," Michael Beschloss, the presidential historian, said before the speech.
The President is becoming increasingly desperate and unhinged. And both of America's leading newspapers have stopped pretending otherwise. Indeed, both reports are as much analysis as they are news coverage.
That's a good and proper thing under the circumstances but maybe not if it continues with the next administration. Already, far too many Republicans believe the mainstream press is essentially a Democratic Party propaganda machine. This sort of coverage helps fuel that belief.
In the idealized version of journalism, these stories would simply report what the President said, how the crowd reacted, how many were in attendance, and the like—Who? What? When? Where? Why? How?—and analysis would be left for the editorial and opposite-editorial pages. But, when the President is openly fomenting racial resentments and stoking cultural divides, critics increasingly believe that straight-up coverage amounts to legitimating those tactics.
I've gradually and reluctantly come into the latter camp, thinking it's important to be crystal clear about what's happening even while skeptical that it will actually change the minds of anyone who can't figure it out for themselves by reading through the lines.