Trump's Reliable Cannon
The former president shopped for the right judge.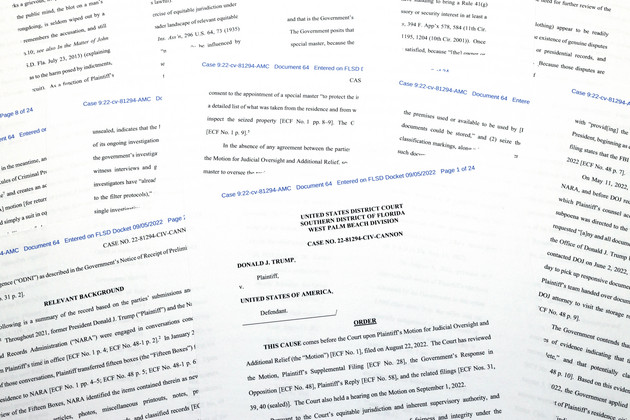 Let's cut to the punchline: I was wrong about District Judge Aileen Cannon. Throughout my writing on the Affair de Mar-A-Lago docs, I have tried to give her the benefit of the doubt. And with each action and decision, she has demonstrated that she doesn't deserve it. I thought her initial decision to appoint a Special Master, though ultimately wrong on the case law, was defensible. However, last night's denial of the DOJ motion for a partial stay of the order pending their appeal, well… it's a doozy.
Since my writing time today is limited, I'm going to farm out my analysis to former Federal Prosecutor Renato Mariotti:
In her initial decision, Cannon treated the Trump legal team like a prosae petitioner (someone who files without a lawyer) and basically build their case for them. The DOJ then filed a really smart and tight request for consideration that provided Cannon with a perfect off-ramp to a compromise decision (allow the investigation to continue with certain documents clearly marked classified AND still move forward with the Special Master in the meantime). Many legal experts, including Mariotti, assumed the Judge would take it. To Mariotti's final tweet above–even knowing that the DOJ appeal is inevitable–she dug her heels in and didn't bother to even address the substantive claims of the DOJ.
Law Professor Orin Kerr (who definitely isn't a political progressive) nicely sums up Cannon's position thusly:
Couple of final thoughts on this:
One telling thing is that while the decision is being celebrated by supporters of the former President, few, if any, are actually diving into why it is a correct decision based on the law and case precedent.
This is definitely going to the 11th Circuit. How they decide is anyone's guess as they can be all over the place, especially when it's just a three-judge panel. I expect the DOJ will ultimately win out. And, without a doubt, this will go to the Supreme Court. And again, I don't know how this comes out there either. If the Trump side wins, it will be a major curtailing of sitting executive power no matter how tightly they try to finesse the decision to only apply to this particular case.
The one "good" thing that came out of this is that retired Federal Judge Raymond Dearie was named special master. He was a pick by the Trump team and the DOJ noted that he was acceptable to them. It's a bit surprising that the Trump team picked him as he was part of the FISA court that approved the surveillance on Carter Page. For a testament to Judge Dearie's character see this 2018 Twitter thread by noted progressive public defender and civil rights attorney Scott Hechinger who had clerked for him.
Some folks who follow my broader writings on criminal legal system matters may question why someone who is normally pretty skeptical of state power is siding with the DOJ on this or has been so deferential to a judge. On the DOJ, I am siding with them based on the quality of evidence and legal theory they have provided to date. As with all things, if evidence arises to contradict that, then I reserve the right to say "I was wrong." As to the deference to Federal Judges, I have personal connections to the Federal Judiciary and have watched them work. And, in general, I think most folks on that bench, though ultimately political appointees, try hard to make good, grounded judgments (and more importantly avoid being reversed). So that's my default assumption until proven wrong (as in this case). And I will continue to take this approach (even with Trump administration nominees).
Finally, while it's clear that Trump has ended up with a very sympathetic judge in his district, I'm not particularly swayed by the idea that her appointment was some form of "Nth dimensional chess" or other conspiracy theory. I think there is ample evidence that type of forward planning was never that administration's strong suit (remember she was nominated well before the 2020 election). The reality is he nominated a LOT of judges. All that said, I think Orin Kerr is onto something when he wrote yesterday:
Actually, I don't think Kerr goes far enough. I suspect Judge Cannon is already on Trump's Supreme Court shortlist.