More Speculation On The Supreme Court Leaker
Supreme Court watchers have been speculating since Sunday night about who might have leaked confidential court information to the press.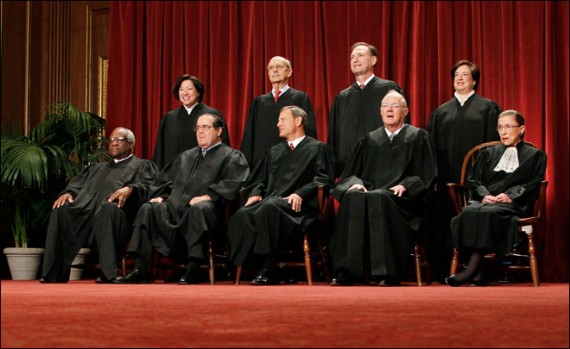 Aside from the question of whether or not Chief Justice Roberts may have switched his position on the Affordable Care Act at some point after the Justices first met to discuss the case, one burning question has been who may have been the person who talked to CBS News Reporter Jan Crawford about what are supposed to be private and highly confidential judicial discussions. As I noted in my original post on Crawford's story, the number of suspects would seem to be limited to a very small universe of people, with Supreme Court Justices and their law clerks being the ones most likely to have the kind of information that Crawford's report contained. Law Professor Orin Kerr reached conclusions similar to mine in his initial post on the matter, as have others who have engaged in the always popular Washington guessing game of "Who's The Leaker?"
In his post Sunday evening, Kerr noted that Crawford had previously interviewed, and appears to have good relationships with, Justices Kennedy and Thomas, and Norm Scheiber takes the ball and runs with it from there:
Jason Zengerle says Clarence Thomas is one likely candidate, since he was a hero of Crawford's recent book and granted her several high-profile interviews around the same time.

As for the second justice, assuming there was a second (and obviously there need not have been), my money is on Anthony Kennedy. Crawford's piece really goes out of its way to cast him as principled and intellectually formidable, something that, suffice it to say, is a bit at odds with the conventional wisdom.

(…)

As for Kennedy's motives, one gets the sense reading Crawford's piece—which was clearly shaped by Kennedy's "close associates," if not Kennedy himself—that he smelled an opportunity to redeem himself with conservatives and relinquish the turncoat title to John Roberts. In fact, the whole rehabilitation effort smacks of the same grandiosity that critics mock in his opinions. If it were any other justice, the over-the-top defense of Kennedy might suggest they weren'tthe source. For Kennedy, the gun isn't just smoking, it's downright ablaze. A little subtlety might have gone a long way here.
Predictably, the likes of ThinkProgress have jumped all over the suggestion that Justice Thomas might be involved in all of this, although their reasons for doing so are clearly more motivated by ideological and the long standing grudge against the Justice among people on the left than any quest for the truth. It is worth noting those, as Dylan Byers points out, that in the past Thomas has had kind words for Crawford.
Kerr, meanwhile, points out today that National Review's Ramesh Ponnuru had said the following during a Princeton University event in early June:
My own sort of educated guess, based on people I talk to at the Supreme Court, is that — Well, as I'm sure people know, there's an initial vote the same week, on the Friday of the oral arguments. And my understanding is that there was a 5-4 vote to strike down the mandate and maybe some related provisions but not the entire act. Since then, interestingly, there seem to have been some second thoughts. Not on the part of Justice Kennedy, but on the part of Chief Justice Roberts, who seems to be going a little bit wobbly. So right now, I would say, [the outcome of the case] is a little bit up in the air….
What's interesting about Ponnuru's statement in June is that, by the time the opinion had come out the four dissenters had reached the point where they said the entire law should be thrown out whereas his "source" says that the consensus at some point was to strike down the mandate and only some provisions of the law. Whether this means that Ponnuru's source was misinformed, or whether there was more than one changed opinion on SCOTUS, is unclear. As for what it tells us about the identity of the leaker, Kerr speculates that the universe of people who would leak to Ponnuru is smaller than the universe of people that would leak to Crawford, and the the Ponnuru leaker was more likely to be a law clerk than a Justice. Whether that means the Crawford leaker is also a law clerk, or whether they had independent sources is unclear.
So where does this leave us in the quest to figure out who the leaker is? In some sense, your guess is as good as mine or Kerr's. Kerr does say that he thinks it's unlikely that it's a law clerk because leaking would be a career ending move for them if they were ever discovered, but Christopher Shea argues that the damage to a law clerk's career would necessarily be as bad as Kerr speculates given recent history. Therefore, I wouldn't discount the possibility that this was the work of one or more law clerks. Of course, the story becomes far more interesting if the leaker is one of the Justices, because it brings up speculation about what this could mean for the future of inter-personal relationships on the Court in the future, and what impact it might have on alliances in particular cases.
So far, we haven't heard a single comment about the Crawford story from anyone close to the Supreme Court, and it's unlikely that we will either. However, I have no doubt that, even though the Justices are on vacation now, there has has been some communication on some level about all of this, possibly even an internal investigation. I get the feeling that this story isn't finished just yet.