Trying to Understand Newt's Appeal
Musing about his smarts.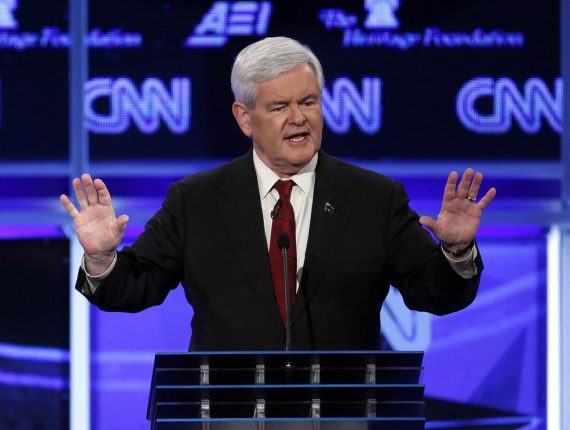 Writing about how to know Newt Gingrich appears to correlate with not liking him very much (i.e., "The bottom line is that people who have been paying rapt attention to American politics since at least 1994 simply don't like Newt Gingrich very much"), James Joyner wrote:
And, in contrast to previous frontrunners Rick Perry and Herman Cain, his ability to speak in paragraphs makes him seem positively brilliant.
This gets to something that I have been thinking about for a little while now:  I wonder how much of the support for Gingrich is founded in the fact that many in the GOP are being tired of being told how stupid their candidates are.  We have seen a frontrunner who reveled in his his ignorance (Herman Cain) and others who displayed it with some frequency (Michele Bachmann and Rick Perry) and the result was a great deal of ridicule.  Further, Republicans have been told that they are anti-science, anti-facts, and, indeed, anti-reality.  Newt, on the other hand, at least sounds smart and he talks about books and stuff.
Indeed, one can hardly get through a story on Gingrich without being told how smart he is or how he has so many ideas in a a given day that he has to carry a sack around so he has a place to put all the extra ones.  And I am not talking just about positive stories supporting Gingrich, I means pretty much every single story points out his smarts, his ideas, his doctorate, or his time as a professor.
At any rate, I have no way of testing this proposition at the moment, and we may or may not ever get adequate polling to answer the question, but I do have to wonder how much this is playing into his appeal at the moment.   The idea that voters have decided to shift towards a candidate who sounds smart is a positive sign, I should think (at least when compared to other options).
An example of the coverage of Newt can be found in a WaPo piece from yesterday:  Newt Gingrich: The GOP's eccentric big thinker and bomb-thrower.  Heck, the first line of the piece is: "He's the smart one."
An early paragraph captures what strikes me as a great summary of the Newtness:
To some, a lifetime of hearing how smart he is has produced in Gingrich an ungovernable ego, colossal even by Washington standards. To others, it's just biography. He vacuums information, and always has.
Also, I found the following of interest:
"He was sort of universally considered a character at West Georgia, smart but not very deep," said New Republic columnist Ed Kilgore, a Georgia Republican-turned-Democrat who has known Gingrich for decades. "He clearly loved the professor's persona and grand ideas, but he was more nakedly ambitious than anything. You always had this odd combination of Boss Tweed and Metternich."
I think that "smart but not very deep" very much describes Newt if one really pays attention to what he says (especially if one thinks through some of his vaunted ideas).  Further, this much appears quite clear:  "He clearly loved the professor's persona" insofar as he really never did the hard work needed to maintain the non-persona part (i.e.,no scholarly pubs that I can find and no tenure) but he has held on to the notion that he is a "historian" (even when doing lobbying work) and loves the professorial approach (i.e., lecturing, pontificating, tossing ideas out for consideration, etc.).
I will say this:  while I find Newt problematic for a variety of reasons, I do prefer the ideas approach (even in its undisciplined and chaotic) to the "oops" approach (Perry) or the "Uzbeki-beki-stan-stan" approach (Cain).