TSA to Address Incompetence with Longer Lines
Trips to the airport will now be even more fun.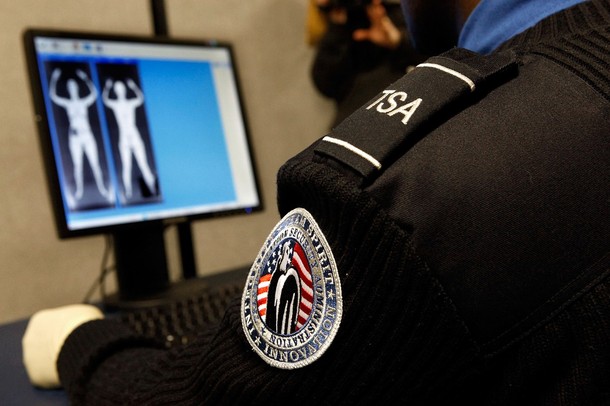 The Transportation Security Agency failed to detect 67 out of 70 fake explosives and weapons in a recent audit, so they're going to screw over the paying customer.
POLITICO ("TSA's response to criticism: Longer airport lines"):
The Transportation Security Administration has a new strategy for improving its woeful performance in catching airport security threats — and it will likely mean longer lines and more government bucks.

A month after the TSA was embarrassed by its almost-total failure in a covert security audit, Homeland Security Secretary Jeh Johnson has ordered the agency to pursue an improvement plan that will require more hand-wanding of passengers, more use of bomb-sniffing dogs and more random testing of luggage and travelers for traces of explosives. It will also consider reducing travelers' chances of being sent through the expedited PreCheck lines at airports.

Increased reliance on PreCheck is just one strategy TSA has used to become slimmer and swifter in the past few years, drawing buckets of praise from a Congress that's otherwise largely criticized the agency. It has also relied more on technology like body-scanners and analyses of specific travelers' risks while leaning less on labor-intensive methods like pat-downs, allowing the TSA to save manpower costs and shrink its workforce.

But then came the leak of a still-classified inspector general report in June, which found that TSA agents had failed to find fake explosives and weapons 67 out of 70 times during covert testing — and that the screening technology often just doesn't work. The 96-percent failure rate drew sharp rebukes from Capitol Hill, led to the immediate ouster of then-acting Administrator Melvin Carraway and caused much shuttle diplomacy between lawmakers and the agency's top brass.

Now the response threatens to gum up airport checkpoints.

"In light of the 96 percent failure, they're probably going to slow things down," House Homeland Security Chairman Mike McCaul (R-Texas) acknowledged in an interview. He added that "the technology failure was a big part of the problem" and that the DHS inspector general pointed to the agency's policy of funneling travelers from regular security lines through the less-intensive PreCheck queues as one of the "big weaknesses."

Kevin Mitchell, chairman of the Business Travel Coalition, agreed that air passengers will probably feel the impact of the latest changes. "Things are going to slow down, and consumers are going to get increasingly frustrated," he said.

Johnson said this month that he had ordered TSA to start doing more manual screening, such as using handheld metal detectors and doing more random tests for trace explosives, and to take a second look at the agency's policy of selectively diverting non-vetted travelers into the PreCheck lanes.
Why they would put non-vetted passengers through PreCheck lines to begin with is baffling. Not only does that defeat the entire purpose of the program—to allow them to concentrate on people who haven't gone through extensive background checks—but it adds insult to injury by lengthening the Pre lines that people have gone through the time and expense of qualifying for precisely so that they can go through the faster lines. Apparently, it was a marketing ploy:
The main problem, many lawmakers say, is TSA's "managed inclusion" policy of giving that special treatment to travelers who haven't gone through the program's vetting process. To enroll in PreCheck, passengers must provide fingerprints, undergo a background check and pay an $85 fee.

One purpose of steering non-enrolled passengers into the PreCheck lanes has been to give travelers a taste of what life could be like if they signed up for the expedited screening program, said David Inserra, a homeland security policy analyst at the Heritage Foundation. It also makes more efficient use of TSA's screeners when the speedier lines are drastically shorter than the regular queues.

"You've got these people working these lines, and sometimes they're going to be doing nothing, or we can use them for something," Inserra said. "But that's not really a good security mindset. That's really an efficiency mindset."
Yeah, no kidding, Sherlock.
Oh, and this is rich. Remember the controversy over the body scanning-machines that allow strangers to look at your body parts?
Because the report is still classified, the agency hasn't disclosed exactly which types of equipment were involved or how they failed. But McCaul and Rice identified them as the millimeter-wave body scanners, made by L-3 Communications Corp., that force passengers to pose inside a booth with their arms raised. The machines are supposed to find both "metallic and nonmetallic" objects hidden under passengers' clothing, including guns and explosives, and "can detect a wide range of threats to transportation security in a matter of seconds," TSA boasts on its website.

McCaul said his panel is looking into how much of the failure rate can be attributed to technology issues versus human error. He plans a hearing on the issue this month with testimony from new TSA Administrator Peter Neffenger, who assumed his post July 6 after being confirmed by the Senate.
Good times.
Otherwise, though, it's not obvious what problem we're trying to solve here. Will bomb-sniffing dogs be better able to ferret out fake bombs than TSA agents? How many actual bombs and guns are making it through screening now?
And, to the extent that we have a real problem with people carrying dangerous items onto the plane—for what purpose, I don't know, given that cockpit doors have been hardened to thwart hijacking attempts—wouldn't it make more sense to eliminate most of the baggage going on board? Simply require everyone to check their bags, limiting them to purses, briefcases, diaper bags, and the like. That would radically streamline the screening process by narrowing the search to far fewer and smaller bags.