TurboTax Tricking Poor People into Paying for Free Filing
Those making under $66,000 aren't supposed to have to pay. But good luck figuring out how to avoid it.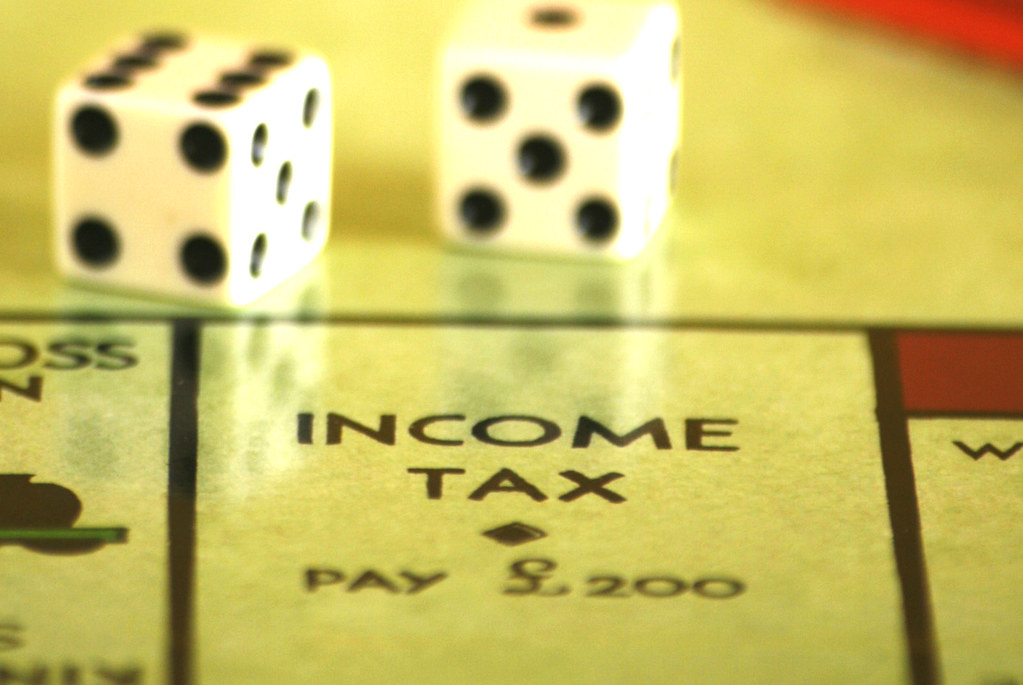 Americans making less than $66,000 are supposed to be able to file their federal and state income tax returns for free. In exchange for the IRS not establishing their own competing services, commercial programs have agreed to provide it themselves. But, as ProPublica discovered, they're intentionally making it extremely difficult.
Did you know that if you make less than $66,000 a year, you can prepare and file your taxes for free?


No? That's no accident. Companies that make tax preparation software, like Intuit, the maker of TurboTax, would rather you didn't know.

Intuit and other tax software companies have spent millions lobbying to make sure that the IRS doesn't offer its own tax preparation and filing service. In exchange, the companies have entered into an agreement with the IRS to offer a "Free File" product to most Americans — but good luck finding it.

Here's what happened when we went looking.


Our first stop was Google. We searched for "irs free file taxes."


And we thought we found what we were looking for: Ads from TurboTax and others directing us to free products.

The first link looked promising. It contained the word "free" five times! We clicked and were relieved to see that filing for free was guaranteed.

We started the process by creating the profile of a TaskRabbit house cleaner who took in $29,000. We entered extensive personal information. TurboTax asked us to click through more than a dozen questions and prompts about our finances.


After all of that, only then did we get the bad news: TurboTax revealed this wasn't going to be free at all. Turns out the house cleaner didn't qualify because he is a independent contractor. The charge? $119.99.

— ProPublica, "Here's How TurboTax Just Tricked You Into Paying to File Your Taxes"
They went through several scenarios and always wound up being directed to an "upgraded" version that was either $59.99 or $119.99.
How?
It turns out that it's literally impossible to file from free starting at the TurboTax site!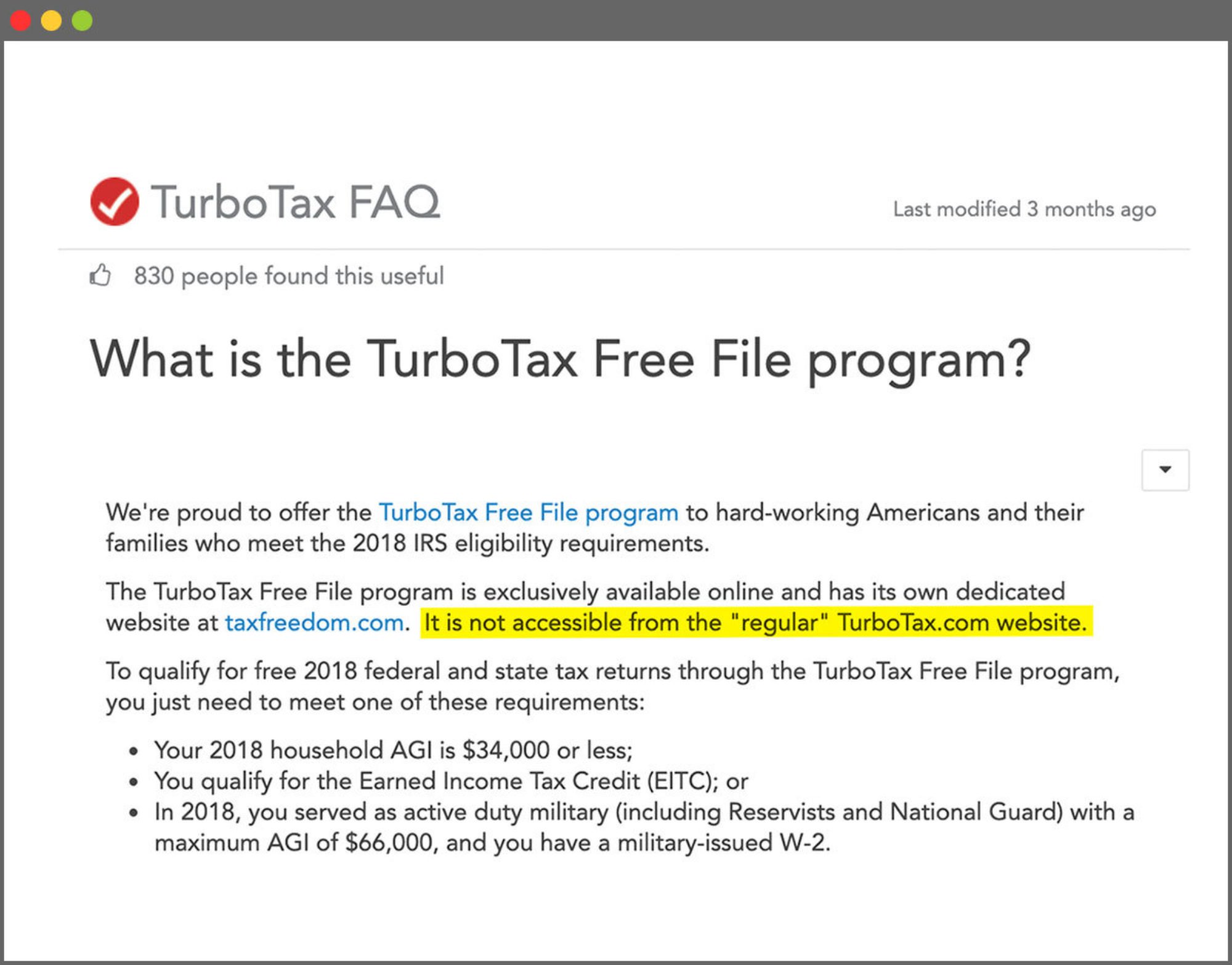 Even armed with the information that you need to go to taxfreedom.com rather than turbotax.com, though, the company steers people back to the paid version.
While the orange "See If You Qualify" link did take us to the real Free File program, the blue "Start for Free" link brought us back to the version of TurboTax where we ended up having to pay.


There's a name for internet design tactics that get users to pay for products they don't necessarily want: dark patterns.

[…]

The fifth link, a government site, looked like it would take us to the actual Free File program.


But not so fast! When we clicked, and then clicked through to a second page, we found a whole new set of choices and restrictions. Each of the 12 companies that have signed on to the deal with the IRS offer their own Free File product. But they all have different requirements based on age, income and location.

Finally! We clicked the "TurboTax Free File Program" link and found the actual homepage for TurboTax Freedom.

It's not exactly a secret that this Free File program isn't working well. The national taxpayer advocate recently said it "is failing to achieve its objectives and should be substantially improved or eliminated." The IRS has been criticized for failing to oversee the program and the number of people using Free File has dropped by millions since it peaked in 2005.
The company will apparently refund the amount paid by those eligible to file for free. But only if they contact the company and request it! And I'm sure they make that easy.
This is obviously shameful behavior on the part of TurboTax but it's hardly shocking.
Like the Richard Gere character in "Pretty Women," I made it all the way through school. And, having run websites for two decades, I like to think of myself as more internet-savvy than average. And yet I run into this thing all the time. It can be incredibly difficult to get promised perquisites.
Reduced-price versions are typically hidden and use the sort of techniques Intuit used in this case to steer people to higher-priced versions. For example, as a university faculty member, I'm eligible for the University edition of Microsoft's Office, which offers a four-year subscription to the suite and a gigabyte of storage on OneDrive for $80—a little less than a one-year subscription at full price. When it was time to renew, it was incredibly frustrating to do so.
Amazon offers "free one-day shipping" on a host of items. But it's often actually quite difficult to get it. Ostensibly, all one needs to do is achieve a certain price threshold. But it turns out it only applies to items serviced directly by Amazon—which is a small subset of their offerings. Quite often, I'll go to check out and find that I won't get one-day shipping after all.
(Amazon has also taken to offering a wide price range on some items, notably clothing and shoes. The lower prices are invariably only available on one size or color. This makes comparison shopping quite frustrating.)
Less shady but still frustrating are sites that lure customers with multiple discounts only to find at check-out that they can't be stacked. For example, the sports apparel site Fanatics almost always has some sort of discount code active that takes a significant percentage off the "regular" price, often with free shipping for orders over a set minimum. They also offer a 10% veterans discount. But it turns out that you can use one or the other. Effectively, then, they don't have a veteran's discount. Which is fine! But don't pretend to offer one.
All of these practices are confusing, frustrating, and perhaps unethical. But they really don't compare to bilking poor, uneducated people out of money. They're not only less able to afford it but likely to have less awareness that they're being tricked and to have less time to search for workarounds.
As noted in a recent post, it seems obvious to me that the IRS ought to be offering free filing. Objections that they lack the technical savvy to do it are easily overcome: they could simply contract out to Intuit or a competitor.
In the meantime, though, the Federal Trade Commission, Justice Department, or other appropriate entities should go after Intuit and others who have violated their agreement by bilking poor customers. It's truly shameful conduct.