Tweeting an Execution
In what's likely a first, Utah Attorney General Mark Shurtleff tweeted an execution:
Friday morning's execution of Ronnie Lee Gardner by firing squad seemed like a punishment straight out of the 19th century. But the mode of communication used to announce Gardner's impending death was strictly 21st century: Twitter.

"I just gave the go ahead to Corrections Director to proceed with Gardner's execution," wrote Utah Attorney General Mark Shurtleff just after midnight on his Twitter feed. "May God grant him the mercy he denied his victims." Here's the image of his tweet:

Mashable, a site that covers social media, asked if it was necessary for Shurtleff to be tweeting right before Gardner was shot to death. A number of Twitter users were similarly put off, with one writing that Shurtleff's tweet "will probably go down in history as the dumbest most disgusting use of Twitter ever."

Shurtleff's next tweet announced: "We will be streaming live my press conference as soon as I'm told Gardner is dead. Watch it at www.attorneygeneral.Utah.gov/live.html."
Rather in poor taste, no?
The Tweet above seems to be gone.  But here's the relevant portion of Shurtleff's stream: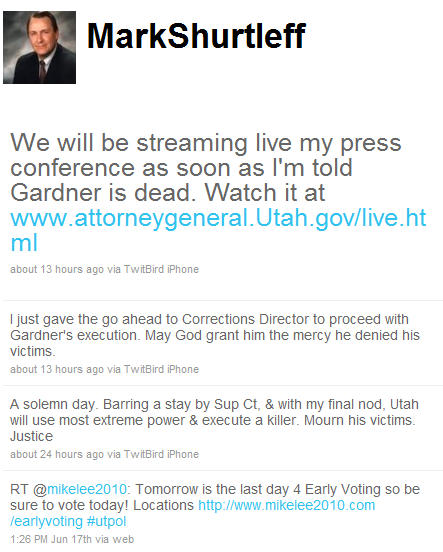 Love that the get-out-the-vote Tweet precedes the ones on the execution.
via Taegan Goddard