Obama's Immigration Policy Shift Was Legal, But Was It Proper?
President Obama's immigration policy shift is legal, it's good policy, but bypassing Congress won't solve our immigration problems.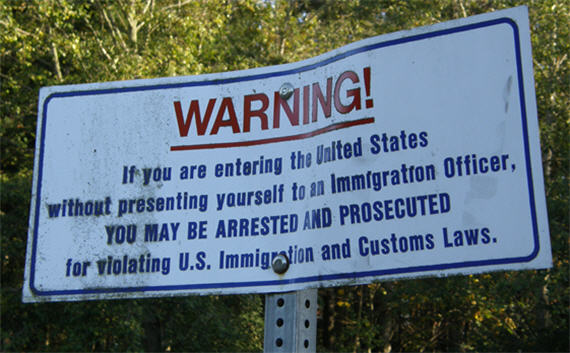 John Yoo, who made a name for himself during the Bush Era by being the guy who came up with legal memos authorizing torture, and who has also advanced the rather pernicious "Unitary Executive" theory as a legal argument in favor of increased Presidential power outside of Congressional review, weighs in today on President Obama's immigration policy change in a National Review article that is, given that historical context, rather ironic:
President Obama's claim that he can refuse to deport 800,000 aliens here in the country illegally illustrates the unprecedented stretching of the Constitution and the rule of law. He is laying claim to presidential power that goes even beyond that claimed by the Bush administration, in which I served. There is a world of difference in refusing to enforce laws that violate the Constitution (Bush) and refusing to enforce laws because of disagreements over policy (Obama).

Under Article II, Section 3 of the Constitution, the president has the duty to "take Care that the Laws be faithfully executed." This provision was included to make sure that the president could not simply choose, as the British King had, to cancel legislation simply because he disagreed with it. President Obama cannot refuse to carry out a congressional statute simply because he thinks it advances the wrong policy. To do so violates the very core of his constitutional duties.
There are several problems with this part of Yoo's argument. First of all, the Obama Administration isn't refusing to enforce the law, and by "the law," of course, we mean the entirety of U.S. immigration laws, in this case. What is being done is that a limited and temporary exception is being created for a certain class of people that will give them relief from the threat of deportation (as long as they don't commit a major crime) for a period of two years. It isn't a path to citizenship. It won't allow anyone who isn't a citizenship to vote. And, anyone who is covered by this policy will still have to go through the same process as everyone else to receive a work permit. This isn't even the only such exception that has been implemented by an American President. There's one that applies to certain refugees from Central America that has been in place for more than a decade now, and another that applies to immigrants from China that was put in place under George W. Bush.
More importantly, though, what we're talking about here isn't amnesty, it isn't a special favor, it isn't cheating. As Utah's Republican Attorney General explains, it's nothing more than the same kind of discretion that the law gives to the Executive in many different areas:
In an interview with me just now, Mark Shurtleff, Utah's conservative Republican attorney general, dismissed those objections, arguing the move was perfectly within Obama's powers, good law enforcement policy, and even a "conservative" solution.

"This is clearly within the president's power," Shurtleff said. "I was pleased when the president announced it."

Shurtleff, a Mitt Romney supporter who is a diehard conservative on many other issues, is perhaps the nation's most prominent Republican staking out an alternative to the GOP's hard line on immigration. His support for the president's policy represents a larger split within the party, between those who see Arizona as a model for the nation and those who want the party to adjust to demographic (and related political) realities with another approach.

Republicans and conservatives have argued either that Obama did this by executive order or more broadly that ignoring Congress represents dictatorial rule by fiat. But Shurtleff rejected that view, noting that this decision was not made via executive order and that the administration has the discretion to decide whom to prosecute.

"Law enforcement makes decisions based on the resources available to them — until Congress acts, we'll be left with too many people to deport," Shurtleff said. "The administration is saying, `Here's a group wecould be spending our resources going after, but why? They're Americans, they see themselves as Americans, they love this country.'"
The Obama Administration, which has maintained a pace of deportations that far exceeds that of the Bush Administration, exercised similar discretion last year when it announced that it would concentrate its limited proprietorial resources on deportation cases involving violent criminals and threats to national security, a shift which seemed to me at the time to make eminent sense. That decision was also denounced as amnesty by Republican politicians and conservative bloggers, but then, as now, the argument was utter nonsense. Just as a prosecutor in a large metropolitan area must decide which cases to prioritize and which cases to plead out, the United States Government has to decide how to handle all of the deportation cases it could potentially bring given the limited resources that it has. In addition to the humanitarian issues involved, which even many Republicans obviously recognize, that is exactly the situation that the Administration was faced with when it made the policy shift yesterday. Just as that first decision was a permissible use of prosecutorial discretion, the policy shift announced yesterday is as well.
Though not responding directly to Shurtleff, Yoo attempts to knock down the prosecutorial discretion argument, but in end just finds himself going down a rhetorical rabbit hole with an argument that makes little sense:
[P]rosecutorial discretion is not being used in good faith here: A president cannot claim discretion honestly to say that he will not enforce an entire law — especially where, as here, the executive branch is enforcing the rest of immigration law.

Imagine the precedent this claim would create. President Romney could lower tax rates simply by saying he will not use enforcement resources to prosecute anyone who refuses to pay capital-gains tax. He could repeal Obamacare simply by refusing to fine or prosecute anyone who violates it.
Yoo's argument is incredibly weak here. First of all, as noted above, this policy shift is not a matter of the Administration saying that they are refusing to enforce the law, and it is absurd to say that choosing to exercise prosecutorial discretion in a specific category of cases constitutes ignoring the law. Under Yoo's logic, a District Attorney who decides that, say, non-violent drug possession cases where the amount found on the person is relatively small will be plead out into some form of pre-trial diversion program that includes drug counseling, a disposition that is not uncommon in many jurisdictions, constitutes refusing to enforce the drug laws. It doesn't, of course, and teh Administrations decision here to handle a certain class of deportation cases a certain way isn't any different than what that hypothetical District Attorney is doing. As for the actions of Yoo's hypothetical President Romney with respect to the Tax Code or the Affordable Care Act are simply absurd and silly examples. The Tax Code does not give the President the authority to decide not to collect a specific tax, though it does give the IRS the discretion to determine how to enforce claims against delinquent taxpayers. A President who chose to ignore the law the way Yoo suggests would be far more clearly acting extra-constitutionally than Obama allegedly is in this situation.
My comments about the August 2011 shift toward deporting violent criminal aliens apply equally today:
As it stands now, the law gives Immigration Judges, and ultimately the head of the Department of Homeland Security for whom they work, significant discretion in deportation proceedings, especially when the person involved has lived in the United States continuously for a long period of time and has no criminal record. (A fairly good summary of the processcan be found here.) Given the tremendous backlog in immigration deportation cases, a backlog that continues to grow year-by-year as Congress continues to refuse to provide sufficient funding to the Immigration Court system, it seems to me to make eminent sense to concentrate resources on cases that deal with people who have a criminal record, who have continually flouted immigration laws, or who may pose a threat to national secutrity.
Similarly, it makes sense from a policy and a humanitarian point of view to grant some kind of relief against deportation, using the discretionary authority that the Immigration laws already grant to the Executive Branch, to the class of people covered by yesterday's policy shift. Yes, there's a political motive behind it as well, but that's true of everything that happens in Washington, and it's also the reason that some Republicans, like Mitt Romney and Marco Rubio, are being decidedly muted in their response to the President's announcement. The fact that there's a political component to this, though, is largely irrelevant in answering the question of whether or not it falls within the authority of the Executive Branch and, not withstanding the arguments advanced by Yoo, it seems quite apparent that it does.
Notwithstanding all of this, though, I tend to agree with the point James Joyner made yesterday in his post about the policy shift that there's something at least inappropriate about the President using Executive authority to achieve at least part of a policy goal that could not be achieved legislatively:
[T]he key issue here is one of the Constitutional balance of power. Presidents, of course, push the envelope all the time. Typically, though, it's done in the arena of national security policy, where the Constitution creates "an invitation to struggle" and where the stakes of dawdling can be quite high. In the matter of border policy, however, there's simply no question where the power lies and no exigent circumstances to justify flouting the law.
This is a fair point, and it's one I made in the long discussion about this matter yesterday in the comment thread to James's post. The DREAM Act was submitted to Congress and it failed to pass. Now, President Obama has decided to use Executive Power to implement parts of the act without Congressional approval. It's legal, but it strikes me as inappropriate and potentially creating the kind of precedent that will come to be regretted in the future. It's also worth noting that there has been work going on behind the scenes on Capitol Hill for weeks now to put together a revised DREAM Act that could pass both Houses of Congress. It would be superior to what the President announced in that it would be enshrined in law, and would give the people effected by it far more certainty than they will have under the new policy. Matt Lewis argued persuasively yesterday that this policy announcement makes it far less likely that the revised act will make it through Congress this year. Given the fact that Marco Rubio, who was involved in those negotiations, is now apparently doubtful that the bill could pass because of the President's decision, it looks like he's correct.  So, while the President may get some short term political gain from this announcement he's likely done harm to the chance for immigration reform in the near future.
As James noted, of course, this action was made somewhat inevitable by Congress's failure to act on immigration reform for at least the past six years. When there's a power vacuum, someone will move in to occupy that space. Unfortunately, that's what the President has done and, in the process, he's done real damage to the Separation Of Powers.