Obama to Ignore Immigration Law, Pretend DREAM Act Passed
Frustrated by its inability to get laws passed through Congress, the Obama administration has decided to stop following laws already passed by Congress.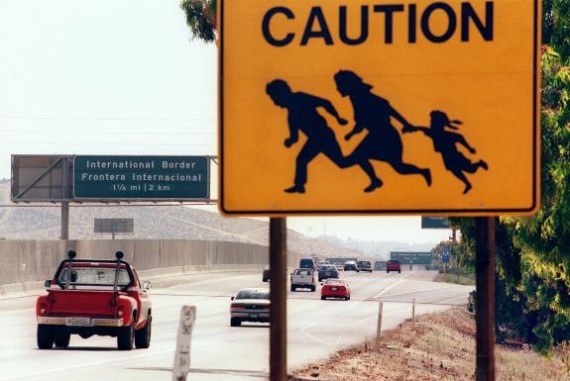 Frustrated by its inability to get laws passed through Congress, the Obama administration has decided to stop following laws already passed by Congress and act as if its preferred policies are law.
AP ("Immunity offered to certain immigrants"):
The Obama administration will stop deporting and begin granting work permits to younger illegal immigrants who came to the U.S. as children and have since led law-abiding lives. The election-year initiative addresses a top priority of an influential Latino electorate that has been vocal in its opposition to administration deportation policies.

The policy change, described to The Associated Press by two senior administration officials, will affect as many as 800,000 immigrants who have lived in fear of deportation. It also bypasses Congress and partially achieves the goals of the so-called DREAM Act, a long-sought but never enacted plan to establish a path toward citizenship for young people who came to the United States illegally but who have attended college or served in the military.

Homeland Security Secretary Janet Napolitano was to announce the new policy Friday, one week before President Barack Obama plans to address the National Association of Latino Elected and Appointed Officials' annual conference in Orlando, Fla. Republican presidential challenger Mitt Romney is scheduled to speak to the group on Thursday.

Obama planned to discuss the new policy Friday afternoon from the White House Rose Garden.

Under the administration plan, illegal immigrants will be immune from deportation if they were brought to the United States before they turned 16 and are younger than 30, have been in the country for at least five continuous years, have no criminal history, graduated from a U.S. high school or earned a GED, or served in the military. They also can apply for a work permit that will be good for two years with no limits on how many times it can be renewed. The officials who described the plan spoke on the condition of anonymity to discuss it in advance of the official announcement.

The policy will not lead toward citizenship but will remove the threat of deportation and grant the ability to work legally, leaving eligible immigrants able to remain in the United States for extended periods. It tracks closely to a proposal offered by Republican Sen. Marco Rubio of Florida as an alternative to the DREAM Act.
Now, I happen to think our current immigration policy is absurd and think the Obama-Rubio plan preferable. It simply makes no sense to deport adults who have lived in the United States for years, obeyed our laws, and otherwise demonstrated that they are doing the right things. But the president isn't a benevolent dictator; he's taken an oath to obey and enforce the law of the land.
The change is likely to cause an outcry from congressional Republicans, who are sure to perceive Obama's actions as an end run around them. Republicans already have complained that previous administration uses of prosecutorial discretion in deportations amount to back-door amnesty.
Probably on account of it amounting to back-door amnesty.
Romney and many Republican lawmakers want tighter border security measures before considering changes in immigration law. Romney opposes offering legal status to illegal immigrants who attend college but has said he would do so for those who serve in the armed forces.
While I think it's wrongheaded, the Republican position is understandable. We can't accommodate everyone who wants to enter the country, have a right to decide who gets to do so, and it's galling to essentially reward people for breaking American law. But the people in question, whose parents brought them here as children, aren't lawbreakers in anything but a technical sense–if that.
Regardless, the key issue here is one of the Constitutional balance of power. Presidents, of course, push the envelope all the time. Typically, though, it's done in the arena of national security policy, where the Constitution creates "an invitation to struggle" and where the stakes of dawdling can be quite high. In the matter of border policy, however, there's simply no question where the power lies and no exigent circumstances to justify flouting the law.
UDPATE: There's an excellent discussion  in the comment section below, including some pushback from my colleagues Steven Taylor and Doug Mataconis arguing that this is simply the president choosing how to allocate scarce resources.  While I take their general point, I do think ignoring the express will of Congress directly after losing a political fight is different from selective enforcement of older legislation.
Additionally, it's worth noting that President Obama agreed with me on this very issue a year ago:
In the past, Obama has said he doesn't have the power to stop the deportation of Dreamers. "There are enough laws on the books by Congress that are very clear in terms of how we have to enforce our immigration system that for me to simply, through executive order, ignore those congressional mandates would not conform with my appropriate role as President," Obama told one Dreamer who asked him why he couldn't halt young people's deportations in March of 2011.
I haven't yet been able to find–and thus haven't  read–the president's full remarks on this. So far, all I've seen are excerpts arguing that it's the right thing to do from a policy standpoint. On that, we agree. But I'm far from sold that it's the right thing to do from the standpoint of the rule of law.