U.S. Challenges China's Claim Of Expanded Air Defense Zone With B-52 Patrol
China sends a message, and the U.S. responds. What happens next is anyone's guess.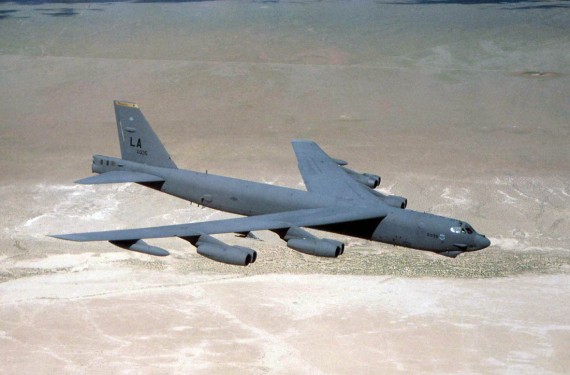 Yesterday, China's dispute with its neighbors over territorial claims in the East China Sea and elsewhere entered a whole new sphere:
China's declared intent to protect an air zone encompassing islands that are disputed with Japan escalated tensions between Asia's largest economies, risking damage to a resurgence in trade.

China announced an air defense identification zone in the East China Sea effective Nov. 23 and said its military will take "defensive emergency measures" if aircraft enter the area without reporting flight plans or identifying themselves. Japan lodged a complaint as the U.S. and South Korea expressed concern about China's actions.

The move further expands to the skies a dispute that has often played out at sea, including confrontations that have seen Chinese vessels accused of targeting Japan's forces with weapons-guiding radar systems. Those frictions contrast with a nascent recovery in business, with exports to China rising 21.3 percent in October from a year ago, and add to pressure on Japanese Prime Minister Shinzo Abe, whose government is set to unveil its first postwar national security strategy next month.

China's zone is symbolic payback for Japan's move last September to buy some of the islands, said Kerry Brown, executive director of the University of Sydney's China Studies Center and a former British diplomat in Beijing. "Things would be much less pleasant if there was actual physical contact and conflict, but both countries are now so economically tied to each other I think this would be a sort of mutually assured destruction."
Today, the United States responded to the declaration in both the most subtle and most blatant way possible:
WASHINGTON — Two long-range American bombers have conducted what Pentagon officials described Tuesday as a routine training mission through airspace recently claimed by China as its "air defense identification zone."

The Chinese government said Saturday that it had the right to identify, monitor and possibly take military action against aircraft that enter the area, which includes sea and islands also claimed by Japan. The claim threatens to escalate an already tense dispute over some of the maritime territory.

American officials said the pair of B-52s carried out a mission that had been planned long in advance of the Chinese announcement last weekend, and that the United States military would continue to assert its right to fly through what it regards as international airspace.

Pentagon officials said the two bombers made a round-trip flight from Guam, passing through a zone that covers sea and islands that are the subject of a sovereignty dispute between Japan and China.

Officials said there had been no Chinese response to the bomber run.

The Obama administration has become increasingly worried by the tense standoff over the islands, which could drag the United States into a conflict. By treaty, the United States is obligated to defend Japan if it is attacked.

The islands, called the Senkaku in Japan and the Diaoyu in China, are currently administered by the Japanese, who consider the airspace above the islands to be theirs as well.

On Tuesday, Josh Earnest, a deputy White House spokesman, reiterated the administration's view that the Chinese announcement was "unnecessarily inflammatory" and had a "destabilizing impact on the region."

Within hours of the Chinese announcement that it had declared what Beijing termed an "East China Sea air defense identification zone," Defense Secretary Chuck Hagel issued a statement expressing deep concern over the action.

"We view this development as a destabilizing attempt to alter the status quo in the region," Mr. Hagel said. "This unilateral action increases the risk of misunderstanding and miscalculations."

Mr. Hagel noted, "This announcement by the People's Republic of China will not in any way change how the United States conducts military operations in the region."

Pentagon officials said the training sortie by the two B-52s could be seen as underscoring that commitment to preserving traditional rules of international airspace.
Walter Russell Mead comments:
The dispute is far from over. Today, Beijing dispatched its one and only aircraft carrier for military drills in the South China Sea in another attempt to emphasize Chinese sovereignty in the region. Japan demanded that China back down. "The measures by the Chinese side have no validity whatsoever on Japan, and we demand China revoke any measures that could infringe upon the freedom of flight in international airspace," Abe said during a parliamentary session, as the Guardian reports. "It can invite an unexpected occurrence and it is a very dangerous thing as well." China's defense ministry called Abe's remarks "absolutely groundless and unacceptable."

This is significant escalation. Japanese and Chinese aircraft frequently come into contact with each other in this airspace, and it seems like Japan is constantly reminding Beijing that the "disputed" territory is actually administered by the Japanese government. There is a high risk that an aerial accident could lead to an international incident.

Just such an incident occurred between the United States and China in George W. Bush's first term. On April Fools Day in 2001, an American intelligence aircraft collided with a Chinese fighter jet near Hainan Island, off China's southern coast. The American plane was able to make an emergency landing in Chinese territory but the Chinese plane crashed into the sea and the pilot died. China held the American crew hostage for several days before the US "expressed regret" in a letter delivered by the ambassador. Ultimately the Hainan Island incident, as it came to be called, caused no lasting diplomatic damage in the US-China relationship, and the US still flies reconnaissance missions near Hainan.

But if a crash occurred today between Chinese and Japanese aircraft, it's harder to imagine officials in Beijing and Tokyo calmly discussing what to do afterwards—especially if there were fatalities.
It's easy to imagine a whole host of "nightmare scenarios" that could develop entirely by accident between China and its neighbors, all of whom have close relationships with the United States whether it ranges from something similar to the crisis that developed, quite accidentally, early in George W. Bush's Administration or increased confrontation between the Chinese and the Japanese or South Korean claimants to islands that China has been increasingly vocal about claiming as its own. What seems less likely is the possibility that the Chinese would directly confront the United States, either on the high seas or in the air. Generally, the Chinese of the present day seem to be circumspect about not pushing direct confrontation with a clearly superior power, and the United States is clearly the superior power here. If for no other reason, this would seem to be because such a confrontation would only seem to make a U.S. buildup in the area around China even more likely and this is something that the Chinese clearly don't want to see.
At the same time, though, it's worth noting that this entire issue of Chinese territorial claims in the East China and South China Seas has been heavily exploited by the leadership to whip up patriotic fervor inside China, perhaps as a means of distracting the populace from the domestic issues facing the nation ranging from an economy that may be slowing to environmental conditions in cities like Beijing that people living in Europe or North America would find utterly unacceptable. The prospect of these claims being exploited in the future for that purpose probably shouldn't be discounted, nor should the possibility that mistakes and miscommunication could lead all the parties involved down a path that they don't really want to go down. Ideally, this is the type of situation that ought to be resolved by diplomacy, of course. At the moment, though, none of the parties involved seem to want to do much than throw nationalist propaganda slogans at each other. If that continues, then this part of the world, long ignored by pretty much everyone, could suddenly become a lot more important.