U.S. Military Spending v. The Rest Of The World
Via Think Progress and this report, I found this chart: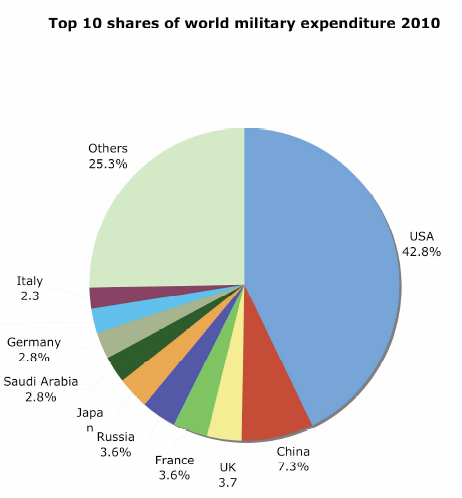 Now I think we can draw a few conclusions from this information:
There is no nation on the planet that poses a real threat to the United States in the way that the USSR during the Cold War. Russia's share of worldwide  military spending is less than the United Kingdom's and equal to that France. Our military spending is six times larger than that of China. That's not to say that there aren't threats out there, but the idea of any nation posing existential threat to the United States is, I think, off the table
Our allies (the U.K., France, Saudi Arabia, Germany, Japan, and the vast number of nations that make up "Other") can afford to pay more toward their own defense than they are now.
We could afford to make serious cuts in our defense budget without threatening our own security.